There's nothing quite like a strong cup of tea to prepare you for the day ahead. And a freshly brewed Smoky Earl Grey truly hits the spot.
Unlike its counterpart, this Lapsang Souchong blend packs a punch, making it a fast favourite for discerning tea-drinkers across the globe.
But what makes this Earl Grey smoky? And, how is it different to traditional Earl Grey?
Let's Discuss.
Smoky Flavour in the Making
Earl Grey tea has one defining ingredient – bergamot.
Nowadays, there's no shortage of new Earl Grey types, each with its unique twist on the classic formula.
One such derivative is Smoky Earl Grey.
Blended using a Lapsang Souchong tea base, this Earl Grey features an alluring, smoky piquancy.
And it's renowned for being both stronger and more aromatic than your everyday Earl Grey.
Smoky Earl Grey Ingredients
Lapsang Souchong
Lapsang Souchong, or Zhengshan Xiaozhong, is a Chinese black tea.
The second word in Lapsang Souchong means 'small leaf tea plant'.
And while mature tea leaves are typically used, this isn't cast in stone.
To make Lapsang Souchong, Camellia Sinensis leaves are left to smoke-dry over a pinewood fire, usually in a bamboo basket.
The leaves are then oxidised, rolled, and dried again before getting pan-fried as the finishing touch.
No Smoke Without Fire
Today, due to its growing popularity, Lapsang Souchong is often created using faster, modern methods.
However, be aware. Some of these lower quality, artificially smoked teas may lack the same depth of flavour and aroma of traditional Lapsang Souchong.
For a high-quality blend, be sure to use trusted brands with plenty of positive reviews readily available.
Gunpowder Smoky Earl Grey
Some tea makers use a mix of Lapsang Souchong and Gunpowder tea to create their Smoky Earl Grey blend.
When combined with Lapsang, this unique tea base helps add an extra smoky dimension to the already bold Smoky Earl Grey blend.
Gunpowder tea is made through the withering of large, high-quality tea leaves, which are then steamed to halt the oxidisation process.
The leaves are then rolled into small, neat pellets which helps to keep them fresh.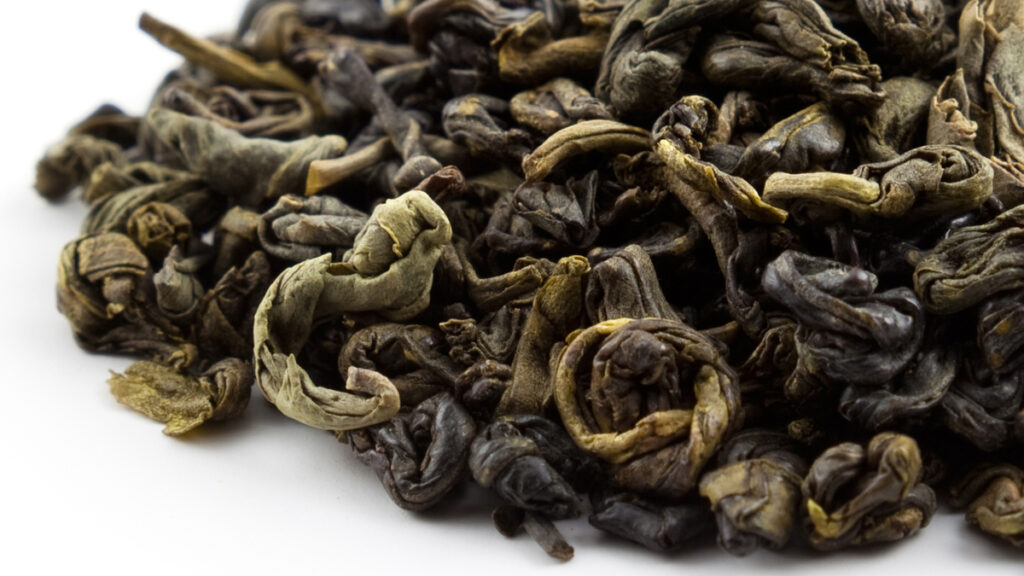 And it's these gunpowder-like pellets that helped earn the tea its unusual name.
While Green tea is more common, Oolong, and even Jasmine tea, are sometimes used to make Gunpowder tea.
Smoky Earl Grey Origins
Fortnum & Mason
When it comes to Smoky Earl Grey, Fortnum & Mason has become synonymous. And for good reason.
One of the first to create a Smoky Earl Grey blend, Fortnum & Mason uses a mix of Lapsang, Gunpowder tea, and bergamot.
The story goes, that the request for a smokier Earl Grey "with real oomph" came directly from Britain's Royal Family back in 1935 (100 years after the original).
And thankfully, Fortnum & Mason politely accepted the call.
Since then, other tea makers have created their own smoky blends.
Who Else Makes Smoky Earl Grey?
Whittard of Chelsea
Not to be outdone, Whittard of Chelsea has a loose-leaf Smoky Earl Grey blend.
Their sweet yet savoury interpretation combines smoky Lapsang Souchong and zesty bergamot orange peel.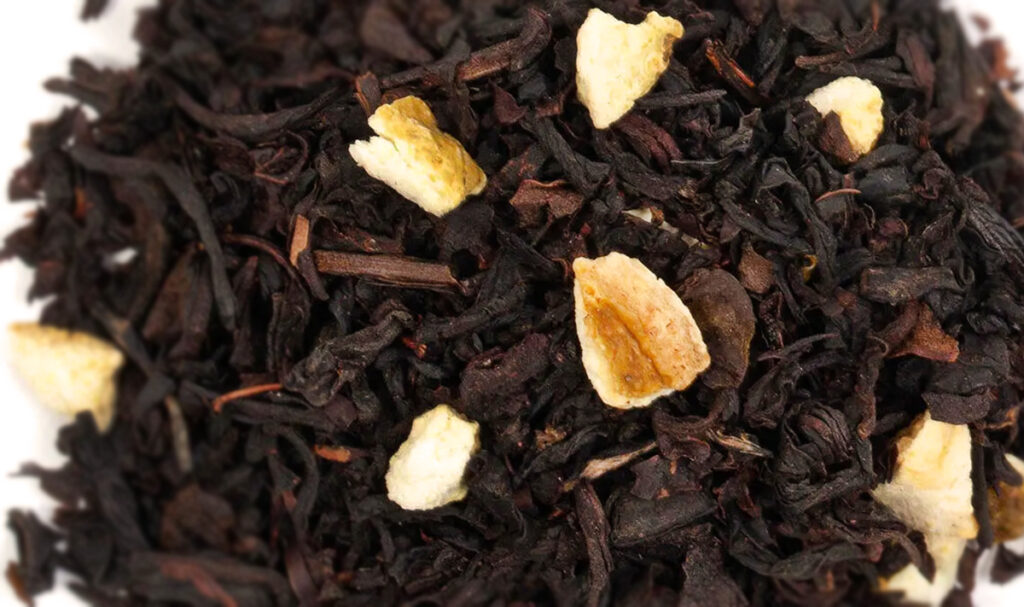 TWG Tea
Available in loose-leaf or bagged form (hand-sewn cotton, of course), this Smoky Earl Grey keeps it simple.
Inspired by the Russian Caravan blend, this smoky bergamot tea is intense, sweet, and fragrant.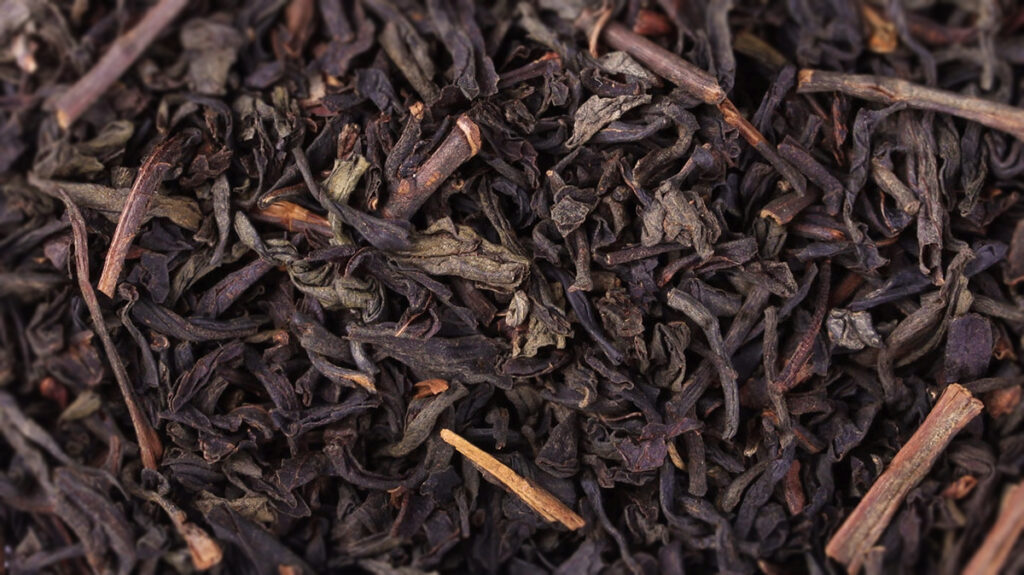 Smoky Earl Grey vs Traditional Earl Grey
While both blends feature bergamot oil, nothing quite hits like the smoky taste and aroma of Lapsang.
Traditionally, Earl Grey tea is made from a standard black tea base. The kind that you're likely accustomed to drinking.
This bold yet balanced blank canvas allows the vibrant and floral bergamot fruit to shine through – making it the star of the show.
Common black teas used in classic Earl Grey include Keemun, Ceylons, Assam, and Kenyan.
Smoky Earl Grey, on the other hand, is made from Lapsang Souchong. Although, Gunpowder and other teas are sometimes added.
This wood-smoked tea has a powerful taste of its own, thus creating a robust combination of smoke, pine resin, sweet citrus, and floral notes in the tea.
Like a Fine Whiskey
Beloved around the world, Earl Grey tea has become renowned for the beautiful flavours provided by the bergamot oil that it's infused with.
The rich, pine-smoked aroma of Lapsang, however, makes it the ideal partner for the perfumed and zesty citrus flavour of bergamot.
Likened to a fine whiskey, the result is a well-balanced, full-bodied, and complex Earl Grey blend that helps invoke the senses.
No wonder Sir Winston Churchill was said to be such a fan of the blend.
And if you weren't a lover of the monarchy before, the invention of Smoky Earl Grey may just sway you.
God Save the Queen!