Oh gosh, it's my first tea review. But with so many Earl Grey blends to test and try, what's a simple tea lover like me to do?
Well, it stands to reason that I start where it may have all begun. And that's supposedly Twinings of London and their Earl Grey tea recipe.
Except, as it turns out, there's more than one Twinings Earl Grey blend to select, steep, sip, and scrutinise.
But before I begin, let's take a look at the company behind this famous bergamot tea franchise.
And, why I'm first reviewing Twinings of London Earl Grey International Blend, and not some other variety.
Table of Contents
A Little About Twinings of London
Based in London (clue's in the name), Twinings of London has been blending tea since 1706.
It all started with Thomas Twining, who bought Tom's Coffee House on London's Strand that same year.
In 1717, Thomas Twining purchased another three adjacent properties to expand and operate as their flagship teahouse, known today as 216 Strand.
It wasn't until 1771 that Richard Twining, the man allegedly behind Earl Grey tea, took over the company and became Chairman of the London Tea Dealers.
In 1787, the Twinings logo was created and the rest is history.
The old sign is there and can be seen by visitors till this day.
Role on another 100 years, and that's when Twinings gained the Royal stamp of approval from Queen Victoria. This made Twinings of London, newly crowned members of the exclusive Royal Warrant Holders Association.
While the teamaker is largely associated with London (and quite rightly so), the Earl Grey Tea International Blend (bagged tea) is prepared and packed in Hampshire.
At least according to the packaging.
Earl Grey VII Signature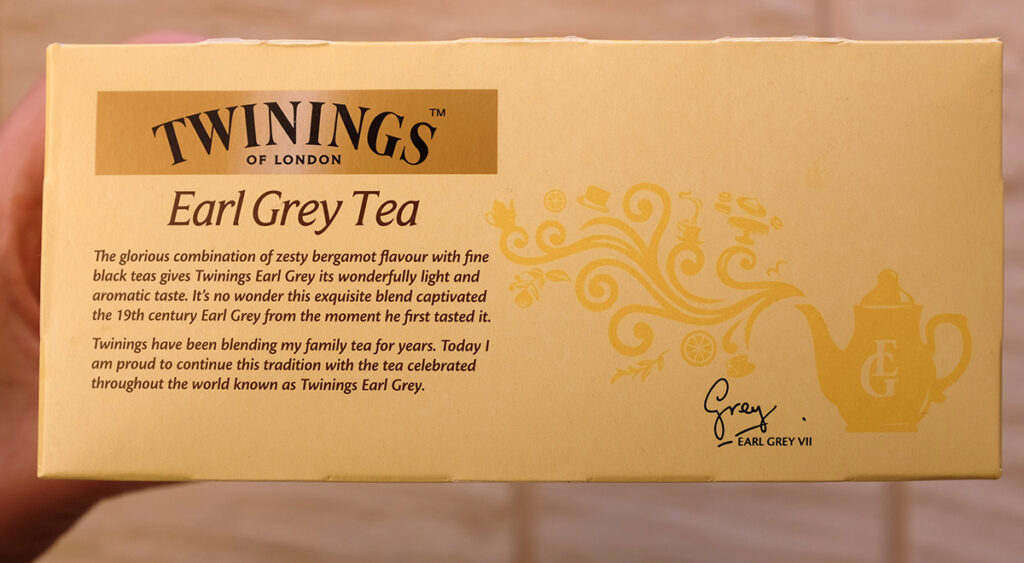 For the astute few, you may have noticed the 'Grey' signature on the Twinings of London Earl Grey box.
Does this pay heed to the company's Earl Grey claim? Hmm, probably not.
Any Earl Grey aficionado, who's ever done a quick Google search, knows that the history of Earl Grey tea is a little bit, well, murky.
It's also worth noting that this signature didn't appear until 2011, and was penned by Richard Fleming, George Charles Grey, Sixth Earl Grey (1939-2013).
This is a mere 180 years after Twinings claims to have first invented the original Earl Grey recipe in 1831.
The signature was later replaced by his successor (and younger brother), Philip Kent Grey, the Seventh Earl Grey (1940-Present).
Twinings Recipe and Re-Brand
Besides the 'who invented Earl Grey' controversy, which dates back hundreds of years, Twinings found themselves the subject of some hate, disdain, and even a Facebook campaign.
It all started in 2011 when Twinings introduced their new and improved Earl Grey tea recipe. Naming it merely The Earl Grey and ridding themselves of the word 'Classics'.
They updated their branding too.

What changed I hear you say?
Well, quite a bit actually. At least for Earl Grey tea drinkers in England, Scotland, and Wales, that is.
Not only was 'bergamot oil' replaced with 'bergamot flavouring', but lemon, of all things, was added as well. Much to the dismay of the UK.
Of course, since then, a lot has changed. And Twinings has a whole range of different Earl Grey blends for sale.
But if you yearn after the original Earl Grey taste, I've heard that the Twinings Earl Grey International Blend is what you seek.
And luckily for me, I happen to have some in hand.
So without further ado, let's get on with this Earl Grey tea review.
Unboxing – It's All in the Detail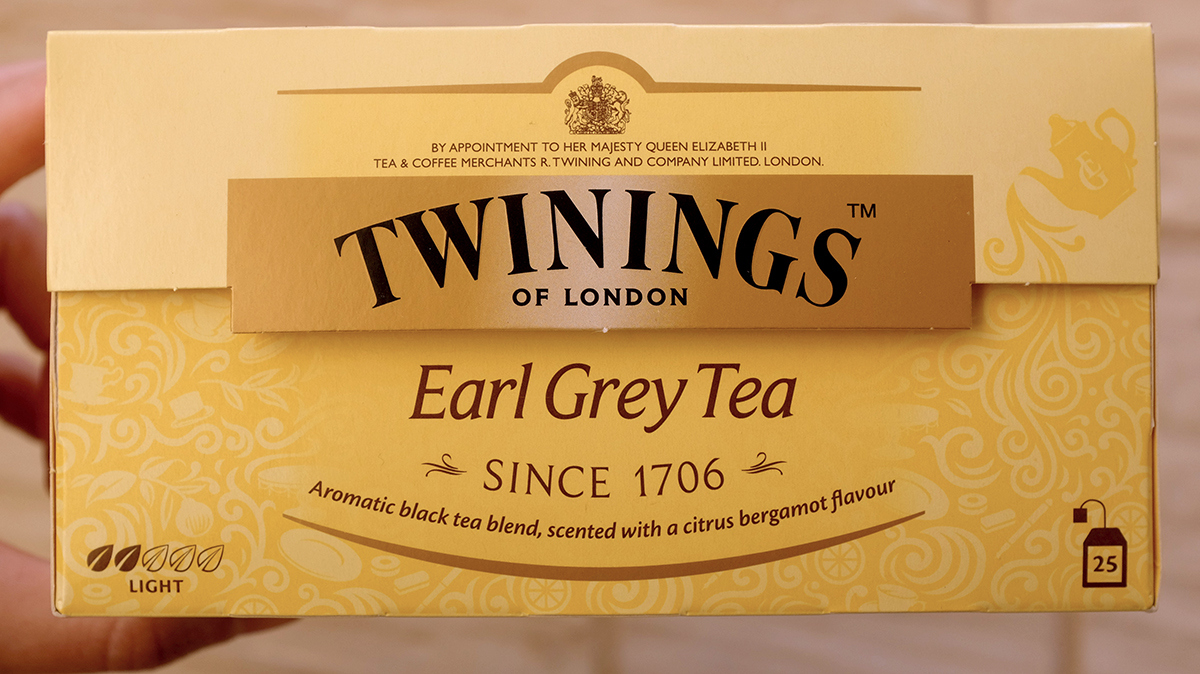 Available in a bright yellow with both gold and dark yellow detail, the Twinings International box is well made and sturdy.
It's certainly easier to open, close, and reopen again than other brands.
There are no tricky perforated edges to rip or tear like the Lion Brand Earl Grey tea box. And the lid has been designed to stay closed until you need it next. This is thanks to a couple of flaps at the front.
Once you open the box, there's a petty blue pattern inside. A little touch that's jovial and sweet.
Each tea bag is individually wrapped and clearly displays the recommended preparation instructions.
| | | |
| --- | --- | --- |
| Temperature | Water Quantity | Steep Time |
| 100 celsius | 200 millilitres | 3-4 minutes |
Twinings of London Earl Grey Tea (International Blend) Recommended Serving Instructions
Of course, these are just a guide.
There's even a handy strength indicator displayed. It states that this tea 2 out of 5 leaves (light), and I think I'd agree.
If you haven't already guessed, I'm reviewing the bagged version, available in 25 or 100 bags. But there's also a loose tea caddy available direct from Twinings themself.
Don't worry, I plan to review it in due time.
Earl Grey Aroma
As soon as you open the box, you're hit with a powerful waft of citrus, floral, and peppery, allspice-like notes.
It certainly feels like a refreshing, springtime drink. Something designed to wake you up. At least in my opinion.
Once you add water, however, some of these aromas, sadly, disappear.
Strength and Taste
Earl Grey is a difficult blend to get right. Too much bergamot, and you risk it tasting like a soapy, citrus cleaner. Not enough, and, well, what's the point – all you'll have is scented black tea.
Happily, Twinings Earl Grey seems to get this almost spot on. Albeit a little too light for my taste.
Delicate and nutty, with a subtle citrus flavour, this Earl Grey blend doesn't get bitter. Even if you forget to take the tea bag out.
It's a smooth, easy-drinking tea, that's refreshing any time of year.
Recommended to be drunk hot, I think this tea comes into its own when served as a refreshing cold brew. Controversial I know, but everyone is different and I like Earl Grey both hot and cold.
When cold, the floral and citrus notes take on a dimension of their own – much more defined, crisp, and intense. But still not enough to overpower, taste claggy, grimy, or dour.
Brew Time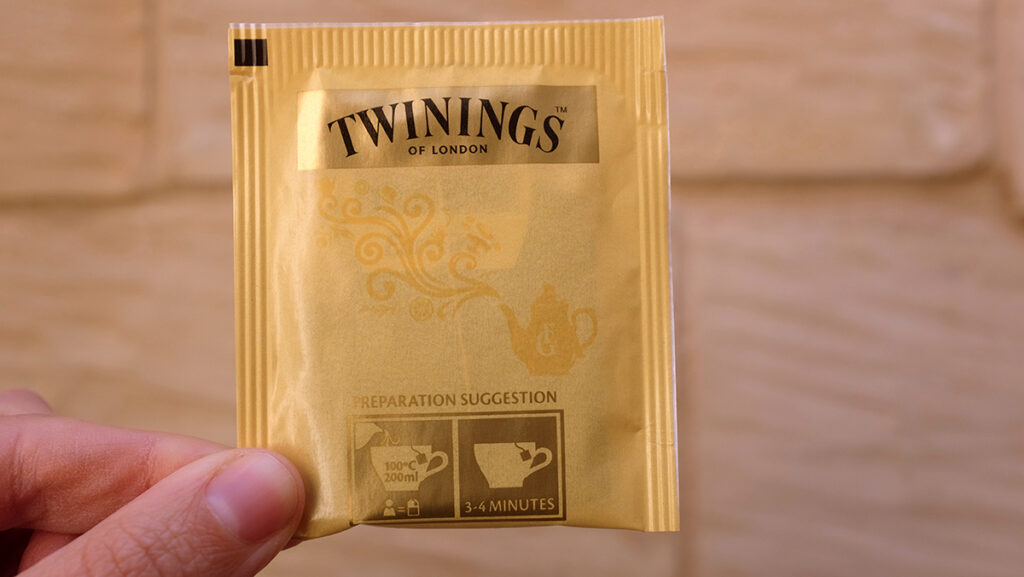 Like most teas, the steep time will have a bearing on the taste and flavour of your Earl Grey.
However, the recommended steep time is a little confusing.
Twinings recommend that you steep the tea bag for 3-4 minutes on the individual tea packets.
However, on the side of the box (in Russian), it says 2-5 minutes.
And on the Twinings website, they say 2-3 minutes.
Steeping Experiment
So, to be on the safe side, I tested the Earl Grey International Blend tea bags as follows.
Equipment: Kettle, Mug, Measuring Jug, Thermometer, Stopwatch, Bottled Water, and a Twinings of London Earl Grey Tea Bag (International Blend).
Method: Using a stopwatch, I tested the Earl Grey tea at different time intervals. I noted down any taste, flavour, and colour differences along the way.
And here are the results.
1 min…
About 40 seconds after adding hot water, the aroma starts to kick in. There's a slight floral taste, but it's way too light to drink and enjoy at this stage.
2 mins…
Already noticeably darker, this black tea is much redder in colour than your standard builders or greasy spoon tea. A slight citrus flavour starts to make an appearance.
3 mins…
A little darker in colour, the bergamot flavouring starts to shine through. But there's a new, smokey smell. I hope I didn't burn it.
4 mins…
There's no noticeable change in colour. But the overall taste has started to mellow and balance out. There's also a more prominent bergamot aftertaste.
5 mins…
Again no change in colour. But the brew does start to get a little stronger. Slightly bitter, but not overbearing or unpleasant at all. The bergamot is more prominent. However, I detect a slightly chalky aftertaste that starts to coat the mouth.
10 mins…
No noteworthy change.
Oh hell, let's leave it in…
Not much change, but the black tea and citrus flavours are a little stronger overall. The difference in taste is likely down to the tea starting to cool, letting the flavours intensify.
Re-Steeping Twinings Earl Grey (International Blend)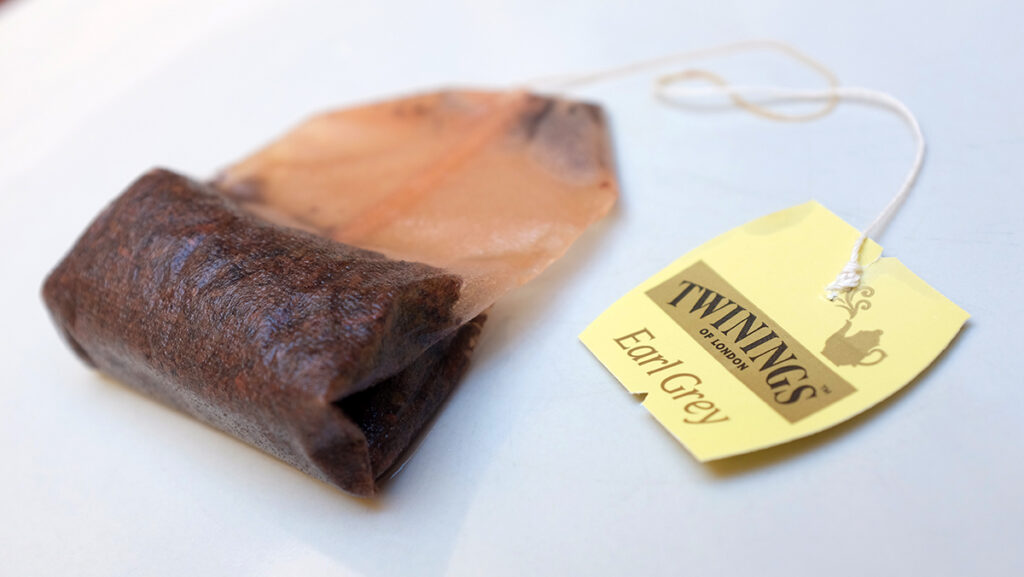 If you go for a lesser initial steep time, re-steeping is possible. But not if you leave the bag in and certainly no more than two cups of tea at the most.
Honestly, though, given that this Earl Grey blend is so light, re-steeping isn't recommended.
You still get a subtle flavour in the background, but not enough to be worth it. Certainly not as good as a freshly brewed Earl Grey from a new tea bag.
Inside the Tea Bag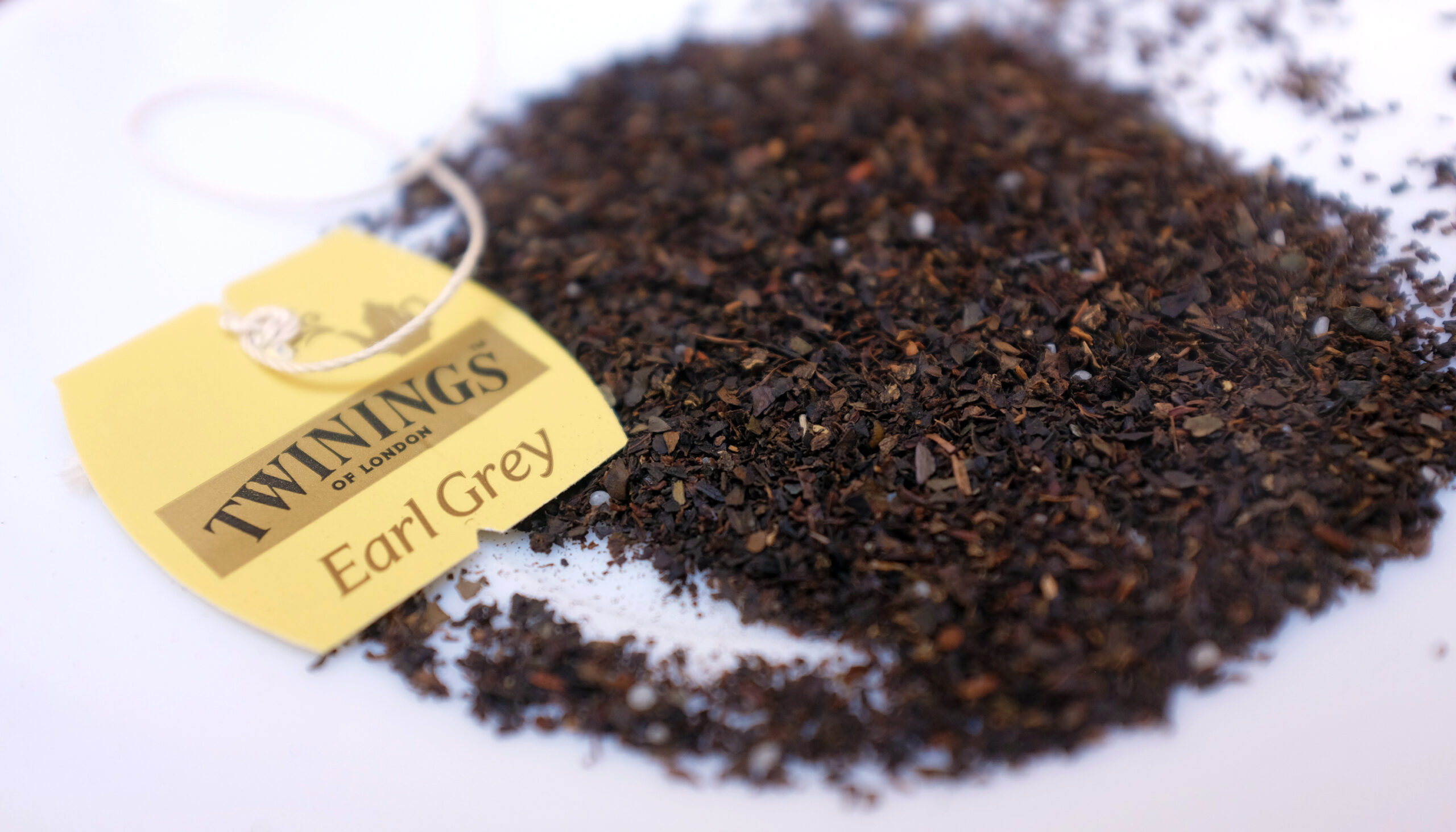 Ingredients
Black Tea (unspecified)
Bergamot Flavouring (3%)
Unfortunately, the Twinings box doesn't specify what type of black tea they use for their Earl Grey International Blend.
But, I did find some evidence that suggests Twinings uses Keemun for their Earl Grey blend base.

And possibly Low-Grown Ceylons too. Although, that might be from the new and improved 'The Earl Grey' blend and not the 'International Blend' as it also mentions grapefruit.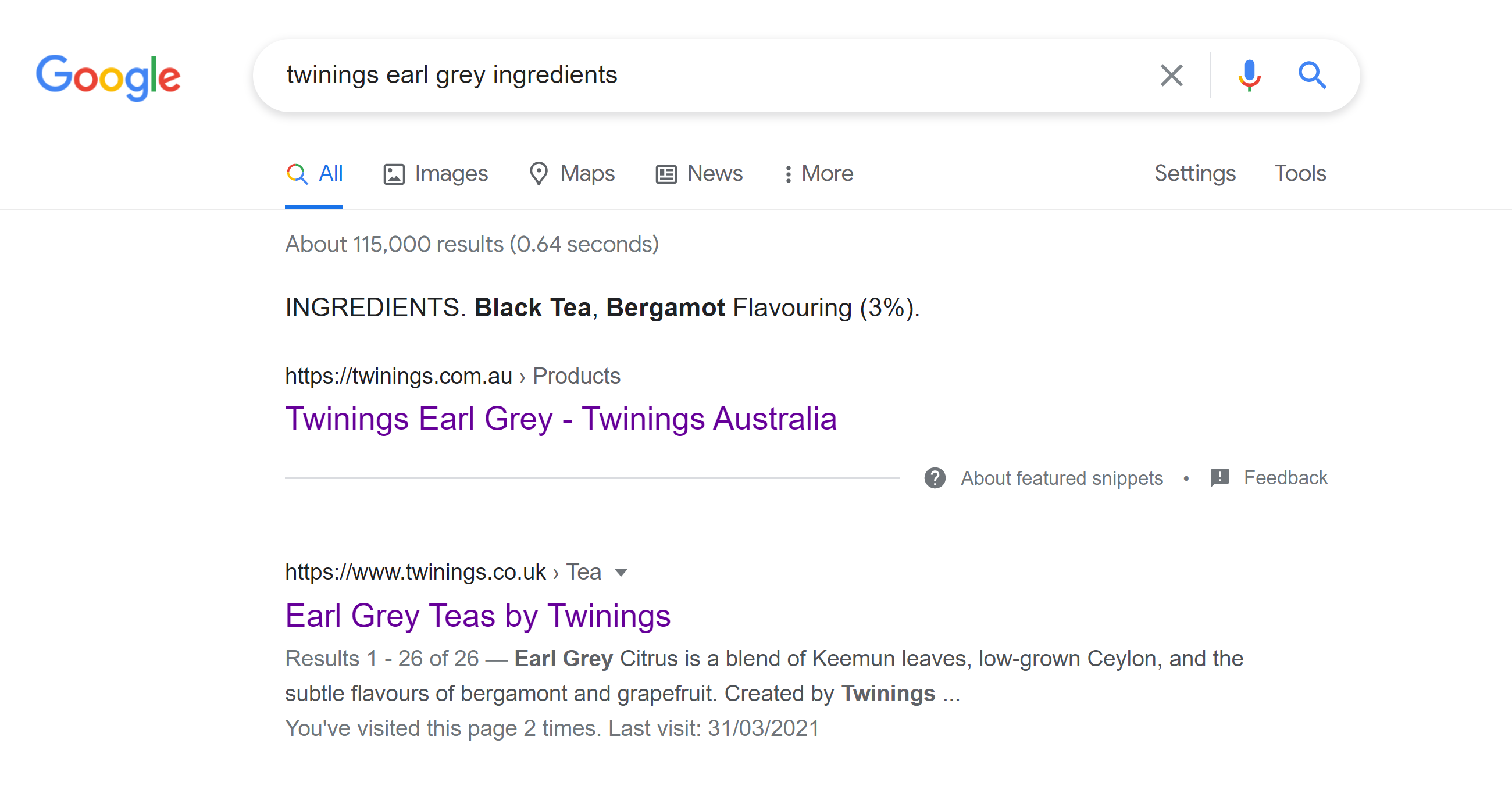 Like the unspecified black tea, 'flavouring' isn't exactly defined either. Yes, it's meant to be bergamot. But is it artificial or derived from natural citrus oil? And is it even bergamot at all?
If you look closely at the tea bag's contents, you'll notice some little white balls dotted throughout. These little pebble-shaped crystals are what contain the bergamot flavouring.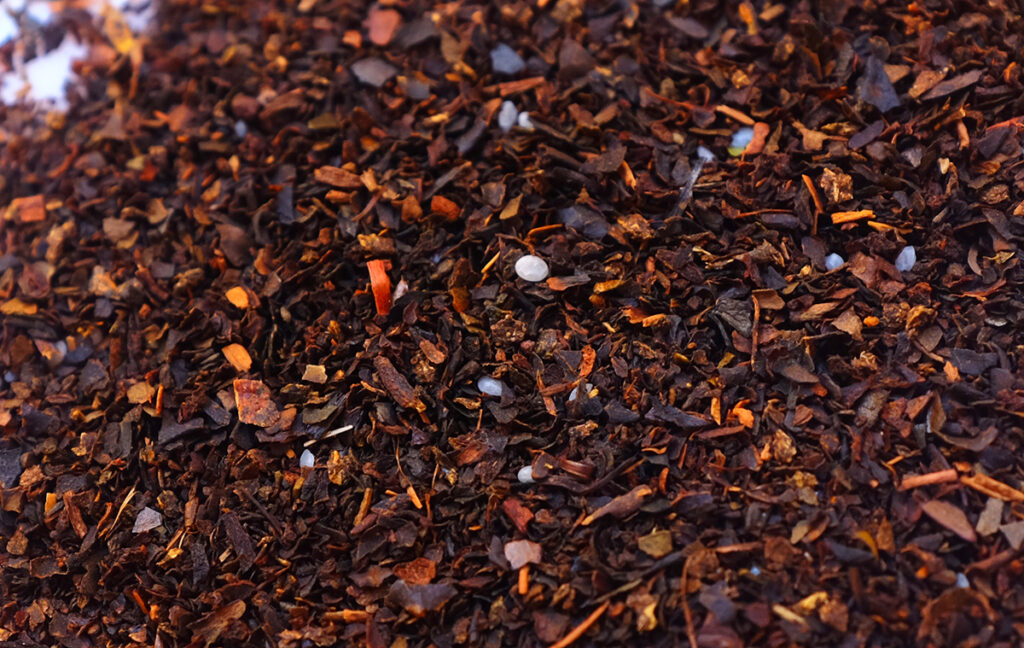 I managed to single one out and give it a taste. It's definitely reminiscent of the unusual aftertaste you sometimes get after a long steep.
As to whether it's natural or artificial bergamot flavouring – Your guess is as good as mine. My pallet simply isn't that refined.
Nutrition
| | |
| --- | --- |
| Typical Values | Per 100ml Brewed Black Tea (without milk)* |
| Energy | 3kJ / 1 kcal |
| Fat | 0g |
| of which saturates | 0g |
| Carbohydrate | 0g |
| of which sugars | 0g |
| Protein | 0g |
| Salt | 0g |
* Based on a black tea brewed with 200ml water for 3 minutes.
Are Twinings Earl Grey Tea Bags Plastic-Free?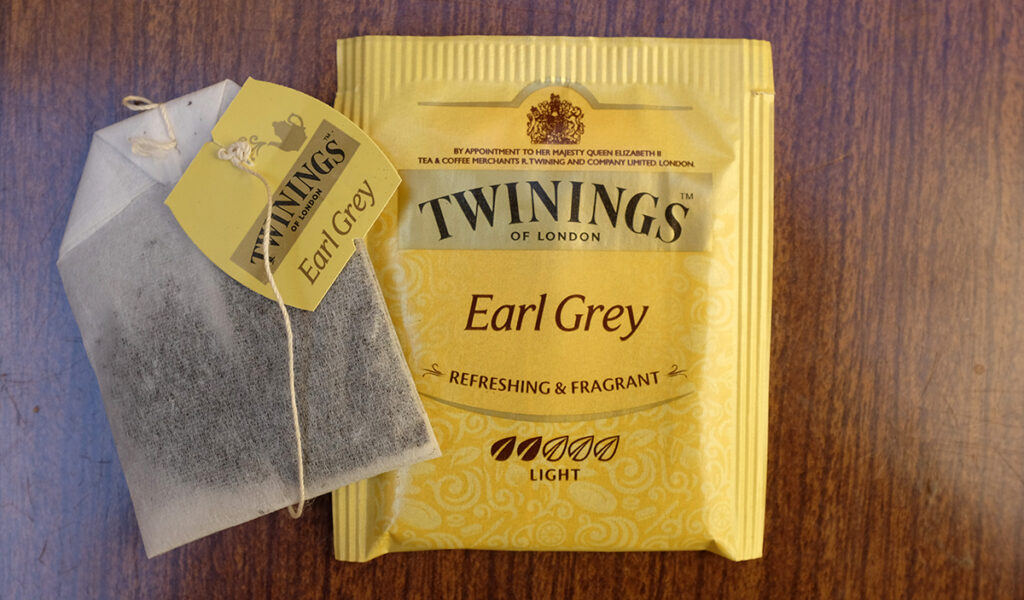 What Twinings do disclose, however, is that their tea bags "are made from plant-based and biodegradable materials".
Great news for those who have a garden compost heap.
Like most modern tea bags, Twinings Earl Grey bags aren't stapled. Instead, they use a knotted string. This allows you to steep your tea without a taste of the metal affecting the flavour of your favourite cuppa.
Surprisingly, this production method feels much more secure, despite it merely being folded and tied – no glue!
The rectangular shape and looped design allow for optimal steeping. I'm guessing this origami-style folding also stops the tea bag from splitting open.
Final Thoughts…
When thinking of Earl Grey tea, Twinings usually comes to mind. Is this due to clever marketing and packaging? Or, is it simply a superior tea with a long and proven history?
It's probably a little of both. The more Earl Grey tea I test and try should help clear things up over time.
In the meantime, one thing that I can say with confidence is that Twinings Earl Grey Blend is probably one of my favourite tea's… definitely in my top five.
Light, yet flavourful. Fruity and refined. Twinings Earl Grey (International Blend) is one delicious, easy-drinking tea. It tastes great on its own or with a slice of carrot cake or tarte au citron on the side.
As for whether it 'puts the zing in your ding-a-ling'? I think only Stephen Fry can answer that one…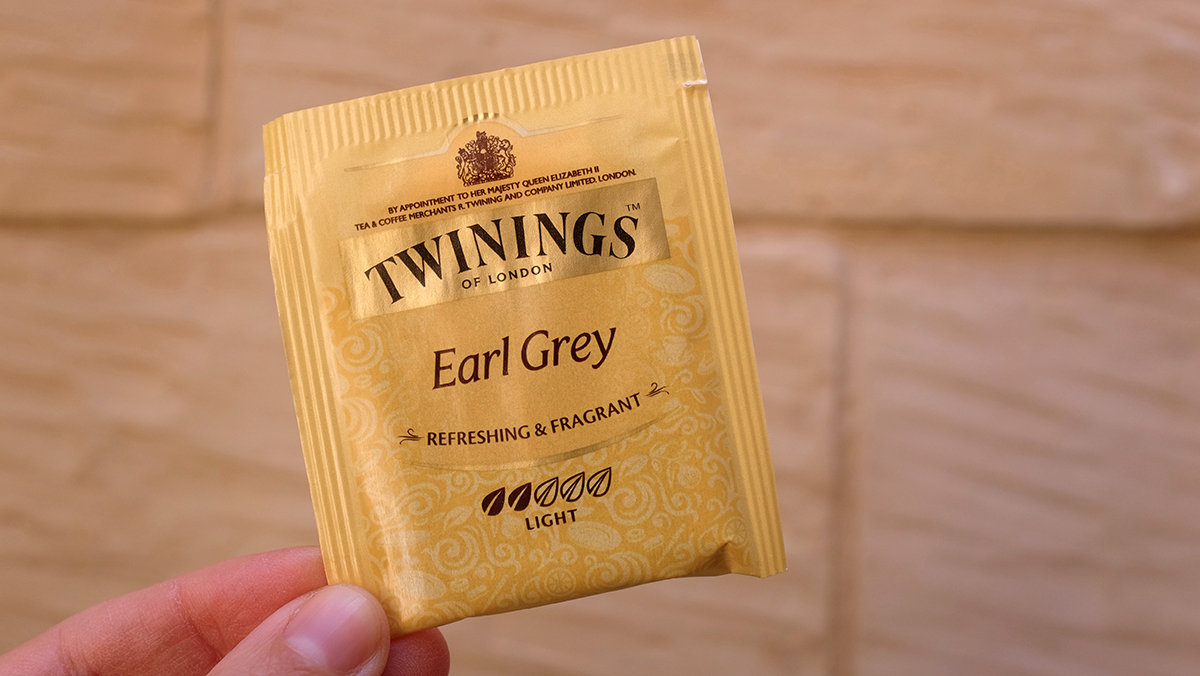 Twinings Earl Grey (International Blend) Review