One of the key players in Earl Grey, bergamot is zesty, floral, bitter, yet sweet.
And without it, Earl Grey would simply be plain, old, boring, tea – blah!
But what is bergamot? And where does it come from?
Let's take a look of the City of Bergamot – Reggio Di Calabria.
Table of Contents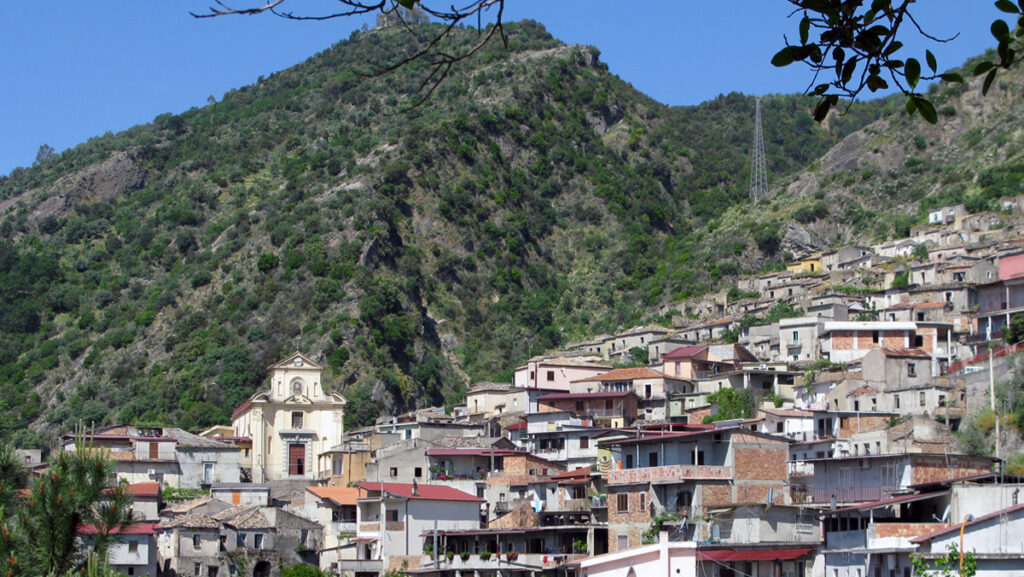 About Città Di Reggio Di Calabria
With a population of just under 200,000 people, the coastal city of Reggio is the 21st most populated city in Italy. And, the 100th most populated city in Europe.
It's located right in the heart of the Mediterranean, at the "toe" of the Italian peninsula in Calabria. And it sits upon the slopes of the Aspromonte – a tall, craggy mountain.
Just a stone throw away from Scilly, Reggio's separated from the island (and home to Mount Etna) by the Strait of Messina.
Reggio has a rich history that pre-dates ancient Greece.
In fact, it was one of the first Greek settlements in the South of Itay – Magna Graecia (Greater Greece).
Due to its strategic location, it was occupied numerous times.
In 918, Reggio was settled by the Arabs. During this time, Calabria was influenced by both their cuisine and the utilisation of citrus fruit trees.
By 1750, Rada Dei Giunchi (an area in Reggio) had one of the largest bergamot plantations of its time.
Seismic activity is common in the area. As a result, Reggio has been hit by several earthquakes.
Most notably, was the 1908 Messina earthquake, which saw the city largely destroyed.
But that hasn't stopped Reggio from becoming the biggest exporter of bergamot.
They don't call it the City of Bergamot for nothing!
Over the years, it has also earned the names:
The City of Bronzes
The City of Fatamorgana
The Bergamot Museum
Reggio is celebrated across Italy for its climate, culture, and ethnic diversity.
And it's full of castles, churches, cathedrals, theatres, and palaces.
Of course, Earl Grey lovers will be most intrigued by the Bergamot Museum.
As you can imagine, this charming museum is filled to the brim with all things bergamot-related. And why not?!
This includes the history, production, and many uses of bergamot.
There's even an area where you can try different bergamot products. Plus a library where you can read all about it.
What more could you want?
The City of Bergamot?
Bergamot, also known as citrus bergamia, is grown almost exclusively in Calabria.
The south of the region produces over 90% of the world's bergamot yield.
And the whole city of Reggio has an impressive industry built around bergamot oil extraction.
In 2001, the European Union awarded P.D.O. (Protected Designation of Origin) status to 'Bergamotto di Reggio Calabria.'
This classification recognises Reggio as the primary origin of bergamot production, processing, and preparation.
Known as DOP (Denominazione d'Origine Protetta) in Italy, it's the same status that's given to region-specific foods such as Asiago, Gorgonzola, and Parmigiano-Reggiano cheese.
Reggio Di Calabria Climate
Clearly, the best weather for bergamot is in Reggio Di Calabria!
Reggio Di Calabria has a very typical Mediterranean climate.
The average yearly high is around 22.5°C. In the winter it can be as cold as 7.9°C. And in the summer, it can be as hot as 32°C.
Precipitation is steady throughout the year, varying from between 1.3mm to 9.3mm.
All in all, the climate is pretty stable. This makes it an ideal location for bergamot to grow. A fruit that's been cultivated in the region since the 1400s.
Reggio Di Calabria Geology
Because Reggio has such a high population density, it also has the least green space. That's according to a study out of 386 European cities.
Despite this, the rural and agricultural areas of Reggio boast extensive forests and fertile lands.
Bergamot in Reggio Di Calabria
Types of Bergamot
1. Fantastico Bergamot
As you can tell by the name, this is a pretty 'fantastic' species of bergamot.
It has a much higher yield than the other species. And, one of the heaviest scents.
The high oil content is also extremely flavourful.
This makes it perfect for Earl Grey tea.
And, that's why the majority of growers focus on this species.
2. Castagnaro Bergamot
Castagnaro bergamot is often used to make liquors, desserts, and marmalades.
The rind of the Castagnaro is much thinner than the Femminello and Fantasico bergamot. And thus, less rich in essential oil.
3. Femminello Bergamot
Femminello bergamot is, arguably, the prettiest looking. And you'll typically find it in cakes, sweets, and liquors.
Before the discovery of the Fantastico, it yielded the highest amount of bergamot oil.
The bergamot tree generally flowers between November and January. And it can grow up to 16 feet in height.
The bergamot plant does best when exposed to full sun and grown in well-drained soil.
Processing Bergamot Oil
To process bergamot, the fruit is first washed and then put in a machine. Something that looks suspiciously similar to a large cheese grater.
This extracts all the delicious, healthy, and highly coveted essential oil.
The bergamot oil is then sent to a flavour manufacturer, where it's often blended with other citrus flavours. For example, lime and grapefruit.
To dry out the oil, water is added to a binding agent before combining it with the bergamot.
This mixture is poured into moulds before it's baked in a vacuum oven. This is done over 22 hours, or until the block has completely dried out.
Finally, the block is smashed, granulated, and added to black tea.
Expensive Commodity
For one kilogram of oil, producers need 200 kilos of bergamot.
It's a high-value product and one kilo costs over £200 ($270).
As a result, the majority of Earl Grey features artificial or blended bergamot flavouring, rather than pure bergamot oil.
What's in Your Teabag?
In general, the more expensive the teabag, the more bergamot oil it contains. Cheaper tea bags rarely contain real bergamot oil.
If you're unsure, check the ingredients. If that fails, contact the teamaker directly, or read some reviews.
Not Just Earl Grey Tea
When people mention bergamot, they generally think about the essential oil.
But there are countless uses for bergamot. Not just the peel but the pulp, juice, and pith.
These bergamot products include:
Beer
Biscuits
Candles
Sweets
Chocolate
Pasta
Cheese
Juice
Marmalade
Bergamot is also often used in cleaning products, cologne, and skincare. And you will sometimes find it in face wash, shower gel, and body scrub.
Bergamot Tea in Reggio Di Calabria
Earl Grey would be nothing without the delicious bergamot oil from Reggio Di Calabria.
So. Bravo Reggio Di Calabria! Without you, this Earl Grey blog wouldn't exist.