We all love a Starbucks London Fog Latte. But it gets pretty expensive to indulge in one every day.
So why not do it yourself? It's easy!
Here's the perfect copycat Starbucks London Fog recipe to satisfy your cravings.
The best bit? It works out at about 20p per cup!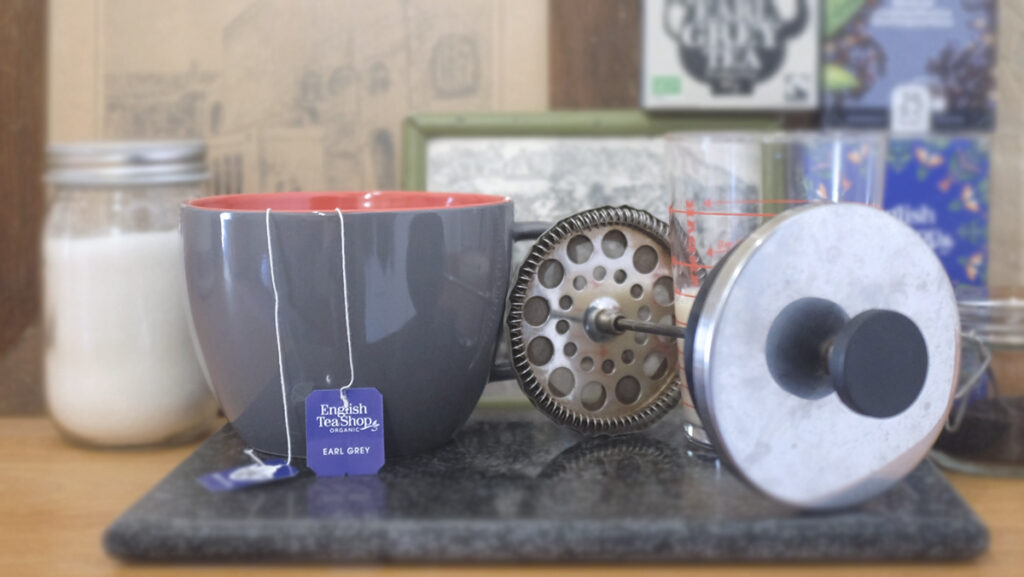 Table of Contents
London Fog Latte Origins
Rumour has it that the London Fog was invented in 1997 by Mary Loria in Vancouver, British Columbia, Canada.
The story goes, that Mary was desperate to replace her morning coffee. She was heavily pregnant at the time. So coffee was a no-go.
When she wandered into her local coffee shop (The Buckwheat Cafe), Mary ordered a steeped Earl Grey tea with steamed milk. Later, she added vanilla sugar into the mix.
The drink tasted sweet, bold, citrusy, and creamy. And it didn't take long for the London Fog Latte to go international.
But Mary admits she never actually named the tasty Earl Grey concoction herself.
And the mystery of how the London Fog got its name remains a mystery to this day.
What is a Starbucks London Fog Latte?
When Starbucks finally caught onto the craze, they saw dollar signs.
The coffee company developed the recipe, making it their own. Et voilà! The Starbucks London Fog Latte was born.
The Starbucks recipe is pretty similar to the original. But with that signature touch.
And now, Starbucks and the London Fog Latte are synonymous.
Starbucks London Fog Latte Ingredients
A standard Starbucks London Fog Latte contains three key ingredients.
Black Tea, Bergamot Essence, Lavender Flowers
Starbucks® Naturally Flavored Vanilla Syrup
Sugar, Water, Natural Flavour, Potassium Sorbate, Citric Acid
Other Options Available
Like most items from Starbucks, optional sweeteners and toppings are available.
You can also choose a sugar-free vanilla syrup.
And there are several milk options, including non-fat, half & half, heavy cream, and a range of plant-based alternatives.
If you prefer your London Fog Latte iced, Starbucks have you covered. They use chilled milk (instead of steamed) and ice cubes.
Copycat Starbucks London Fog Latte Recipe
The Starbucks London Fog Latte is easy enough to replicate. And it tastes absolutely delicious.
But Let's make it even better!
Recommended Equipment
To make the iconic London Fog Latte at home, you'll need:
Kettle
Saucepan
Long Metal Spoon
Milk Frother or Cafetière (French Press)
To serve, a double-walled glass mug is best. It allows you to peek inside and observe the pretty caramel colours of your brew.
London Fog Latte Ingredients
Water (ideally mountain or filtered water)
2 Earl Grey Tea Bags or 3g Loose Leaf Earl Grey
Milk (full-fat is preferable)
Brown or Demerara Sugar (to taste)
1 tsp Vanilla Extract
Dried Lavender Flowers (or Lemon Zest) to Garnish
DIY Starbucks London Fog Latte in 7 Easy Steps!
---
Step One – Bring Water to a Boil
Once you've gathered everything you need, bring the water to a boil.
---
Step Two – Steep Your Tea
Place two tea bags into a cup and cover with freshly boiled water. Then, leave to brew for around 3-5 minutes (or however long you prefer).
---
Step Three – Heat the Milk
While your Earl Grey infuses, pour the milk into a pan. Then, gently simmer over medium heat.
Remember to stir continuously to avoid it sticking to the bottom of the pan or developing skin.
---
Step Four – Add Vanilla & Sweetener of Choice
As the milk heats, add vanilla extract and sweeten it to taste.
---
Step Five – Froth the Milk
Once heated, it's time to froth it.
If you're using a cafetière, pump the plunger until the milk has doubled in size.
---
Step Six – Pour Milk into Tea
Then, pour about 60ml of tea into a mug and slowly pour in the milk. Hold back the froth with a spoon, before spooning it on top.
---
Step Seven – Garnish & Serve
Add lavender leaves to garnish. And tea-dah, you're done!
---
How to Make an Iced London Fog Latte
With summer approaching, an iced version of the Starbucks London Fog Latte is just what the doctor ordered.
---
Iced London Fog Latte Recipe
Add 4 tea bags or 5g of loose leaf Earl Grey tea into a pitcher
Then, pour in 700ml cold water
Let it steep in the fridge for between 8 and 12 hours
Once the tea has steeped, add 110ml of the brewed tea, an equal amount of cold milk, and a splash of vanilla essence to a cup
Add sweetener to taste
Finally, pour over ice cubes and serve
---
Tips to Make the Perfect London Fog Latte at Home
Alternative Ways to Froth Milk
If you don't have a milk frother or a cafetière at home, there are plenty of alternative ways to froth your milk.
Hand Whisk
Electric Whisk
Jug Blender (must be heat resistant)
Immersion Blender
Pump Frother
Milk Steamer
Microwave (30 seconds)
Alternatively, you can go with the low-tech approach. Simply grab a heat-resistant jar and shake it until your milk is nice and frothy.
Not only will you get perfectly frothed milk. But it also makes for a great arm workout.
Which Vanilla Flavouring Should I Use?
The best flavouring for a London Fog Latte is vanilla extract. But vanilla pods are another great option.
You can also use vanilla-flavoured sugar, flavoured milk, or vanilla syrup.
Sweetener Substitutes
If sugar isn't your thing, here are some tasty alternatives to sweeten your London Fog drink.
Honey
Coconut Sugar
Agave Syrup
Date Paste
Maple Syrup
Monk Fruit Extract
Stevia Extract
Xylitol
Just bear in mind. Anything you choose will affect the overall taste of your London Fog Latte.
Best Earl Grey Tea for a London Fog
Starbucks uses Teavana Earl Grey tea in their London Fog Latte.
So for that authentic Starbucks taste, use either Teavana Earl Grey. Or, for an extra hit of vanilla, Teavana Earl Grey Crème.
If you're making an iced London Fog Latte (or you're simply short on time), a tea concentrate (e.g. TAZO London Fog Latte) is quick and convenient – it's tasty too!
And for those wanting to go all out – loose-leaf Earl Grey is where it's at. Typically, loose-leaf tea is of higher quality. And it's simply bursting with flavour. Plus it's plastic-free!
But ultimately, the decision is yours.
Whichever you choose, though. Remember to brew your tea stronger than usual. Lattes are around 50% milk, so doubling up on your teabags will allow the Earl Grey flavour to shine through.
Just be careful to not over-steep your Earl Grey tea or it will taste bitter and unpleasant.
How Do I Make it Vegan?
To make your Starbucks London Fog latte vegan, substitute cow's milk for something plant-based.
Due to the thickness, oat milk is best. But any barista-style milk will do!
How Do I Make it Skinny?
To make a skinny Starbucks London Fog Latte, replace full-fat milk with non-fat or skimmed milk.
For the sweetener, either skip it altogether or use something sugar-free.
There are plenty of sugar-free options out there. Even Starbucks has a sugar-free version of their signature vanilla syrup.
How Do I Make it Keto and Low-Carb?
For a keto-friendly, low-carb Starbucks London Fog Latte, use heavy cream.
Another option is coconut or almond milk. But these will make your Earl Grey latte significantly thinner.
How Many Calories in the Starbucks London Fog?
Depending on the size and the type of milk and sweetener you choose, the calories of a London Fog Latte will differ.
Here's a breakdown:
Starbucks London Fog Latte Calories (Hot)
| | | | | | | |
| --- | --- | --- | --- | --- | --- | --- |
| SIZE | VOLUME (fl oz) | VANILLA SYRUP | TEA BAGS | CALORIES | SUGAR (g) | FAT (g) |
| Short | 8 | 2 Pumps | 1 | 90 | 15 | 2 |
| Tall | 12 | 3 Pumps | 1 | 140 | 22 | 3 |
| Grande | 16 | 4 Pumps | 2 | 180 | 29 | 4 |
| Venti | 20 | 5 Pumps | 2 | 230 | 37 | 5 |
Based on a standard hot London Fog Latte using 2% milk. More info here.
Starbucks London Fog Latte Calories (Iced)
| | | | | | | |
| --- | --- | --- | --- | --- | --- | --- |
| SIZE | VOLUME (fl oz) | VANILLA SYRUP | TEA BAGS | CALORIES | SUGAR (g) | FAT (g) |
| Tall | 12 | 3 Pumps | 1 | 100 | 22 | 3 |
| Grande | 16 | 4 Pumps | 2 | 140 | 29 | 4 |
| Venti | 20 | 5 Pumps | 2 | 210 | 37 | 5 |
Based on a standard iced London Fog Latte using 2% milk. More info here.
Starbucks London Fog Latte Calories (DIY)
Our recipe uses full-fat cow's milk.
So, when making it at home, your DIY Starbucks London Fog Latte will be around 77 calories per cup.
But again, this will change if you make substitutions or adjust the measurements.
Does a Starbucks London Fog Have Caffeine?
Yes, a Starbucks London Fog Latte contains caffeine.
That's because it uses black tea.
And it will usually have around 40-60mg of caffeine.
To reduce the amount of caffeine in your cup, you can use a decaffeinated Earl Grey. Or an Earl Grey tea with a tisane base.
London Fog Latte Vs. Earl Grey with Milk
A London Fog Latte is an Earl Grey on steroids. It's creamy, sweet, and bursting with flavour.
To make an Earl Grey with milk, all you need is a dash of the white stuff. Just like your nan would make. Simple!
For a London Fog Latte, you'll need lashings of hot steamed milk, vanilla, and sweetener (if you like).
A True Copycat Starbucks London Fog Latte
And there you have it, a true copycat of the classic Starbucks London Fog Latte!
This is a fun recipe to make. But there's plenty of room to play around and get creative.
Truly, the possibilities are endless!