Here we go again. Another Earl Grey tea review.
This time around, I'm taking a look at Clipper Earl Grey and their organic, Fairtrade blend.
I've always associated Clipper Teas with herbal, healthy, and non-teas teas like nettle, dandelion, and chamomile.
And it wasn't until recently that I discovered Clipper had a caffeinated range – never mind an Earl Grey. They even do coffee!
So when I saw a box of Clipper Earl Grey at my local supermarket, I knew I had to have it.
But does organic automatically mean a better cup of tea?
Let's get the kettle on and give it a try.
First things first, though, (while the kettle is boiling) let's take a look at the company behind the tea.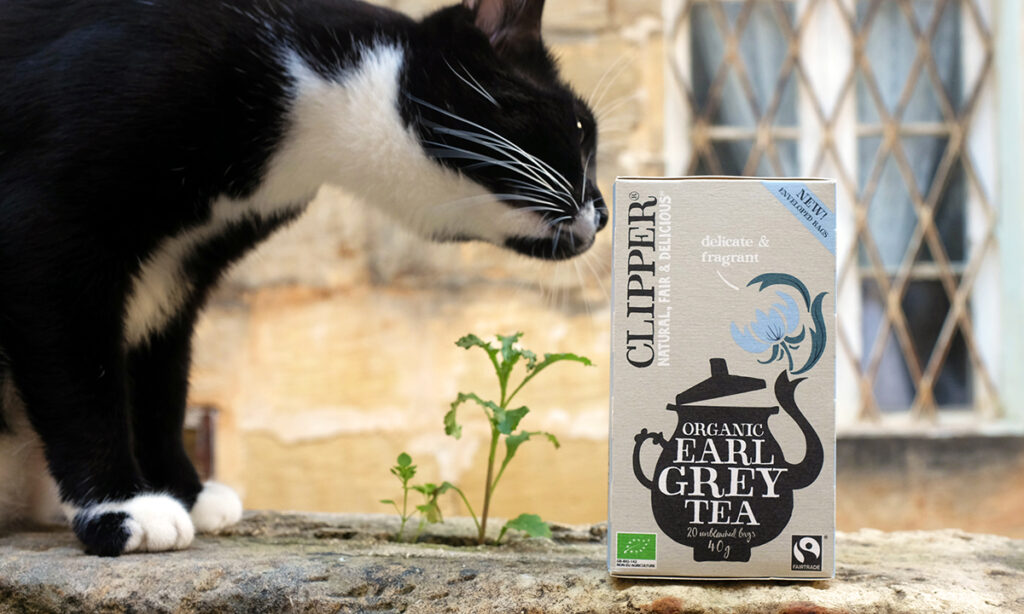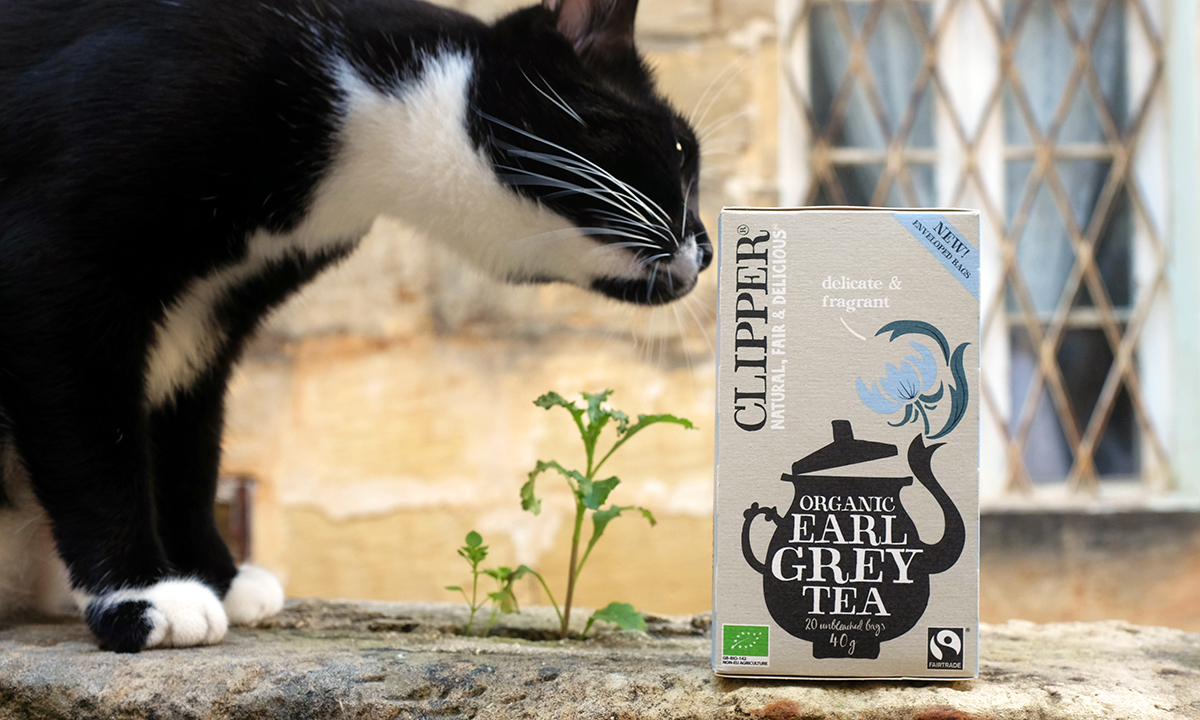 Table of Contents
About Clipper Teas
To my amazement, Clipper Teas has been around longer than me.
Founded in 1984 by husband and wife team Mike and Lorraine Brehme, Clipper has fast become a firm favourite among health enthusiasts and the ethically conscious.
In fact, in 2019, Clipper Teas reportedly became the sixth best-selling tea brand in the UK. And according to a report by The Grocer, it has held on to that top spot for the past three years.
While a separate YouGov poll and Statista report found that Clipper Teas still ranked highly among tea drinkers in 2021. With the teamaker making it into the top ten tea brands for both popularity and sales.
Considering the company began in the couple's kitchen, that's pretty impressive.
Especially when you take into account that the pair started off with just a £50 bag of organic Assam tea from the local health shop and the simple mantra:
It's what's on the inside that counts

Clipper UK
That said, it comes as no real surprise.
Nowadays, people care more and more about what's in their cup of tea – from the type of tea to the bag and packaging it's contained in.
And Clipper more than meets that criteria with their organic, plastic-free, and Fairtrade products.
Fairtrade Since 1994
But Clipper doesn't simply follow the rules, they helped write the rule book.
In 1994 we became the UK's first Fairtrade tea company. We even helped to write the Fairtrade Standards.

Clipper UK
That's right. Ten years after the company was born, Clipper became one of the first teamakers to receive the Fairtrade mark.
Today, they're still one of the world's largest Fairtrade tea brands.
Does Fairtrade make the tea taste better? Well, probably not. But you can drink that Clipper cuppa with a guilt-free conscience. Sounds pretty great to me.
New Management, Same Great Tea?
Still based in Beaminster, Dorset (where it all began), Clipper has passed hands three times following the duo's split back in 2007.
Here's a quick breakdown of Clipper Teas company history.
Fleming Family & Partners: 2007-2012
In 2007 Clipper Teas was sold to Fleming Family & Partners for an estimated 25- £30 million.
Royal Wessanen: 2012-2020
The tea company was later bought out by Royal Wessanen (a Dutch company) in 2012 for approximately £50 million.
Ecotone: 2020-Present
Since then, Royal Wessanen has rebranded under the name Ecotone.
This is to reflect Clipper and their other organic, sustainable, and natural food brands – Kallø Foods Ltd, Whole Earth, and Mrs Crimble's.
Today, they have two sites in the UK – Surrey and Dorset.
With Clipper producing over 1 billion tea bags per year from their tea factory in Beaminster, Dorset.
Clipper or Cupper Teas?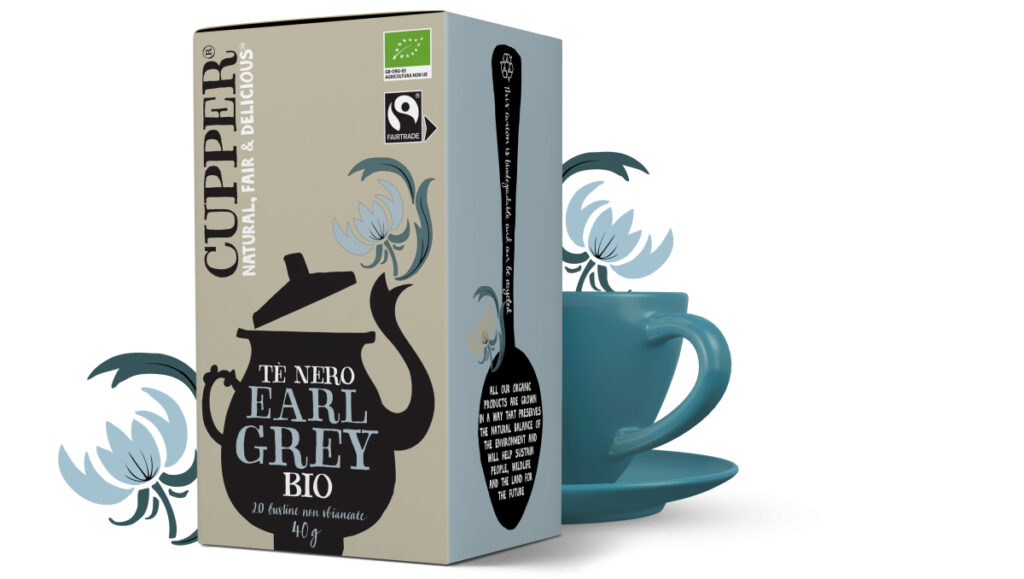 Not content with conquering the UK, Clipper Teas is available in over 50 different countries.
However, not everyone knows the brand as Clipper Teas.
In Germany, Italy, and Spain, for instance, Clipper Teas goes by the name of Cupper Tea.
Now we've got that out of the way, let's get on with the review.
A Guilt-Free Unboxing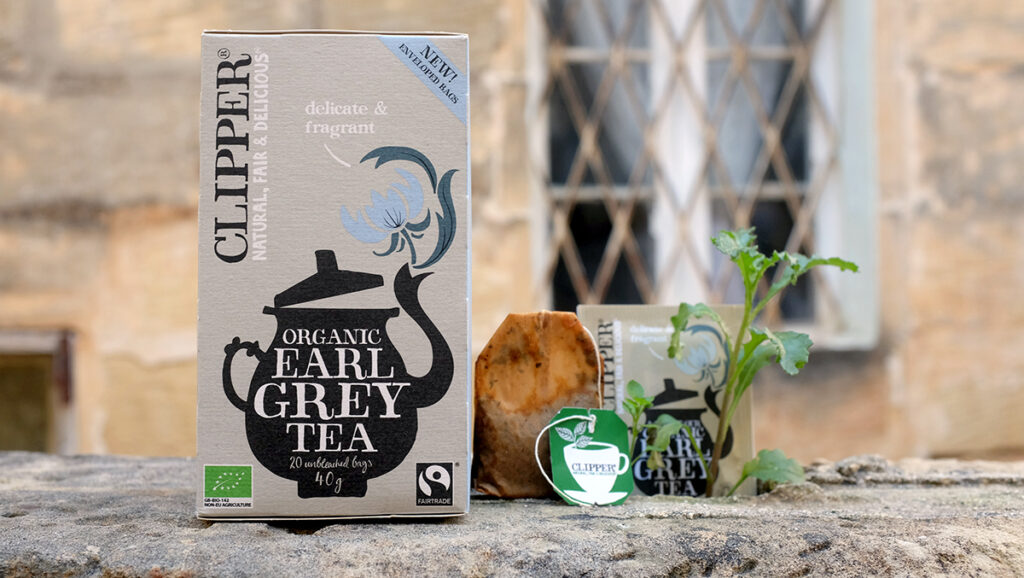 At first glance, the box looks quite basic.
But on closer inspection, there's a slight shimmer to the plain light blue and stone-coloured packaging.
I quite like the white text on a black background style, which appears on the kettle illustration. It reminds me of a chalkboard at a tea room, small restaurant, or independent shop.
That's probably due to the large spoon on the side. Well, that and the kettle.
Either way, it certainly has that, good for the environment, health shop vibe to it.
And the information on the box reflects that, with lots of information about its Fairtrade, Soil Association, and other environmentally friendly credentials.
Unfortunately, the packaging has one big flaw – perforated edges!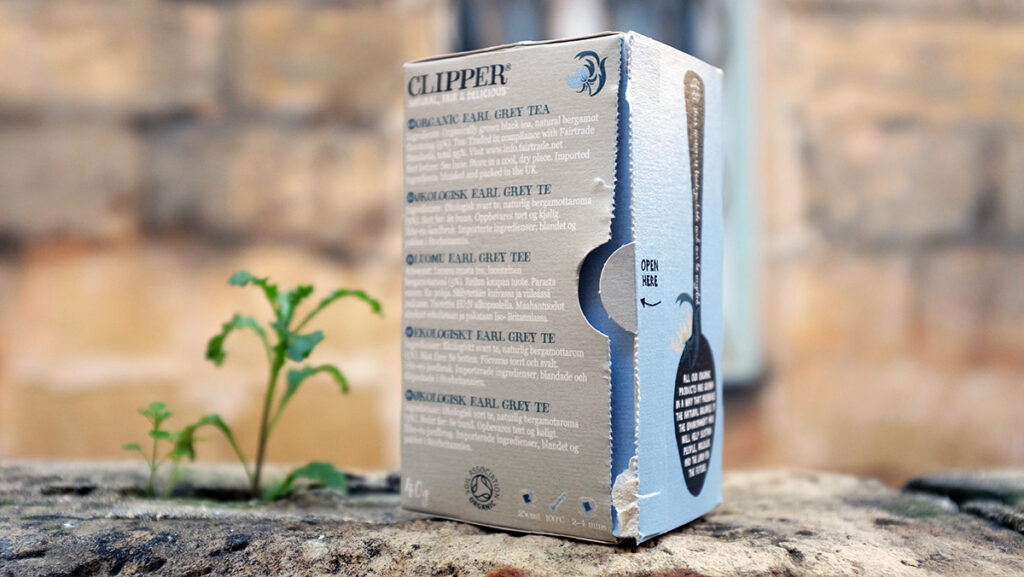 No matter how carefully I tried to open the box without ripping it, I failed. Sure, it's not the end of the world, but it's not a great start to the review.
Not only that, but the now deformed box is a pain to open and close properly.
What I do like, though, is that everything can be recycled – the box, the teabags, and the envelopes.
Recyclable Enveloped Bags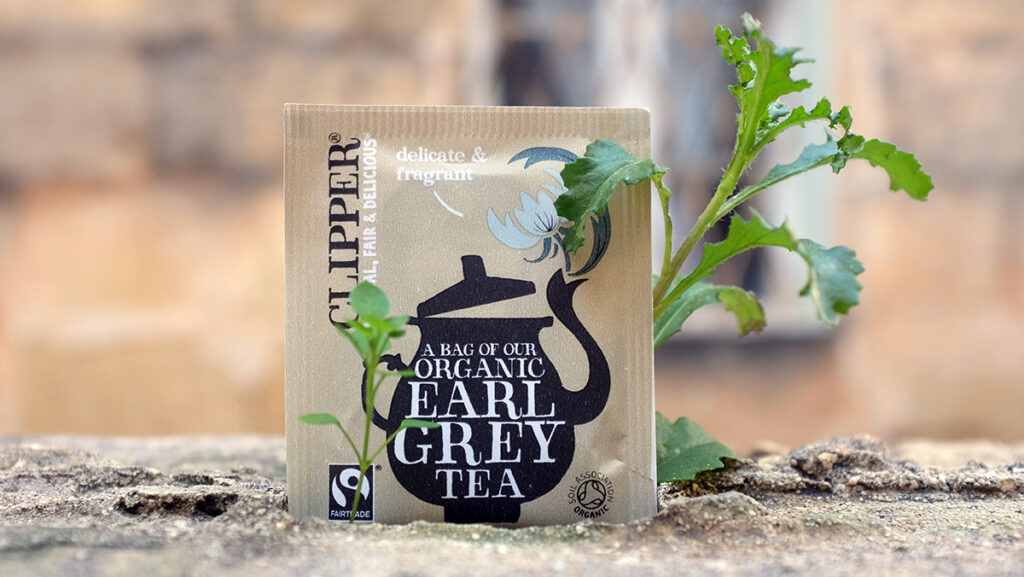 Like the box, the wrapper has a cardboard/chalkboard feel to it. This is thanks to the solid stone-coloured (maybe olive) background and the white on black text.
I can't quite decide whether it looks modern and minimalist or kitsch and old fashioned. It kind of tethers on the edge of grandma meets trendy cafe.
I think it's the floral pattern on the top right corner that has me confused.
Each tea bag is individually packed in Clipper's new recyclable envelope-style packaging which launched in 2019.
Made with 67gsm paper and a light heat seal coating, this envelope wrapper is not only environmentally friendly, but it's apparently 33% lighter than its predecessor.
This is compared to the 100gsm paper laminate (80gsm paper and 20gsm polyethylene (PE)) packaging Clipper previously used. Of which wasn't considered widely recyclable.
However, while the wrapper is fully recyclable, it isn't completely plastic-free due to the polymeric dispersion (heat-seal) coating.
This biodegradable and plant-based PLA plastic coating is used to keep the tea bag fresh.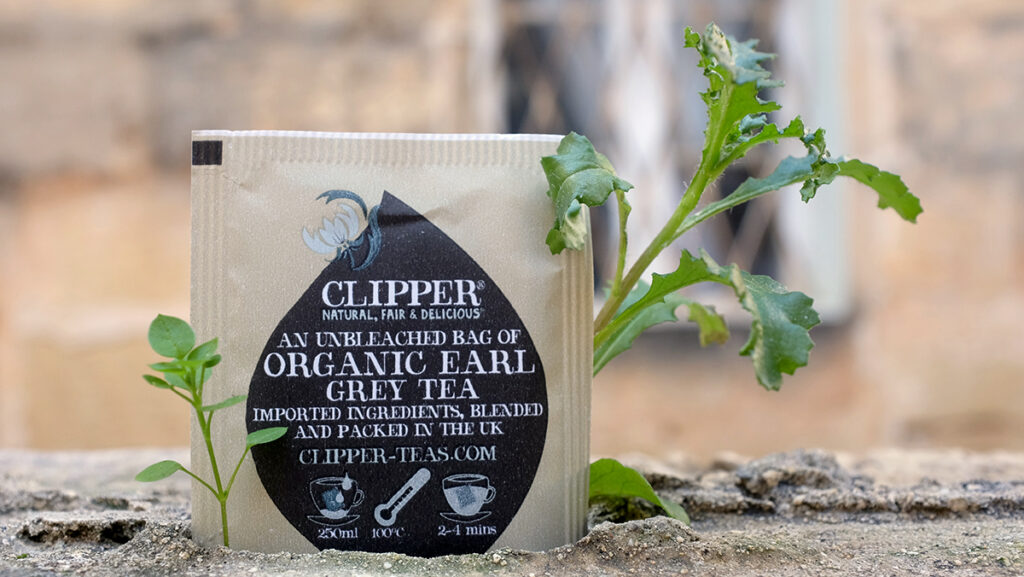 On the back of the packet, there's a little more information. But not much.
Clipper is clearly very focused on the organic, unbleached, plastic-free, and recyclable aspects of its product.
However, I would like to know more about the tea itself. More than just it's organic and black.
There are some brewing instructions, along with the fact that their ingredients are imported but blended and packed in the UK.
| | | |
| --- | --- | --- |
| Temperature | Water Quantity | Steep Time |
| 100 celsius | 250 millilitres | 2-4 minutes |
Clipper Organic Earl Grey Recommended Serving Instructions
But just like the box, there's no mention of where these ingredients are sourced from, what type of black tea is used, or any nutritional information at all.
For a company targeting the organic market, you'd think they'd be more forthcoming with this sort of information.
Size Matters
I managed to get my hands on a 20 tea bag box (40g total).
If I do my maths right, that's 2g per teabag. Although it doesn't specify this on the box or the packet.
This sized box appears to be exclusive to most European tea drinkers (i.e. France, Italy, and the Netherlands).
Whereas, in the UK and Sweden, Clipper Organic Earl Grey is available in boxes of 25, 40, 80, and 250 bags.
While the USA has boxes of 50 tea bags, totalling 125g per box.
Clipper UK vs the Rest of the World
One small thing to note is that the packaging is a little different in the UK compared to the rest of the world.
It's extremely similar. But, there's one small difference (other than the size options) that I noticed when doing my research.
And that's the kettle illustration on the front.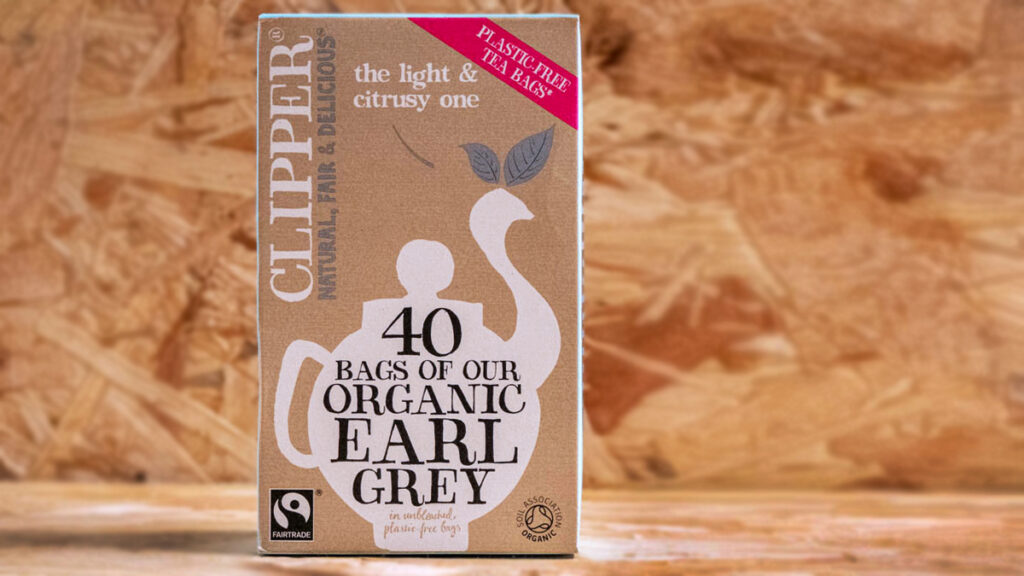 What's different?
Well, first off, the colour of the kettle is white and not black like the box of tea I have. I bought mine in Malta.
The UK version also has a couple of silver leaves instead of the granny-style flowers of the International box.
Lastly, the tagline isn't quite the same.
"The Light & Citrusy One" – UK
"Delicate & Fragrant" – Everywhere else
And apparently, that's not where the differences stop.
But we'll get to that in the ingredients section.
Earl Grey Aroma
As soon as you open the box you get a warm, inviting scent.
It definitely has a familiar smell. But it's something that I'm having trouble placing – tobacco, fruit leather, dates, Wine Gums? I just can't put my finger on it.
Wait! I've got it. Soreen. The fruity malt loaf snack from Leicestershire.
And once that hot water hits the bag, the aroma only intensifies.
A peppery aftershave fragrance fills the air. This floral scent overrides the initial fruity hay-like aroma when dry.
It's similar to the Ahmad Teas Earl Grey blend – which is a promising start.
If you haven't guessed, I'm a fan of this type of aroma over citrus.
Strength and Taste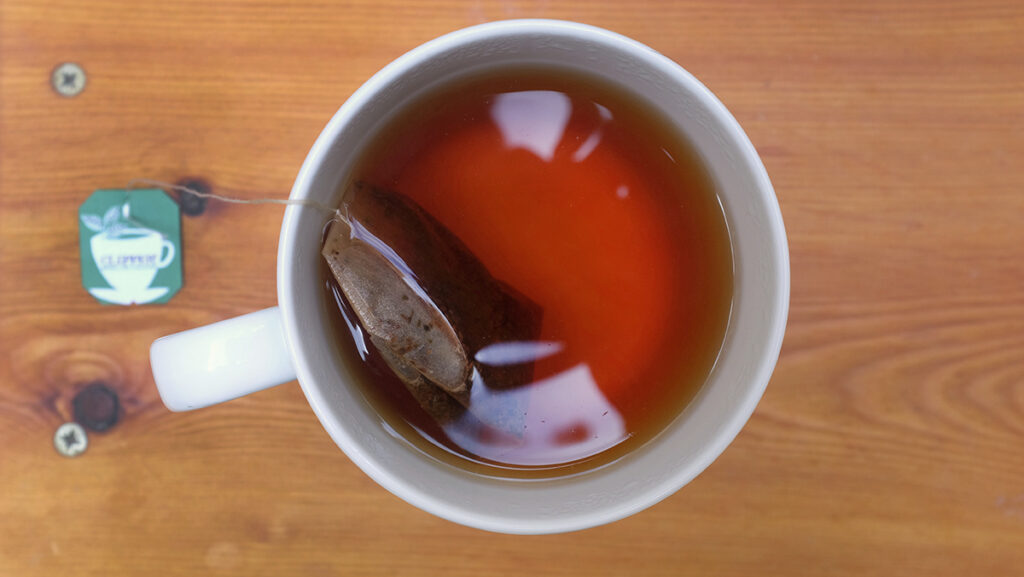 Right away, the colour of the water starts to change into a dark, earthy brown.
This shade of brown is more on the cool side of the spectrum. Certainly in comparison to some of the more orange and golden yellow-toned Earl Grey brands I've reviewed.
Clipper recommends that you steep the tea bag for 2-4 minutes.
I was a little worried it might be a little too heavy on the black tea taste. But my mind was soon put at ease. And, I was pleasantly surprised.
And at the risk of sounding like Goldilocks and the Three Bears, this tea blend is "just right".
It's light, smooth, and a little floral.
There was no chalky, dry aftertaste or felty mouth feel.
Overall, it's well-balanced. Not too strong and not too bitter.
But that doesn't mean it's weak.
This Earl Grey tea is robust enough to be drunk with or without a dash of milk.
In fact, it's quite nice.
Brew Time Test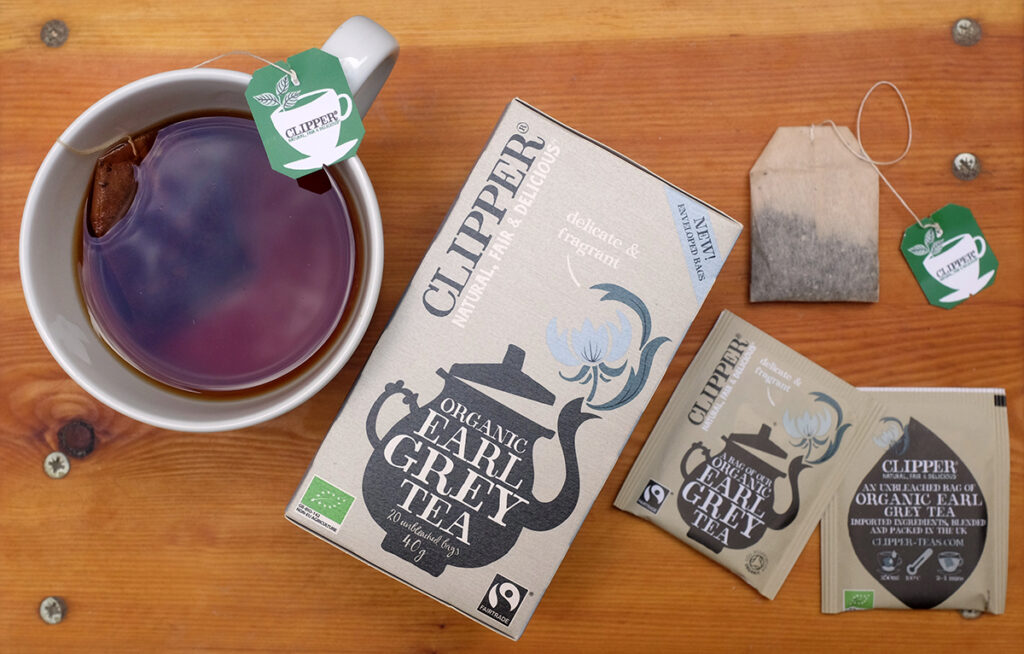 Equipment: Kettle, Mug, Measuring Jug, Thermometer, Stopwatch, Bottled Water, and a Clipper Organic Earl Grey Enveloped Tea Bag.
Method: Using a stopwatch, I tested the Earl Grey tea at different time intervals. I noted down any taste, flavour, and colour differences along the way.
And here are the results.
1 min…
It doesn't take long for the water to change colour to a cool, reddish-brown.
After an initial zesty orange smell, you're hit with an intense peppery aftershave aroma.
At this stage, the prominent taste is the bergamot rather than the tea.
2 mins…
A little more citrus starts to breakthrough. But, there's still a pleasant peppery aroma and taste.
The red colour gets a little deeper, but there's no bitterness from the tea yet.
All the visible flavour granules have completely dissolved.
3 mins…
The colour remains the same.
However, the tea flavour is starting to come in.
There's a slightly bitter aftertaste, but it's subtle and not unpleasant.
Without milk, I wouldn't want it any stronger.
4 mins…
The tea tastes stronger, but not overpowering.
There's also a little more of a floral background taste.
If you like a lighter Earl Grey with a dash of milk, this is probably a good time to take the teabag out.
5 mins…
A tangy orange aftertaste starts to emerge.
The tea is a little stronger, but still perfectly drinkable – ideal for a generous lashing of milk – think London Fog Latte.
10 mins…
Not much change to the taste. But it starts to feel a little chalky and dry on the throat.
Oh hell, let's leave it in…
There doesn't seem to be much of a change in terms of strength or taste.
It's certainly more powerful than both Tetley's or Twinings Earl Grey.
But unlike the Ahmad Tea Earl Grey blend, it never gets too strong. It gets close, though.
This might be a put off for some, but honestly, I don't like my tea too overbearing – it makes me a little dizzy and sick, especially if I haven't eaten.
I'd say that Clipper has their recommended steeping time down to a, well, tee.
Around the 2-3 minute mark is perfect without milk. Or, 4-5 minutes if you want to add steamed milk and turn it into a London Fog.
Re-Steeping Clipper Earl Grey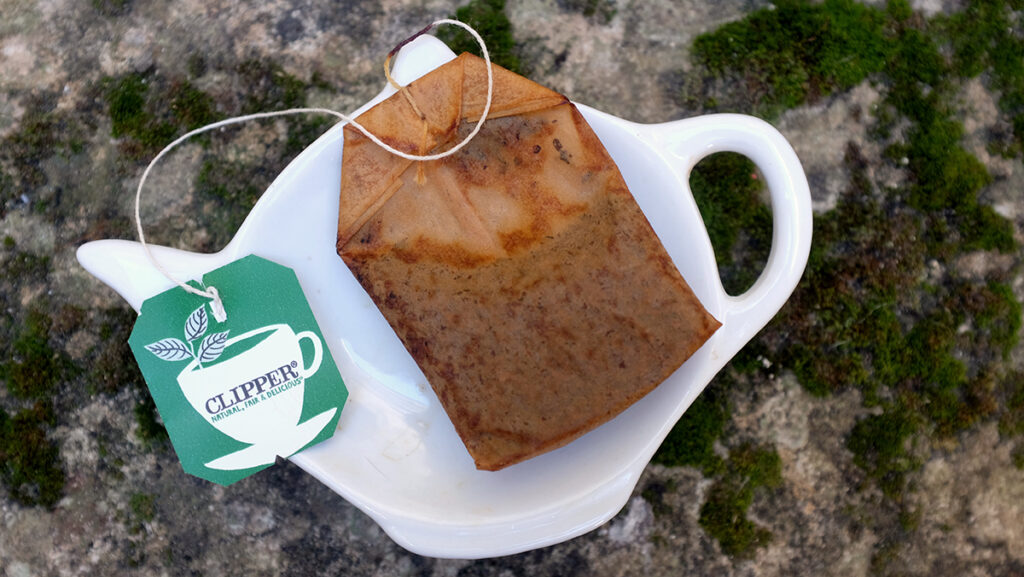 Because this Earl Grey is on the stronger side of the spectrum, re-steeping is certainly possible.
For me, I found that the 2-3 minute mark was best when drinking this Earl Grey without milk, while Clipper recommends 2-4 minutes.
So, to test this out, I decided to brew a cup of Clipper Earl Grey tea at 3 mins.
Then, using the same teabag and a fresh cup of water, I steeped it again.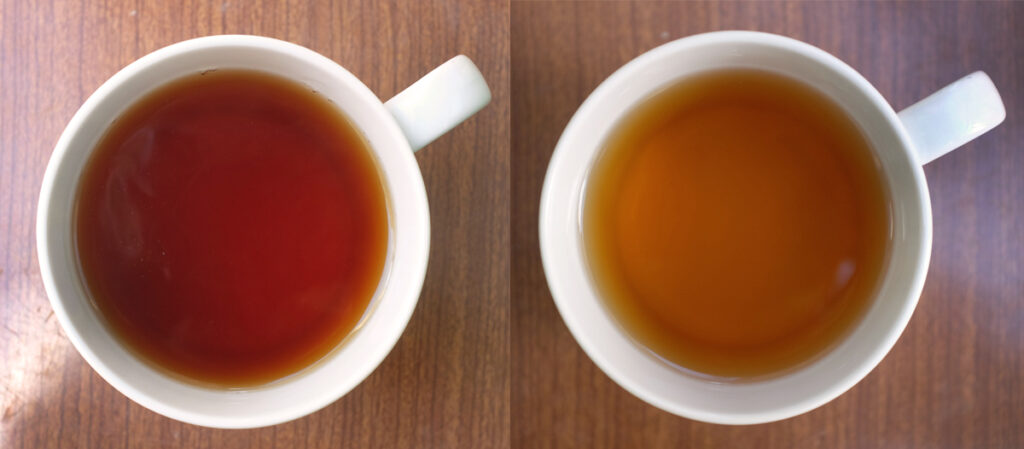 As you can see from the images above, the second time around, the tea is a little lighter. And that's reflected in the taste.
There's still a subtle flavour, but the bergamot is less notable. That's likely because the flavour granules have already dissolved by this point.
If you don't mind a lighter initial Earl Grey tea, then I would suggest doing a 2 min steep.
At 2 minutes, you get a perfectly reasonable and flavourful cup of Earl Grey.
The re-steep will still be weaker, of course. This is also a bagged tea after all. But for those who like to re-steep their tea, it should be acceptable.
That said, as a general rule, re-steeping a bagged tea is not entirely advisable, as you do lose some of that tasty bergamot flavour.
Inside the Tea Bag
Ingredients
Organic Black Tea (95%)
Natural Bergamot Flavouring (5%)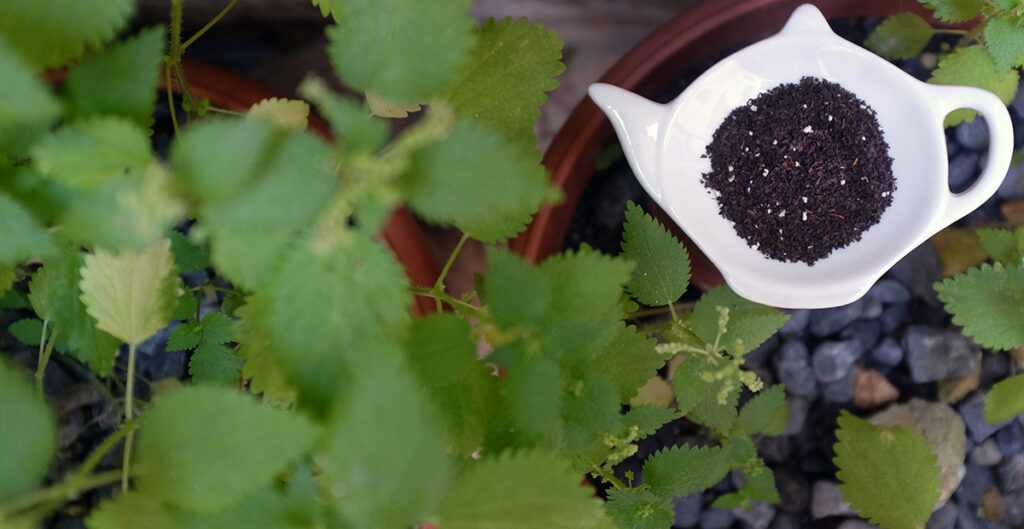 Upon opening the unbleached tea bag, I see a dark, almost bark-like, offering.
The leaves are quite finely crushed. But not so fine that they leave dust or residue at the bottom of the cup or packet.
And I'd say that they look similar in colour and size to Tetley's Earl Grey blend.
Unfortunately, like so many other bagged Earl Grey's, Clipper doesn't go into much detail about the ingredients. At least not on the box.
One thing that Clipper are very open about, though, is that their tea is organic, black, and ethically sourced.
They're also not shy in boasting about the quality of their tea.
At Clipper we never use dust… and instead prefer to use the more premium grades of leaves

Clipper UK
However, which black tea they use in their Earl Grey blend is a little less obvious.
After a little digging, it looks like there are two main contenders.
Assam Tea
According to Clipper Teas (Ecotone), the teamaker uses Assam and 'other teas' in their Earl Grey blend.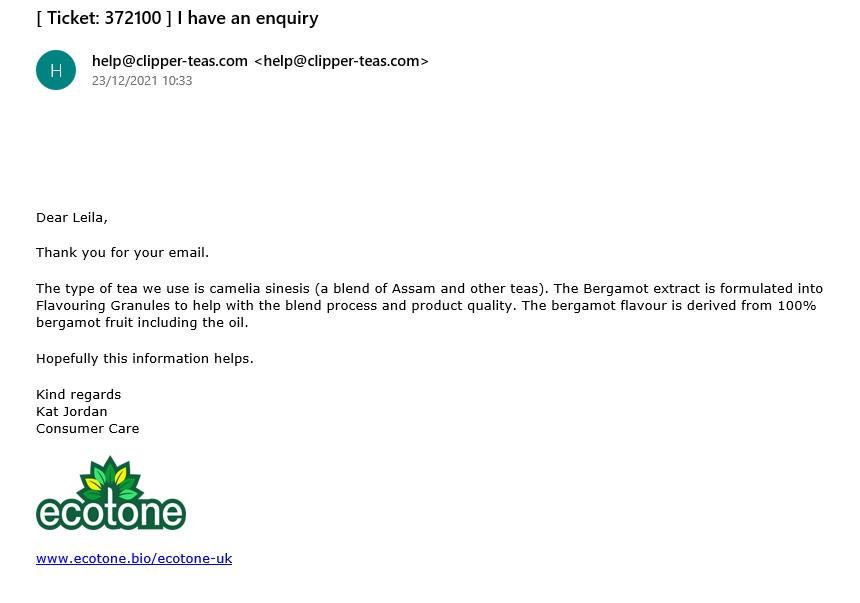 That would make sense.
Clipper apparently started out with "two chests of the finest grade Assam tea".
And on the Clipper website, they have a lot of information on Assam tea, the region, and their Fairtrade contacts in that region. They also make a big deal of only using a handful of suppliers.
Assam is one of the main types of tea used in your everyday tea – an English Breakfast or builders tea.
The taste can be described as malty, rich, earthy, and slightly bitter.
It's also one of the few teas I drink with milk because it's quite strong.
However, when trying this tea, it wasn't that strong at all, even when leaving in the teabag. I wouldn't be able to do that with a cup of PG.
This could be because Clipper uses a higher quality Assam tea. Or, perhaps it's because their Earl Grey contains a blend of teas and not just Assam.
But that's not all.
Nilgiri Tea
Whilst I was waiting for a response from the Clipper help desk, I decided to look at some of their international sites.
Who knows, maybe one of their descriptions included more details about the type of black tea.
After all, it looks like I have the International version of Clipper Earl Grey tea, despite the box stating that it was blended and packed in the UK.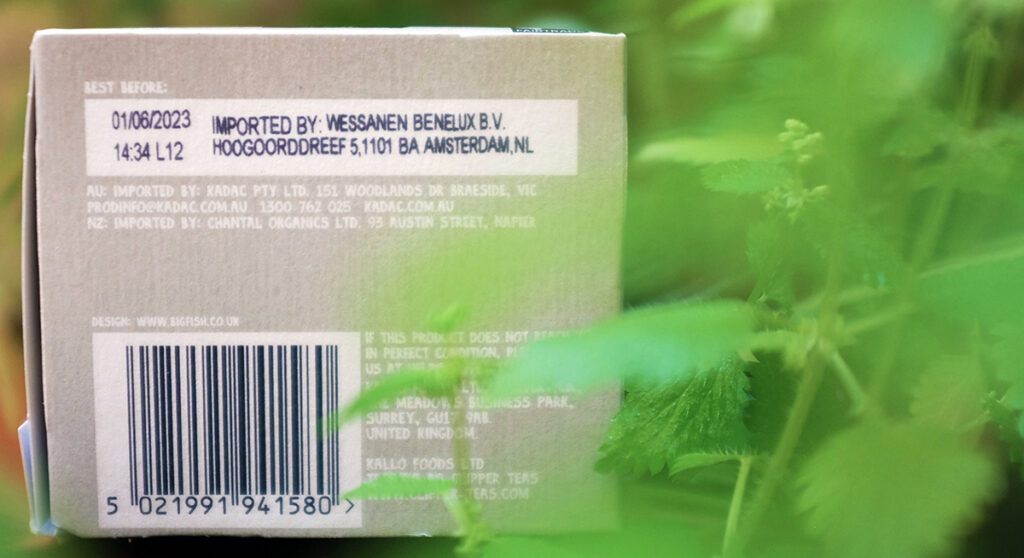 And success. Both the Netherlands and Belgium websites had this to say:
Made from the very best black tea from the hilly Nigiri area in southern India.

Clipper NL and BE Earl Grey tea description (English Translation from Dutch)
When Googling Nigiri tea, I found out that it's actually Nilgiri tea. I'm guessing the above is a typo or translation issue.
When I asked Clipper about this, they had this to say: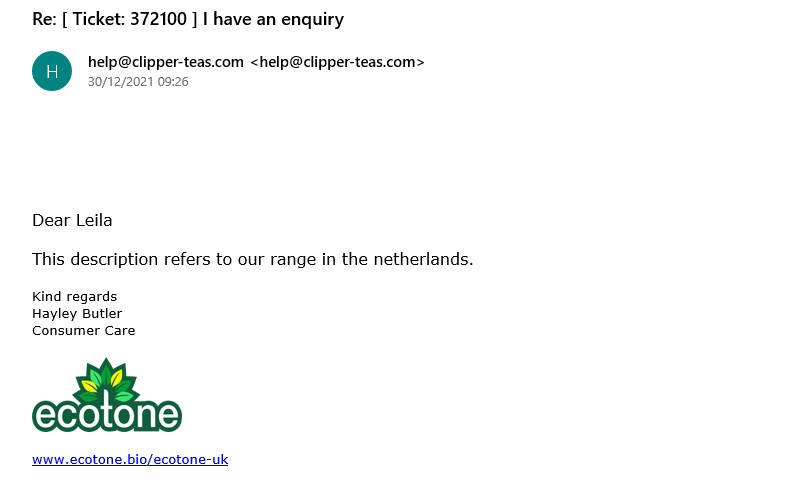 So what is Nilgiri tea? And is that what's inside my cup of Clipper Earl Grey?
Well, like Assam tea, Nilgiri comes from the Camellia sinensis plant.
Not only is it a type of black tea, but it's also the name of one of the three tea producing regions in India. The other two being Assam and Darjeeling.
Unlike Assam, this tea is grown in the South Western tip of India, on top of the mountains in the Western Ghats in Tamil Nadu.
And as it happens, the name Nilgiri translates to 'blue mountain'.
Due to the unique, hilly, wet, and cool growing conditions of Nilgiri, the taste is a little different to Assam which is grown on low ground at sea level.
It's said to be fragrant, fruity, nutty, and mellow in flavour.
Other Clipper Earl Grey Reviews
When comparing my images to other Clipper Earl Grey review images, I noticed that the shade of their tea looked much darker and cloudier than mine.
This could be explained by the type of water they used. Or, it's perhaps it because they have the Assam version and I have Nilgiri? Who knows.
For now, it looks as though I'll have to put a pin in this. And hopefully, I can update this review once I find out the answer.
Natural Bergamot Flavouring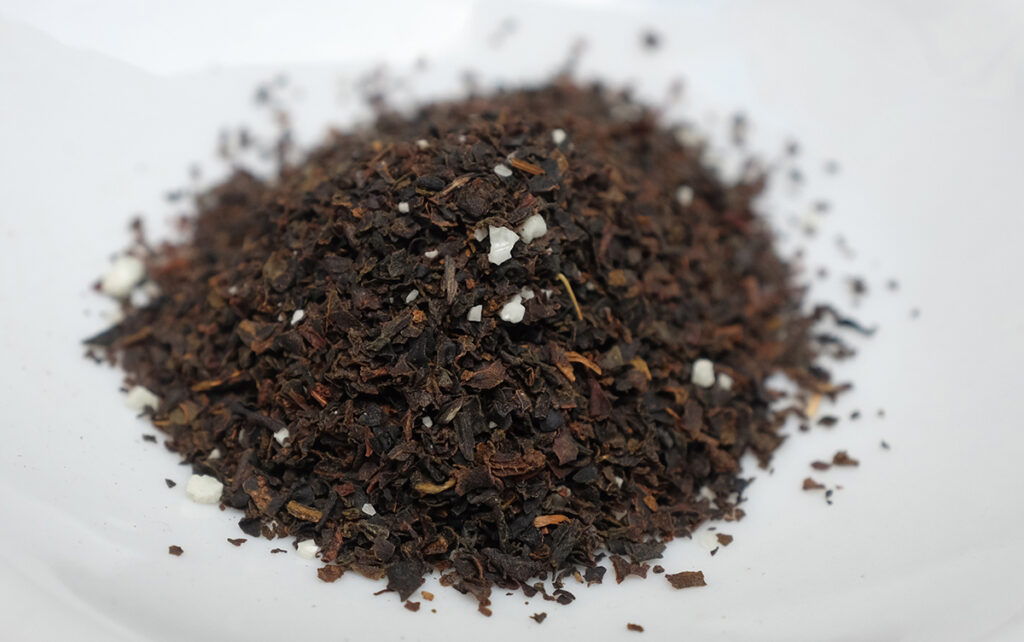 In among the tea leaves are crumbled-up white flavouring crystals. They vary in size and are irregular in shape.
They have a slight sheen to them and almost like someone crushed up a rock candy or mint.
On the Clipper box, it states natural bergamot flavour. When I contacted Clipper Teas for clarification, they confirmed that their Earl Grey tea uses 100% bergamot fruit and oil.
Unlike some of the other Earl Grey's I've tried, it didn't have a strange tangy artificial aftertaste at all.
In fact, when I singled out one of the crystals, the taste was quite complex.
It started out with a sweet orange which quickly turned to floral, pepper, and almost menthol in taste, before becoming a little bitter and soapy – but in a satisfying way.
It wasn't as sweet, sticky, or malleable as some of the other Earl Grey flavouring crystals I've tried.
The texture is quite crumbly and chalky. I don't think sugar has been added at all.
We have enriched the light, delicate taste of this tea with natural bergamot and lemon aromas.

Clipper NL and BE Earl Grey tea description (English Translation from Dutch)
Despite the mention of lemon on the Netherlands website, I didn't detect any. But then again, it could have been lost in the power of the bergamot itself.
Caffeine in Clipper Earl Grey Tea
While Clipper doesn't specify the caffeine content of their Earl Grey tea, they do estimate that there's 40-70mg of caffeine in a cup of their everyday tea.
Are Clipper Earl Grey Tea Bags Plastic-Free?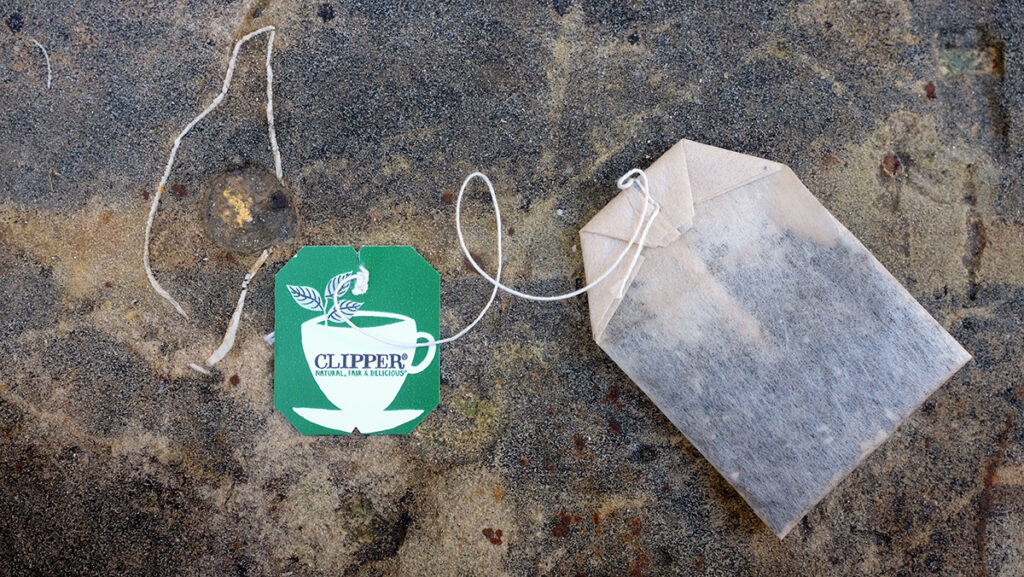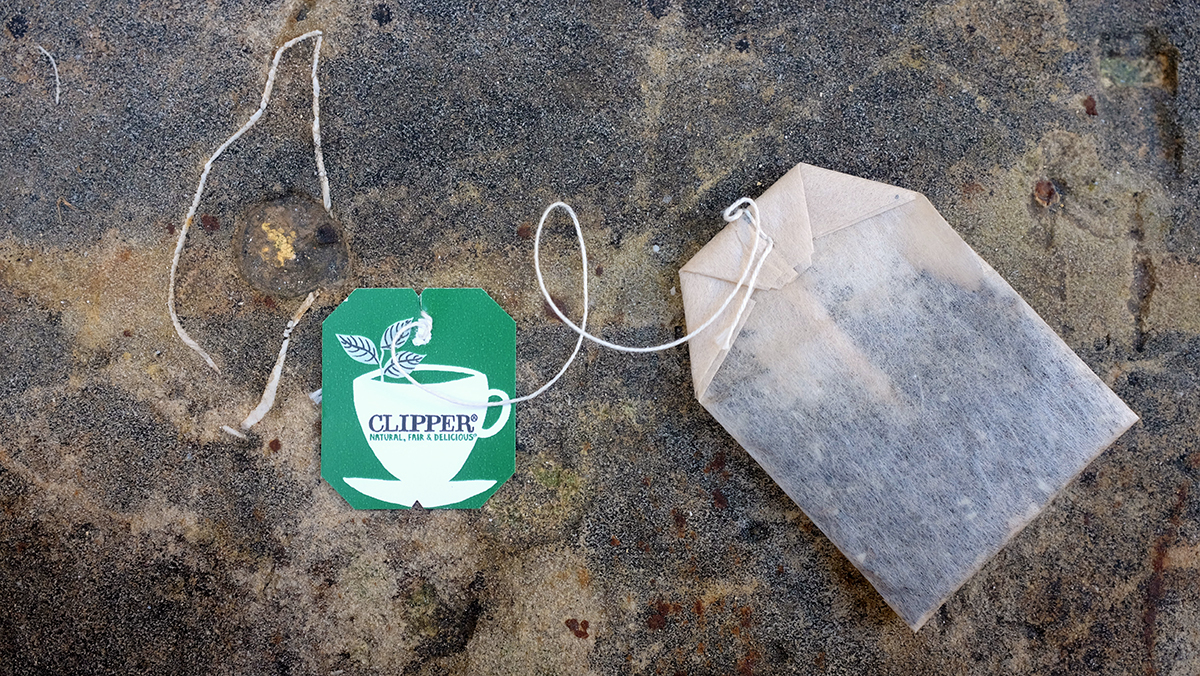 According to Clipper, their tea bags are 100% plastic-free, unbleached, plant-based, and biodegradable.
In 2018 we were the world's first tea company to switch to Plant-Based, Biodegradable, non-GM and unbleached tea bags.

Clipper UK
And a BBC report back in 2020 helped back that up.
During the program, Clipper, Pukka, and PG Tips were the only bags to completely dissolve in the ammonia solution. Twinings, Tetley, and Yorkshire tea did not.
What does this mean?
Clipper Earl Grey tea bags are a Certified Carbon Neutral®Product.
Not only is it better for you, but there's no need to worry about your teabag ending up in the Great Pacific Garbage Patch.
Disposing of non-plastic tea bags is also much easier. There's no need to rip open the teabag. It can be thrown into your organic waste or compost heap.
It's also worth noting that Clipper ditched the metal staple from their tea bags in 2013 which is good news.
Final Thoughts…
I have to say, I really like this tea. And honestly, I wasn't sure I would.
The tea itself isn't too overpowering. While the bergamot doesn't have that weird and unpleasant mouthfeel you get with artificial flavouring.
I'm actually impressed that they use real bergamot oil. Especially as this is a reasonably priced Earl Grey.
It also doesn't hurt that it's plastic-free, organic, and Fairtrade either.
I'm not about to quit my job and join Greenpeace or anything. But, it's comforting to know I'm not polluting the environment (or my body) – at least not because I indulged in a cup of Clipper Earl Grey tea.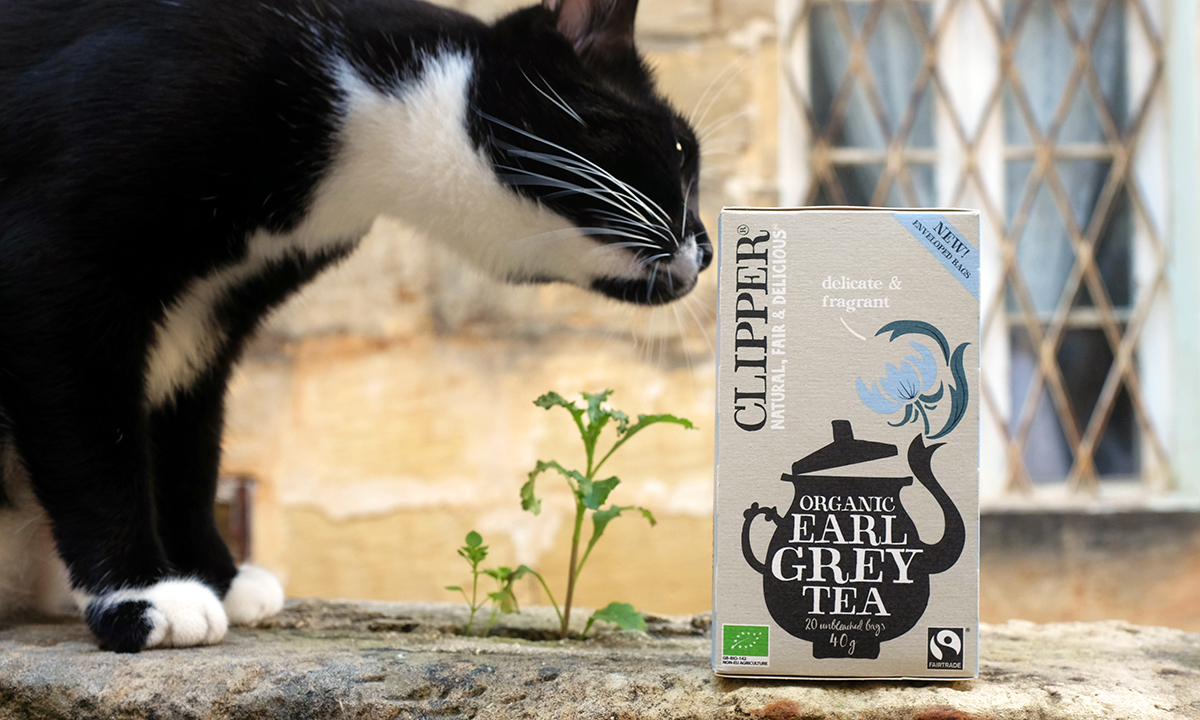 Bertie (the cat) certainly seems to be quite enamoured with it anyway.