Organic, affordable, and REAL bergamot! This Earl Grey blend from English Tea Shop sounds too good to be true.
But does this ethical tea brand actually taste good? Or are they all talk and no substance?
Well, there's only one way to find out. It's time to review English Tea Shop's Organic Earl Grey.
Yay. Let's pop the kettle on and drink some tea!
But first (while the kettle boils) let's learn a little about the company behind this Earl Grey blend – English Tea Shop.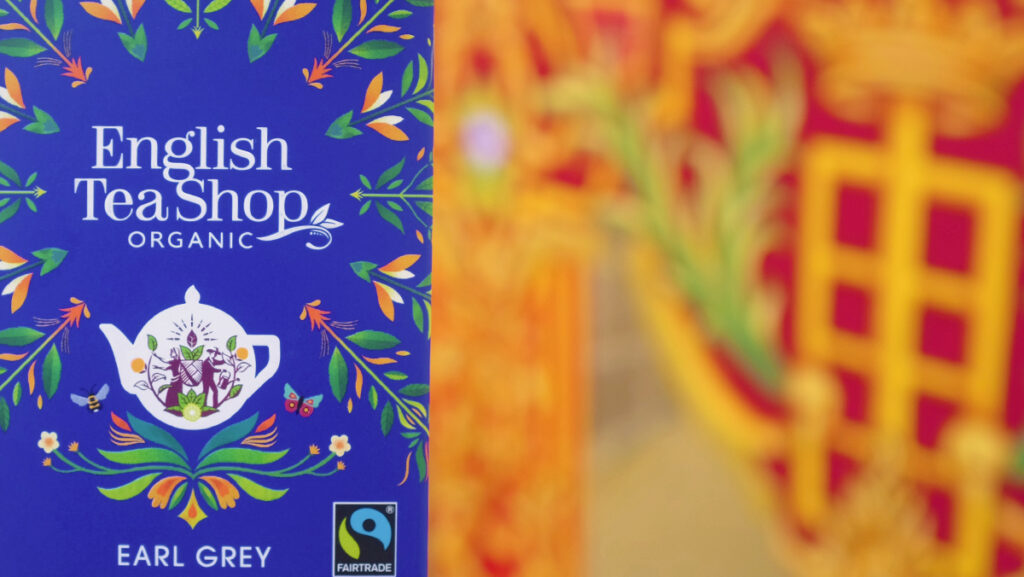 Table of Contents
About English Tea Shop
Founded in 2010, English Tea Shop is an ickle-wickle baby compared to the competition.
And while I wouldn't quite label them a zoomer brand. English Tea Shop certainly knows how to appeal to the Millennial and Gen Z "woke" mindset.
One way they do this is by using ALL the buzzwords.
Plastic Free
Vegan
Organic
Fairtrade
Equal Opportunity
Carbon Neutral
Fully Transparent
Recyclable
Compostable
Non-GMO
Employee Owned
Farm to Cup
And Many More…
Of course, just like Gen Z, this tea maker knows how to work social media. And you can find them on Facebook, Instagram, and Twitter. Wait! No Tik Tok?! Erm, maybe.
What's more, they actively post, interact, and reply – how novel.
They even have a Linkedin. But unless you're an International tea dealer (I'll take my Earl Grey shaken not stirred, please), there's not much to say about that.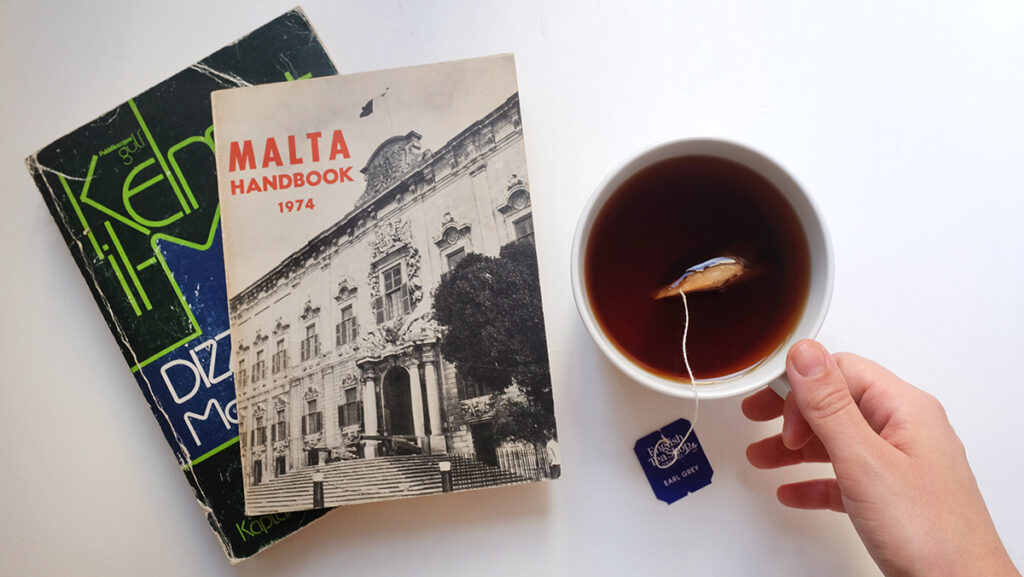 Amazon Teas & Amazon Trading (Pvt) Ltd
The English Tea Shop brand is owned, manufactured, and marketed by Amazon Teas. But before you hit the panic button. No, there's zero relation to Jeff Bezos & Co! Phew.
Instead, the CEO is Suranga Herath. A man who (according to the press junket) has spent over 22 years in the tea industry. And in 2018, he was named one of the most ambitious leaders by LDC.
Based in Colombo, Sri Lanka, English Tea Shop has direct access to the good stuff. And by that, I mean organic, Non-GMO, Fairtrade, and sustainably sourced Ceylon tea leaves.
However, it wasn't always that way.
Amazon Teas was originally set up in 2001. They later rebranded as English Tea Shop in 2010. Previously, their focus was on mass-produced, low-cost products.
Now, their new mission is to promote organic and sustainable farming practices.
Their aim is to benefit all in the supply chain – everyone from the workers down to you, the consumer.
---
Other Awards & Nominations
Awards:
Great Game of Business (GGOB) All-Star Award and Queen's Award for Enterprise in Sustainable Development (2020)
Nominations:
Nominated for 2017 Grocer Gold Awards (Finalist)
Mentions:
Listed in London Stock Exchange's Top 1000 Companies to inspire Britain (2019)
Listed in Atlantra Food and Beverage Fast 50 (2018)
CEO named one of the most ambitious business leaders by LDC (2018)
---
Farm to Cup – Fairtrade & Organic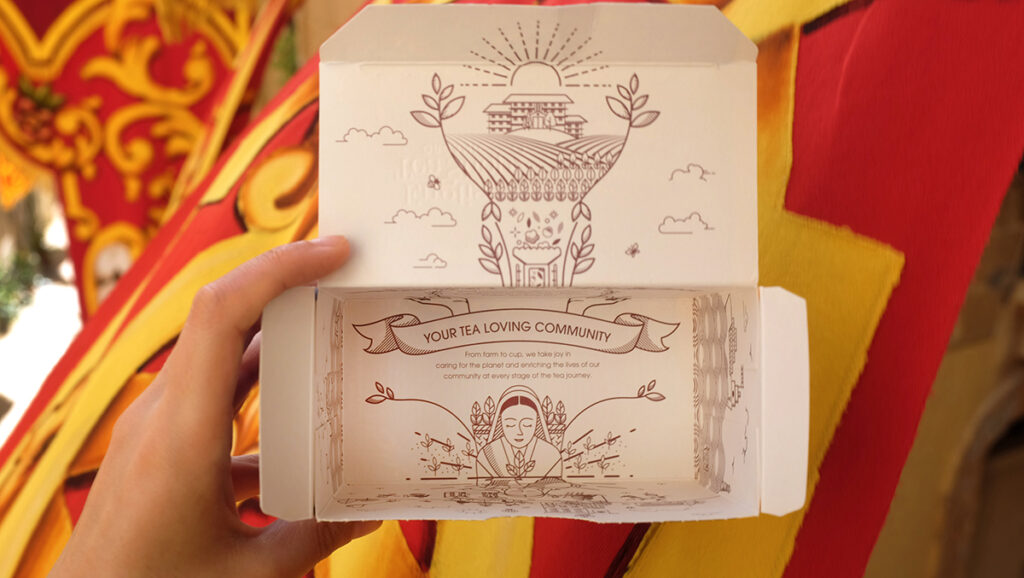 Ethics and sustainability are at the top of English Tea Shop's agenda. Not only are their teas organic, but this fledgling tea maker works directly with small-scale farmers.
They take the time to educate their farmers on sustainable and organic farming methods – giving them the support they need to get certified.
This includes several partnerships with universities. And various skill and development workshops through their in-house knowledge hub program.
As a result, you can drink their Ceylon teas with a clear conscience.
Now that's out of the way, on with the Earl Grey tea review.
A Carnival of Colour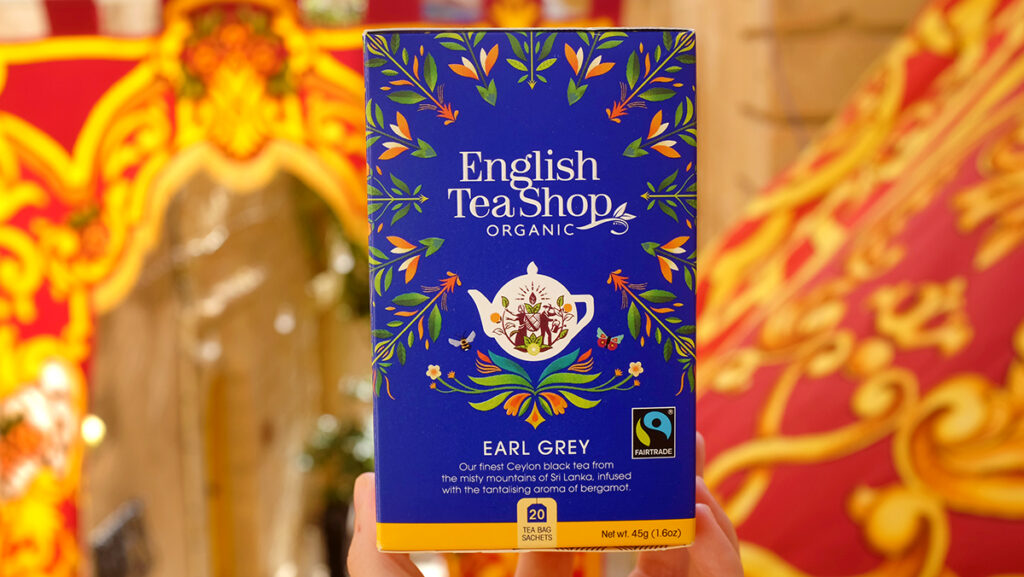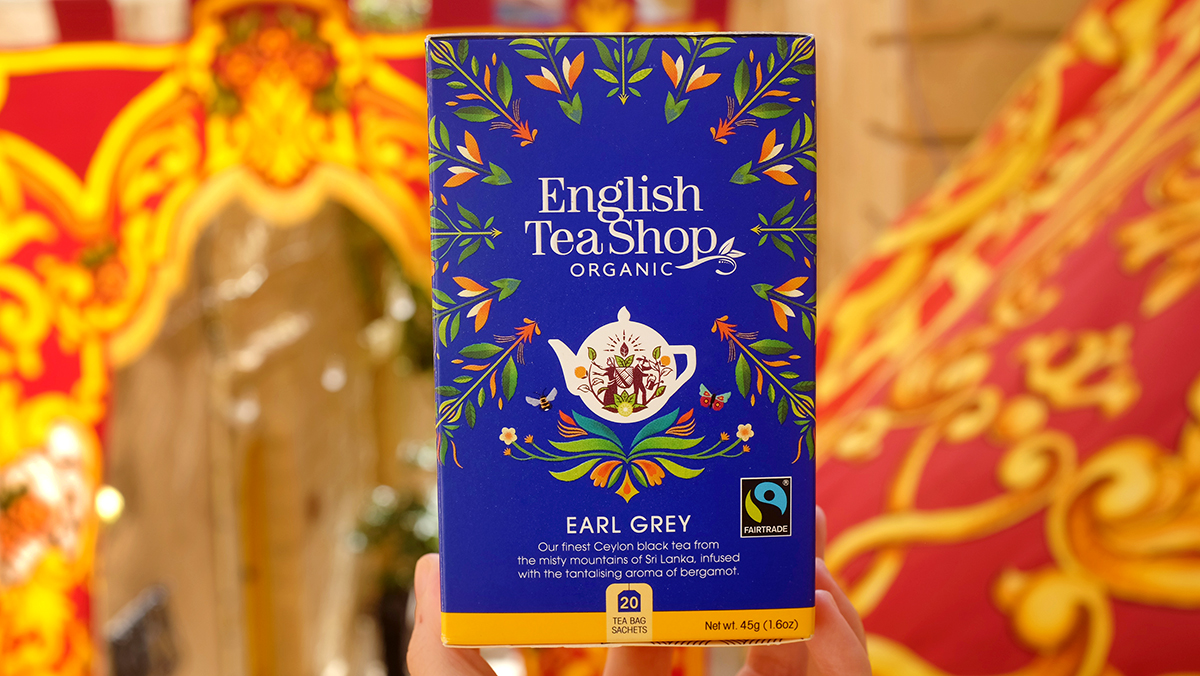 English Tea Shop's packaging is bright, bold, and very blue. It certainly stands out on the shelf.
Despite the old-timey name, the design and typography look contemporary, without being overly loutish.
The rich, royal blue background is adorned with a floral print.
The various shades of green, yellow, and orange make the illustrations pop. While the embossed lettering gives it a premium feel.
A Tear-Free Unboxing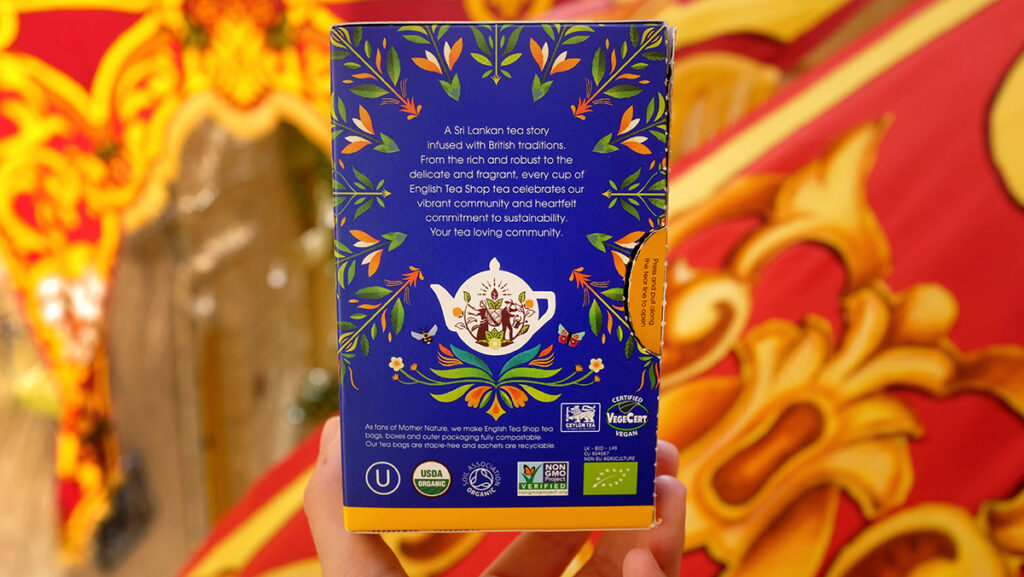 Best of all there's no pesky plastic wrap to wrestle with (I'm looking at you Ahmad Tea).
And although it features perforated edges, it doesn't rip. In fact, opening and closing the box is a breeze.
Honestly, Clipper could learn a lesson from the package designers at English Tea Shop (Echo Brand Design). I still get worked up thinking about how easily their box ripped.
It certainly doesn't strike me as a budget brand at all. The packaging (at least) is on par with Pukka.
Individual Earl Grey Tea Bag Sachets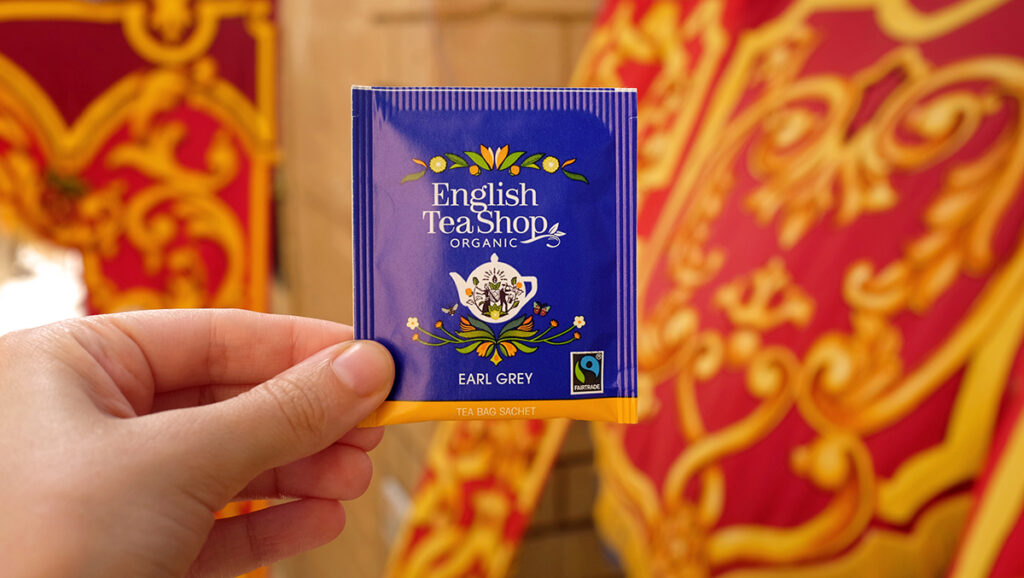 Inside the box, you're greeted with a lovely illustration and some messages from the English Tea Shop team.
There are 20 sachets inside the box. And their Earl Grey blend is also available in pyramid bags and loose leaf form.
Each individually wrapped sachet has a similar design to the box. And you can tell that they haven't skimped on the printing and packaging here either.
In fact, the thick paper they use can take a lot of wear and tear. This makes the sachets ideal to pop in your bag for travel, without the risk of them ripping open.
And if you're wondering if the sachets are recyclable. Yes, they are!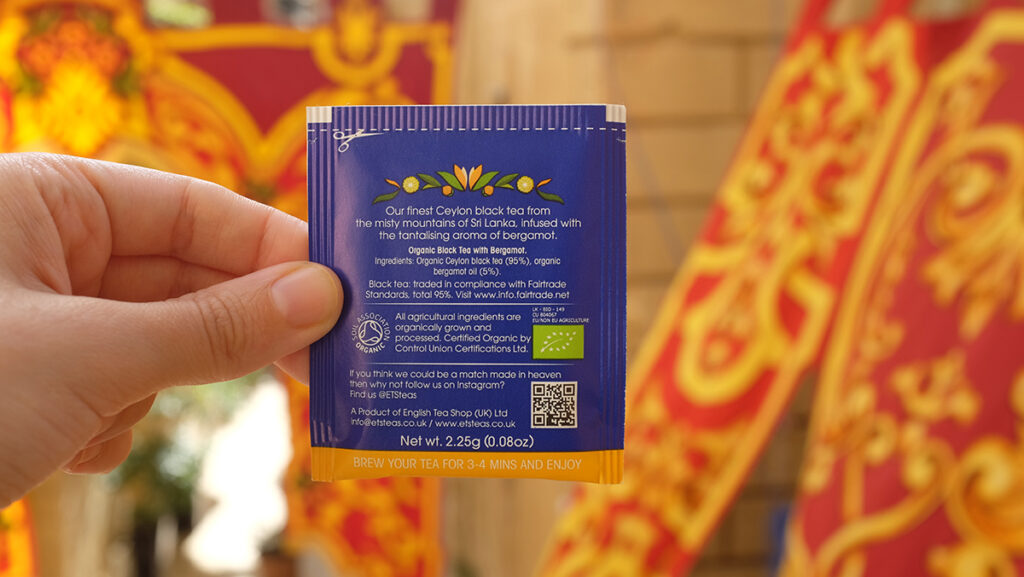 On the back of the sachet, you'll find a list of the ingredients and brewing instructions.
Plus a few of their certifications, contact details, and social credentials. This includes a handy QR code for your convenience.
English Tea Shop Earl Grey Tea Bags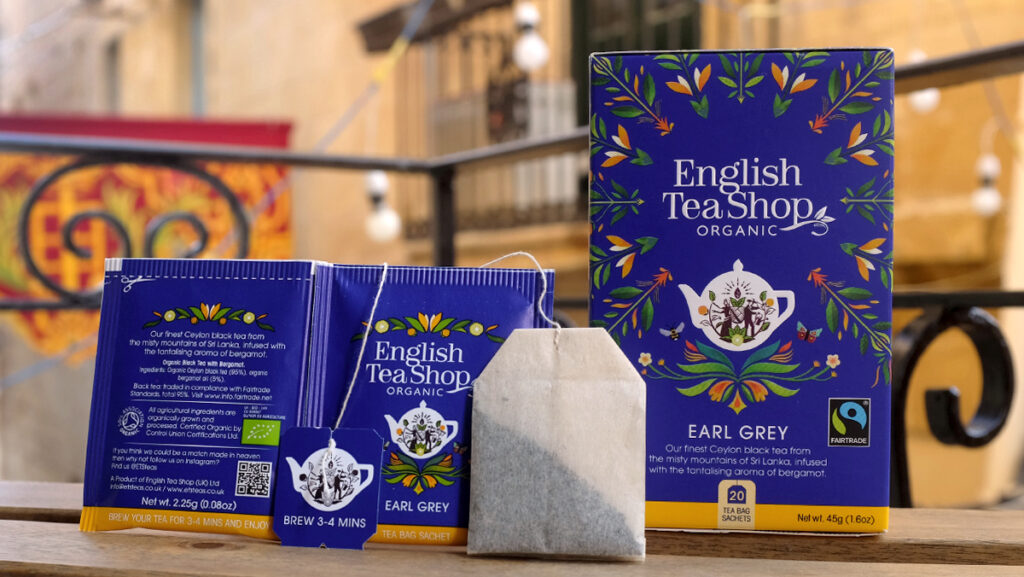 To my surprise, their tea bags look as though they're unbleached.
Nowhere on the packaging does it state unbleached. But they look almost identical to Clipper's unbleached tea bags. I've reached out to English Tea Shop for confirmation – no word yet.
It's also worth noting that there's quite a bit of dust at the bottom of the sachet. But this isn't uncommon for bagged tea.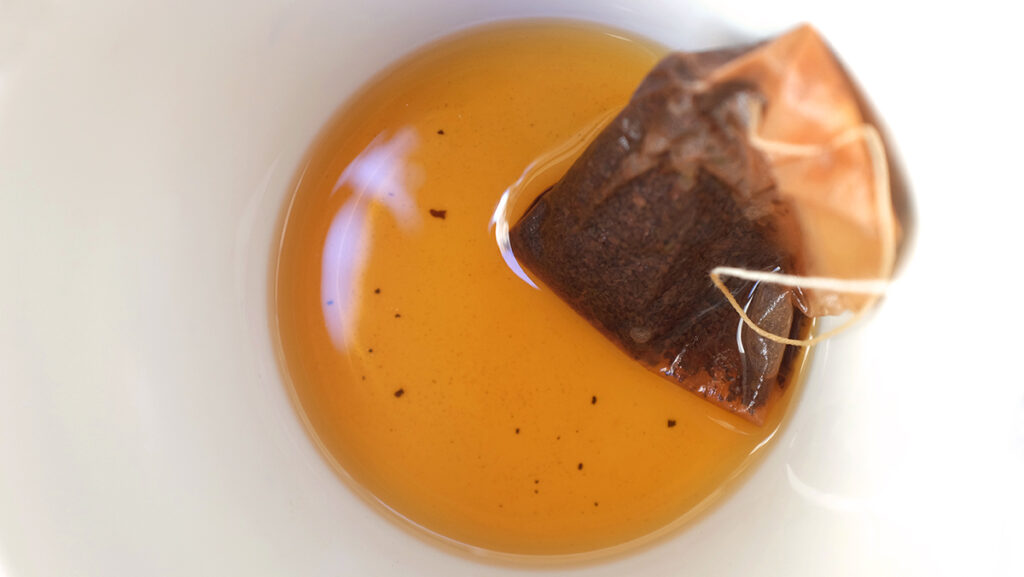 How Long Should You Steep ETS Earl Grey Tea?
| | | |
| --- | --- | --- |
| Temperature | Water Quantity | Steep Time |
| 100 celsius | 250 millilitres | 3-4 minutes |
English Tea Shop Earl Grey Recommended Serving Instructions
Aroma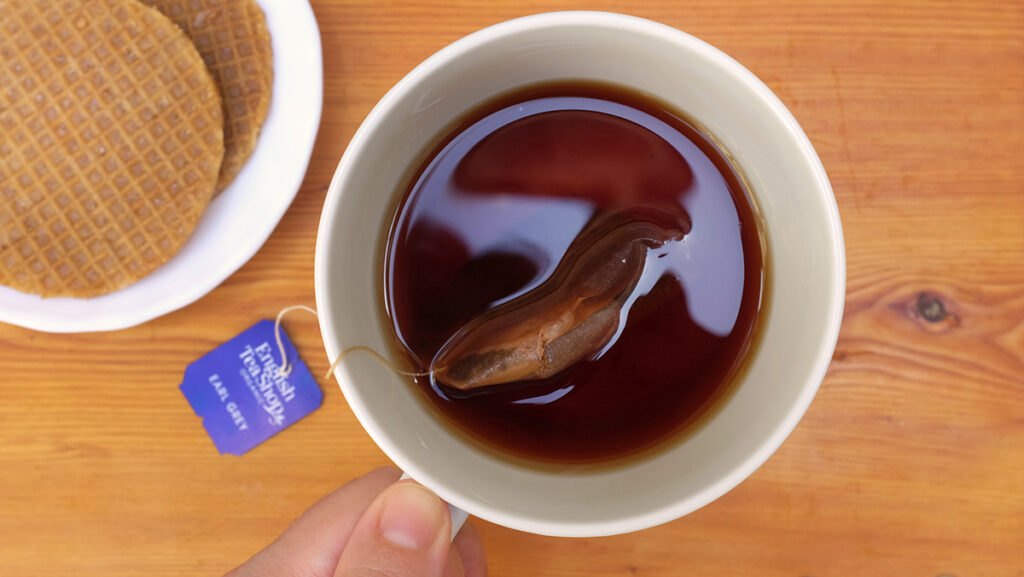 Before adding water, there's a slight malty tobacco smell. It's subtle and not very strong.
Once brewed, the peppery bergamot scent starts to come through. It's more floral (aftershave-like) than citrusy. But you really have to give it a good sniff to get anything.
It's not the strongest Earl Grey aroma I've come across, but it's there.
Strength & Taste
A classic Earl Grey with a clear bronze colour and a distinct citrusy fragrance.

English Tea Shop
The colour is a bold reddish-brown. It's a similar shade to Ahmad Teas (which uses Kenyan) and Clipper Teas (which uses Assam/Nilgiri).
But it's not nearly as dark or intimidating once you give it a taste. In fact, it's not very strong at all. And the Ceylon tea base is more like Twinings Earl Grey tea.
There's no artificial taste either – which is good. No Earl Grey tea drinker, worth their salt, wants to feel like they're sucking on a popsicle.
Overall, it's a delicate, light, and refreshing blend with a hint of floral bergamot. Nothing overpowering or wow! Just a nice, middle-of-the-road cup of tea.
It's perfect for those who detest a strong tannin-filled cuppa or think bergamot tastes a little soapy.
The only real problem I have is their quality control. Maybe I'm going crazy, but every time I try English Tea Shop's Earl Grey, the intensity and taste differ.
Sometimes it's got flavour, other times it tastes a bit bland. And that's even after I try to leave the bag in for longer to compensate.
Has anyone else had this issue? Maybe I just got a bad batch?!
Brew Time Test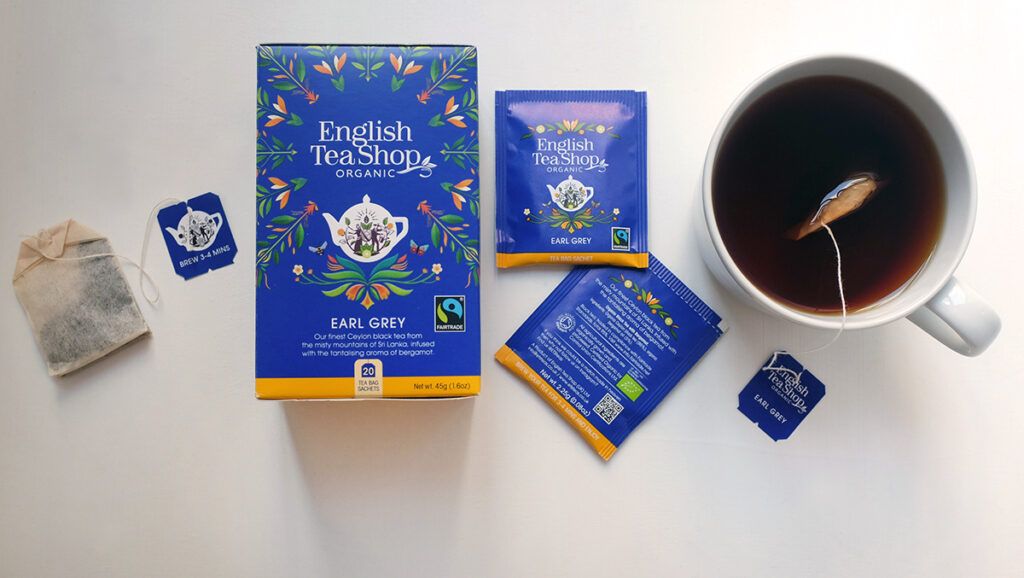 Equipment: Kettle, Mug, Measuring Jug, Thermometer, Stopwatch, Bottled Water, and an English Tea Shop Organic Earl Grey Tea Bag.
Method: Using a stopwatch, I tested the Earl Grey tea at different time intervals. I noted down any taste, flavour, and colour differences along the way.
And here are the results.
1 min…
As soon as the hot water hits that tea bag, a dark reddish-brown colour is released.
The main taste is watery tea. There's no bergamot yet. But it's still early on in the brewing process.
2 mins…
The bergamot aroma starts to come through. There's a slight perfumed smell. It's not very strong, but at this point, I taste more peppery and perfumed bergamot than tea.
3 mins…
English Tea Shop recommends three to four minutes. And it's here where the flavours start to come through better.
The bergamot is definitely present, but it's not overpowering. It's a little sweet, but not artificial at all.
It's much weaker than Clipper (which also uses 5% bergamot oil). But it's there.
4 mins…
A little more bergamot aroma and taste start to come through. This is probably the ideal time to brew English Tea Shop's Earl Grey tea and take out the tea bag.
5 mins…
There's not a lot of change in taste. The flavours remain the same, but there is a slightly bitter and tangy tannin aftertaste. It's subtle and certainly not overbearing.
The colour is more of a chocolate brown now.
10 mins…
The liquid is starting to cool down. This allows some of the citrus taste to come through. But I think that's the only reason for the increase in flavour.
Oh hell, let's leave it in…
Overall, I think four minutes is the optimum brewing time. Anything less is a little disappointing.
If you were to leave it in, though, there's no need to worry – it won't make much of a difference.
Re-Steeping English Tea Shop Earl Grey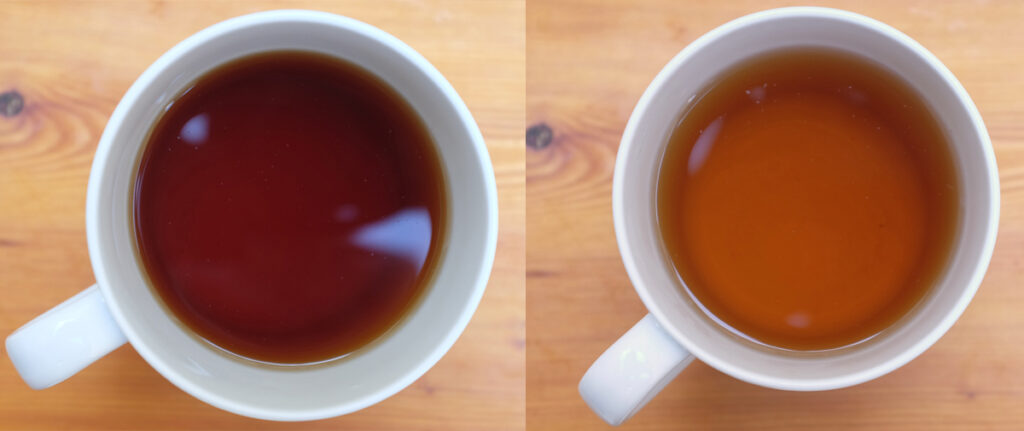 To test whether English Tea Shop's Earl Grey can be re-steeped, I brewed one tea bag for three minutes. Then, I brewed the same tea bag again for another three minutes.
If you look at the photos, the re-steeped tea still appears quite dark. Albeit lighter than the first steep.
But this is an Earl Grey that is difficult to over brew and stew. As such, re-steeping isn't advised – unless you like mildly flavoured hot water.
There's not a lot of taste the second time around. I detect a hint of citrus but not much tea.
Inside the Tea Bag
Ingredients
Organic Ceylon Black Tea (95%)
Organic Bergamot Oil (5%)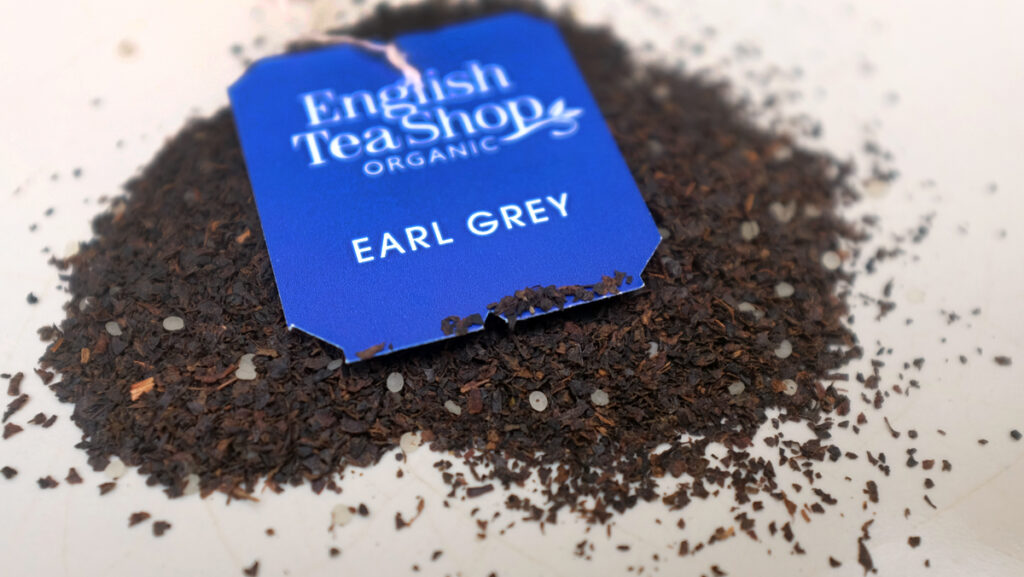 Organic Ceylon Tea
As a Sri Lankan brand, it's no surprise that English Tea Shop uses Ceylon tea in their Earl Grey blend.
Ceylon is produced in (you guessed it) Sri Lanka (formerly Ceylon). For this reason, it's also known as Sri Lankan tea.
The legendary lion of the Sri Lankan flag was introduced to the Ceylon Tea logo, to guard this commitment – the symbol of quality.

Sri Lanka Tea Board
For tea brands to display the Ceylon Tea logo on their packaging, they must meet strict criteria.
Be 100% pure Ceylon tea
Be exclusively packed in Sri Lanka
Pass strict quality control guidelines set out by an independent tea panel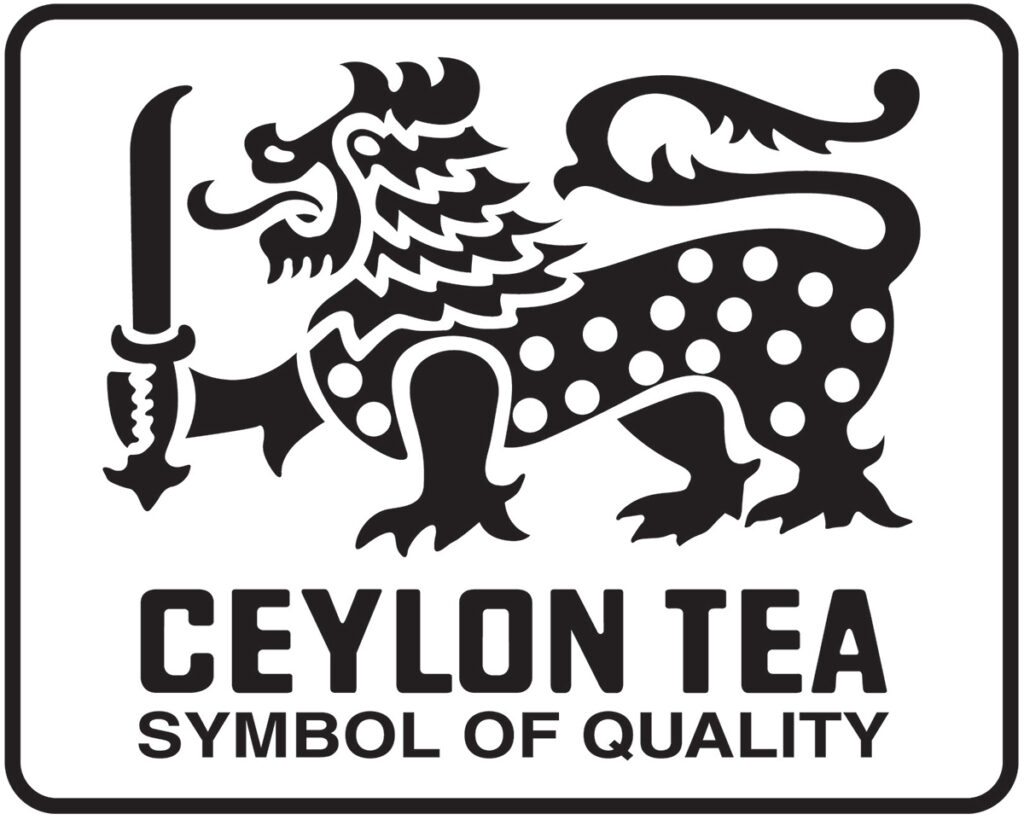 Made from Camellia sinensis, Ceylon tea is described as a bold black tea with medium tannins.
While the English Tea Shop website describes their blend as an intense, full-bodied, sweet, and smooth everyday tea.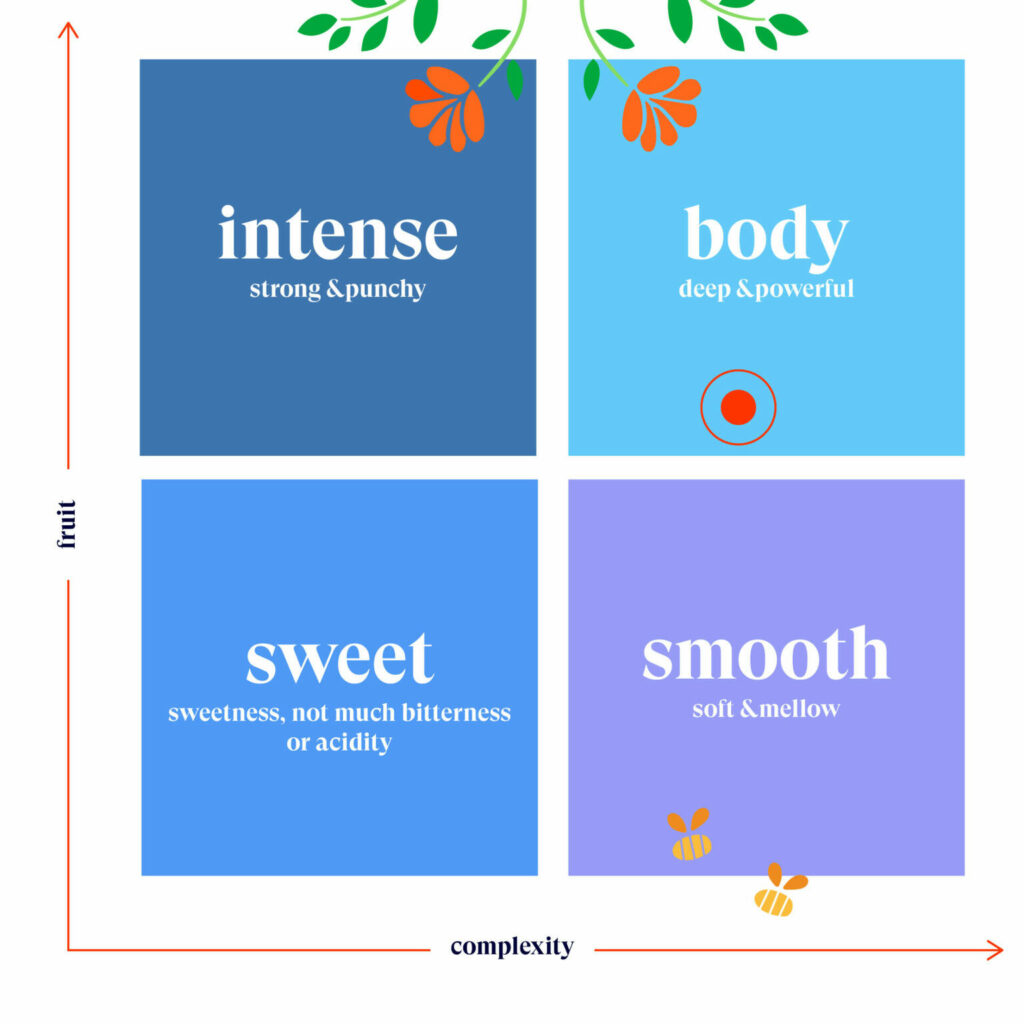 The unique climate and growing conditions of the region contribute to the tea's flavour profile. And factors such as altitude will affect the taste of your brew.
Our finest Ceylon black tea from the misty mountains of Sri Lanka

English Tea Shop
Typically, Ceylon tea is placed into three categories – Low-grown (below 2000 feet), Mid-grown (2,000 to 4,000 feet), and High-grown (above 4,000 feet).
English Tea Shop doesn't state which category their Ceylon falls into. But they do mention mountains. That said, over half of Ceylon tea is low-grown. So there's that.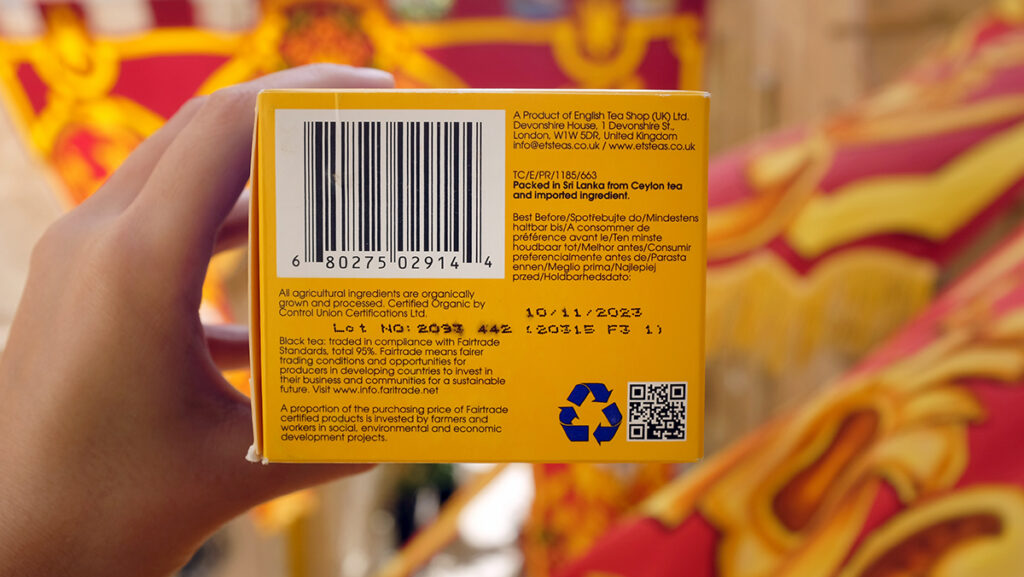 One thing I can confirm, though, is that their Ceylon tea is organic.
Not only do they mention it in the ingredients, but in addition to the Ceylon tea logo, the box displays two different Organic certifications (among others).
---
English Tea Shop Certifications
EU Certification
Soil Association Organic Certification
USDA Organic Certification
Fairtrade
Demeter Certification
VegeCert
British Retail Consortium (BRC) Certification Body
Japanese Agricultural Standard (JAS)
ISO 22000
Non-GMO Project Verified
Kosher Certification
Halal Certification
ISO 14001
Agriculture Biologique (AB) Certification
---
Organic Bergamot Oil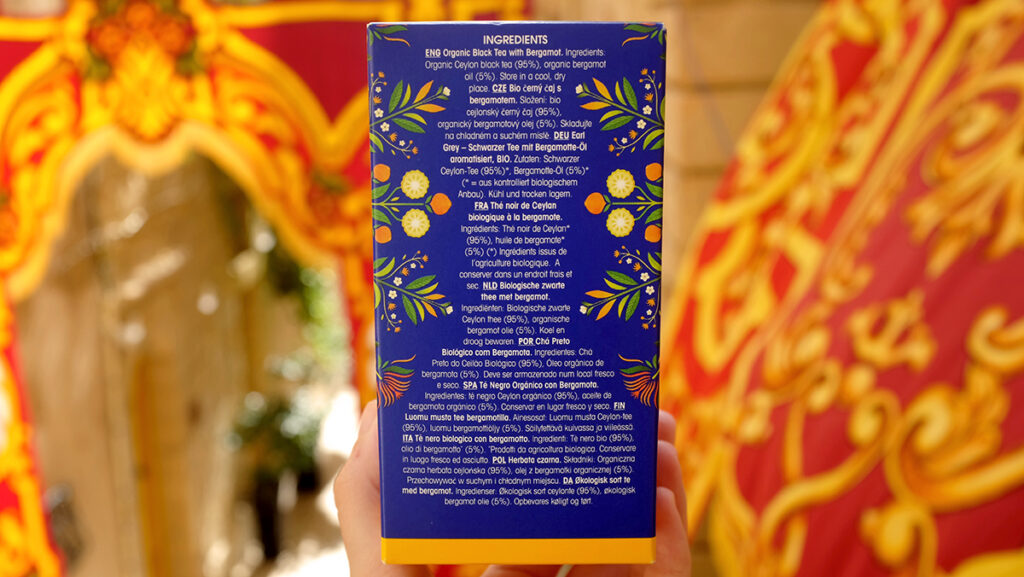 Just like their Ceylon tea, the bergamot in English Tea Shop's Earl Grey is organic.
And according to the box it contains bergamot oil. No artificial stuff here.
Due to the delicate flavour, I originally thought the oil might be infused with the leaves. However, when I opened up the tea bag, there were visible flavour granules.
The granules are similar in shape and colour to the ones used in Twinings Earl Grey tea – smooth, oval, and opaque white in colour.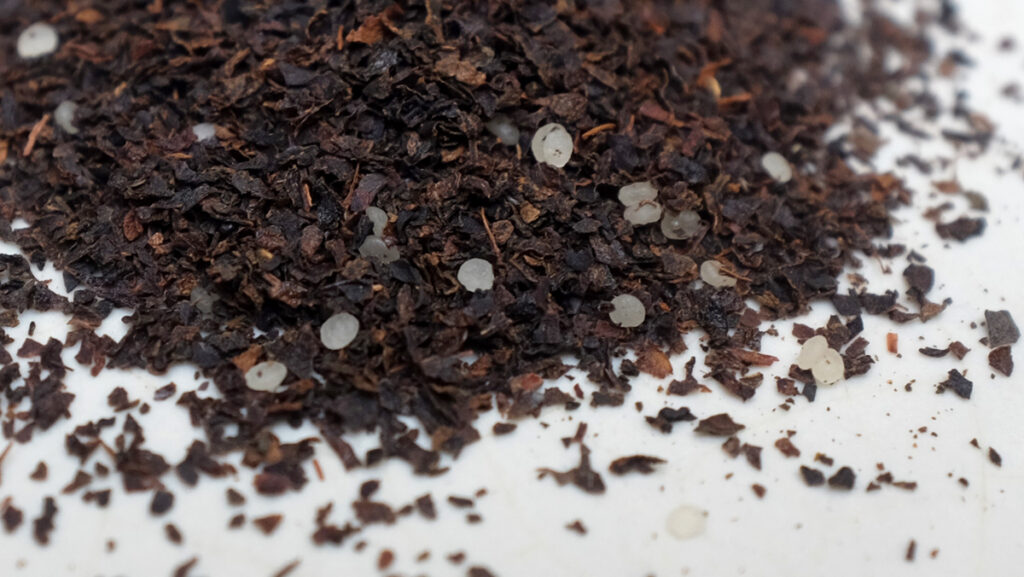 It's worth noting though, that they do vary in size.
I'm not sure if this is the reason for the inconsistency between cups. Perhaps the difference in size adds to the perfect brewing time – who knows?!
But when singling out a bergamot crystal to try, I was pleasantly surprised.
It's like a full-on flavour journey. It starts out sweet and citrusy. Then, the floral notes start to kick in. By the end, the flavour is peppery, perfumed, and a little bitter.
I just wish more of that bergamot flavour was present in my cup of Earl Grey tea.
Are English Tea Shop Earl Grey Tea Bags Plastic-Free?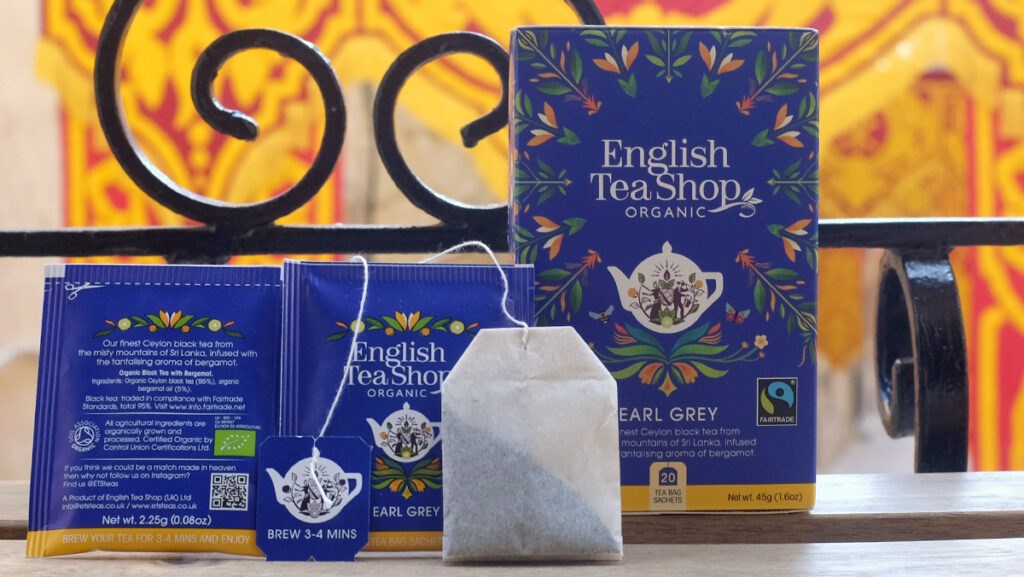 We have made our tea bags staple-free and compostable, while our sachets are recyclable.

English Tea Shop
Final Thoughts…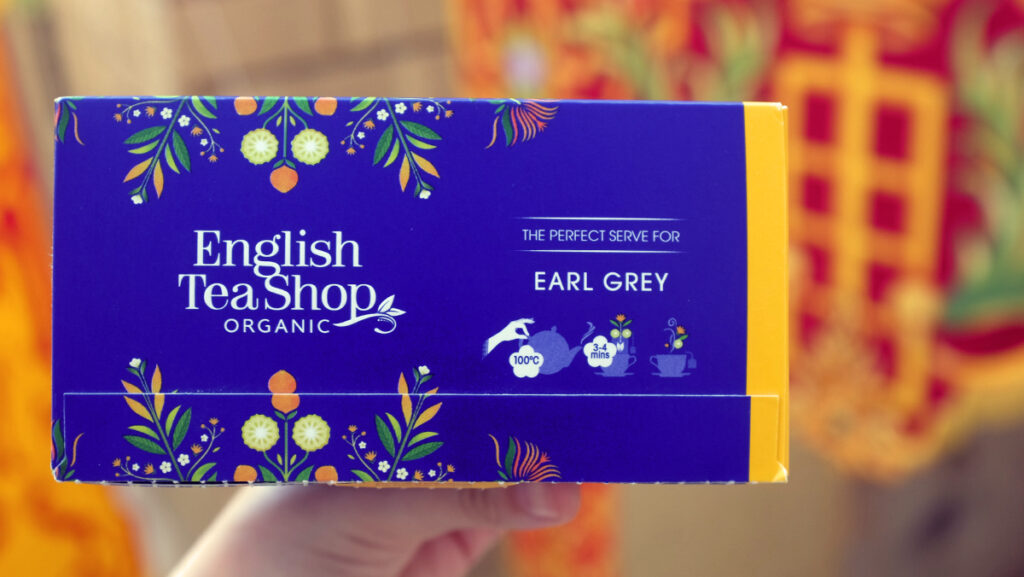 English Tea Shop goes hard when it comes to its certifications and accreditations.
It's almost like they've created a checklist of all the things consumers want. Each item methodically ticked off by the intern.
All this sounds good in theory. But it's also a bit try-hard if you ask me. If not a little corporate.
But at the end of the day, it's the taste that counts.
Overall, this is a nice cup of tea. It won't blow you away, but it's pleasant enough.
I like that it doesn't taste artificial. And that it uses genuine bergamot oil.
It's also great that English Tea Shop shares what tea is actually in it. Unlike other tea makers that keep it vague.
Their packaging and pricing are also very much on point. Especially when you consider the quality of the ingredients – this includes certified organic Ceylon tea.
I just wish there was more bergamot in my cup!
It's way too subtle for me, which leaves me somewhat perplexed. Clipper Earl Grey uses 5% bergamot oil too. So why is there such a big taste difference?
If they ever get that bergamot balance right, I'd have no problem throwing this Earl Grey tea into my shopping basket.
The Ceylon tea itself is very tasty. And they get bonus points for using real bergamot oil! I just need more of it, please.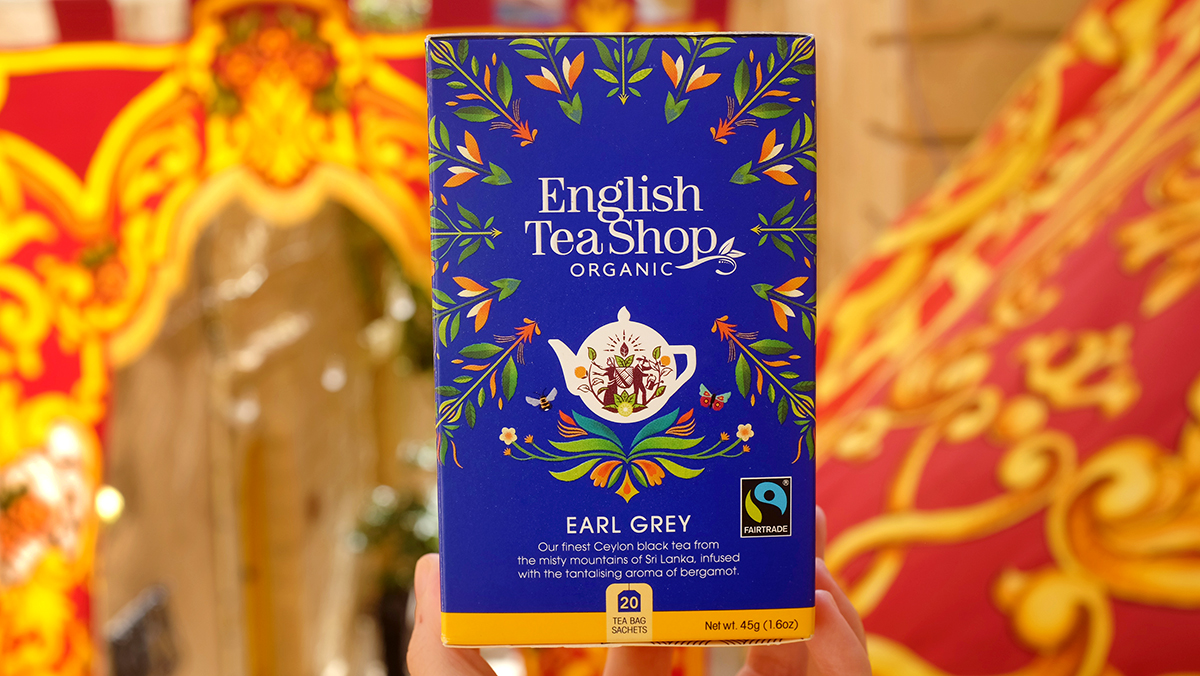 English Tea Shop Earl Grey Review