We all know and love Earl Grey tea – but who on earth is it named after?
As it happens, the tale of Earl Grey is one of prestige, legend, and complete and utter mystery.
The most common stories, though, centre around the 2nd Earl Grey.
But who exactly was Charles Grey? And what's his link to bergamot tea?
Table of Contents
Who Was Charles Grey?
Charles Grey, also known as Viscount Howick, was the 2nd Earl Grey. He was the oldest surviving son of Charles Grey KB – hence his title.
He was born on the 13th of March 1764 in Falloden, Northumberland. And died 81 years later, in 1845 at his stately home.
His greatest claim to fame (besides Earl Grey tea) was becoming the Prime Minister of the United Kingdom. A position he held from 1830 to 1834. 
But how did he become one of the best parliamentary speakers in Britain, arguably, the world?
And why is there a tea named after him?
Let's Get Personal
Early Years
Charles Grey was born into a long-established Northumbrian family. The second eldest son, he had two sisters and four brothers.
He was well educated, attending Richmond School, Eton, and Trinity College in Cambridge.
Whilst at school, he studied Latin and English.
And after graduating in 1784, Lord Grey toured Europe for a few years.
Married Life
Almost a decade later, in 1794, Charles Grey married Mary Elizabeth Ponsonby (Lady Grey tea, anyone?). She was 18 at the time.
And within a handful of years, they had ten sons and six daughters.
Prior to this, in 1791, he had one illegitimate daughter with Georgiana Cavendish, Duchess of Devonshire. A woman who was married to someone else at the time – scandalous!
Needless to say, he had a very busy life – both personal and professional.
Later Years
After retiring from politics, Charles Grey spent his last years in Howick with his family and dogs. And, of course, endless books, which he's said to have loved dearly.
That and the occasional game of cribbage!
His favourite grandson, also named Charles, died at the age of 13. A loss that he sadly never recovered from.
Soon after, Lord Grey became incredibly weak and eventually, he died in his bed on the 17th July 1845.
And on the 26th of July 1845, he was buried at the Church of St. Michael and All Angels.
Political Timeline
First Elected to Parliament
14th September 1786 – 14th November 1807
At just 22 years old, Charles Grey was first elected to Parliament. He represented the Northumberland constituency until 1807.
---
Foreign Secretary
24th September 1806 – 25th March 1807
In addition to being Foreign Secretary, Lord Grey became leader of the Whigs, a liberal-leaning political party and rival to the Tories.
---
Prime Minister
22nd November 1830 – 9th July 1834
He served a total of three years and 229 days as Prime Minister of the UK.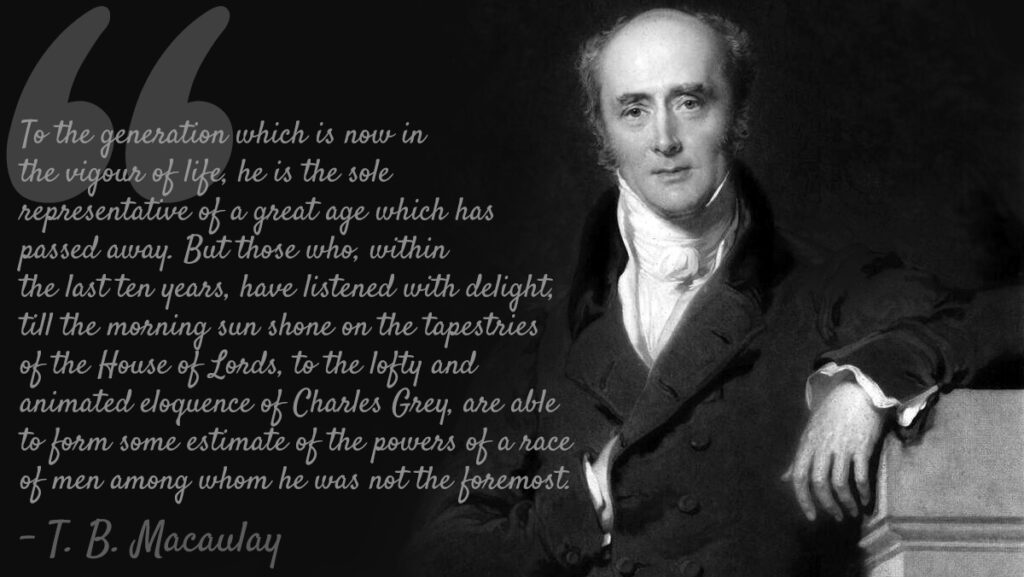 He entered Parliament with an ambition to change the way that things were run.
And by the end of it, he had influenced more than anyone could have imagined.
Time in Office
Earl Grey is still admired among scholars and politicians.
Not only did he avert civil conflict, but Lord Grey helped enable the advancement of the Victorian era.
During his leadership, Lord Grey brought about several notable reforms.
This includes:
Reform Act of 1832
Slavery Abolition Act of 1833
Restrictions on the employment of children
Ending the East India Company trade monopoly
Reform Act of 1832
Also known as the Great Reform Act, it aimed to remove voting inequality within Britain, Wales, and Scotland.
And it was one of the first steps in developing the British Electoral System as we know it today.
Before the Reform Act, the system was heavily manipulated by rich and "rotten boroughs". Many of whom were located in the countryside and had more than one MP with very few voters.
Growing industrial towns, like Manchester and Birmingham, however, were left unrepresented.
This rigged system led to several riots across the country. And the public demanded a more inclusive voting system.
Key Changes:
Created 67 new constituencies to represent working-class towns
Removed 56 corrupt and "rotten" boroughs
Reduced the number of active MPs to one in 31 (over-represented) constituencies
Entitled small landowners, shopkeepers, and tenant farmers the right to vote
Permitted households that paid a yearly rent of £10 or more the right to vote
However, this voter reform act wasn't without its flaws.
For one, the term 'voter' was defined as a 'male person'. As a result, women became formally excluded from voting.
Slavery Abolition Act of 1833
The full title of this reform was:
An Act for the Abolition of Slavery throughout the British Colonies; for promoting the Industry of the manumitted Slaves; and for compensating the Persons hitherto entitled to the Services of such Slaves.
And it's easily one of the most important acts to have ever come out of parliament.
Charles Earl Grey and Bergamot Tea
A Diplomatic Gift
The history of Earl Grey tea is complicated.
But it's largely thought that Lord Grey received the bergamot-flavoured tea as a diplomatic gift.
One theory is that it was a thank you for saving the life of a Chinese man's son, whilst travelling upon an envoy.
While another suggests it was gifted to cover up the taste of lime in the Earl's water supply.
Either way. It's said that he liked it so much that he asked a British tea merchant to recreate it.
However, at that time, China was closed to foreigners. This was due to tensions that later resulted in the First Opium War.
Not only that. But the bergamot orange is typically grown in Italy, not China.
East Indian Company
This origin story was also disputed by the East Indian Company.
They claim that they were the first ones to create an orange-scented tea.
In their archives, they found references from 1793 mentioning a black tea blended with neroli oil.
Following that, Sir Joseph Banks created the Staunton Earl Grey recipe. Out of his friendship with the Earl, Banks named the blend "Earl Grey".
It's also worth noting, that Lord Grey was responsible for ending the East India Company's trade monopoly. Bitter, much.
Who Was Earl Grey Tea REALLY Named After?
Honestly, though, no one knows the true origin of Earl Grey.
Of course, there are many theories as to the truth behind the stories. But with no way to really find out, it's all speculation.
After the death of Charles Grey, 2nd Earl Grey, advertisements began to talk about a type of tea called "Grey's Tea".
The earliest of these is actually attributed to a man called William Grey.
The "Earl" title may have been added later to make the tea appear posher.
Alternatively, it could've been something made up entirely by Twinings.
A Fogged-Up End
History regarding Earl Grey tea is foggy. And it remains a mystery today.
What we do know, however, is that Charles Grey was a pretty inspiring man.
And if one of the world's best teas is named after him, then so be it.
I'll drink to that!