Whether you prefer it black, with a slice of lemon, or (controversially) a splash of milk, there's no doubting the distinct flavour profile of Earl Grey tea.
Traditionally made from oxidised black tea leaves, it's flavoured with oil of bergamot, neroli, or both. This is what gives Earl Grey its unique floral and zesty, citrus taste.
Like its origins, the type of black tea used in Earl Grey is up for some debate.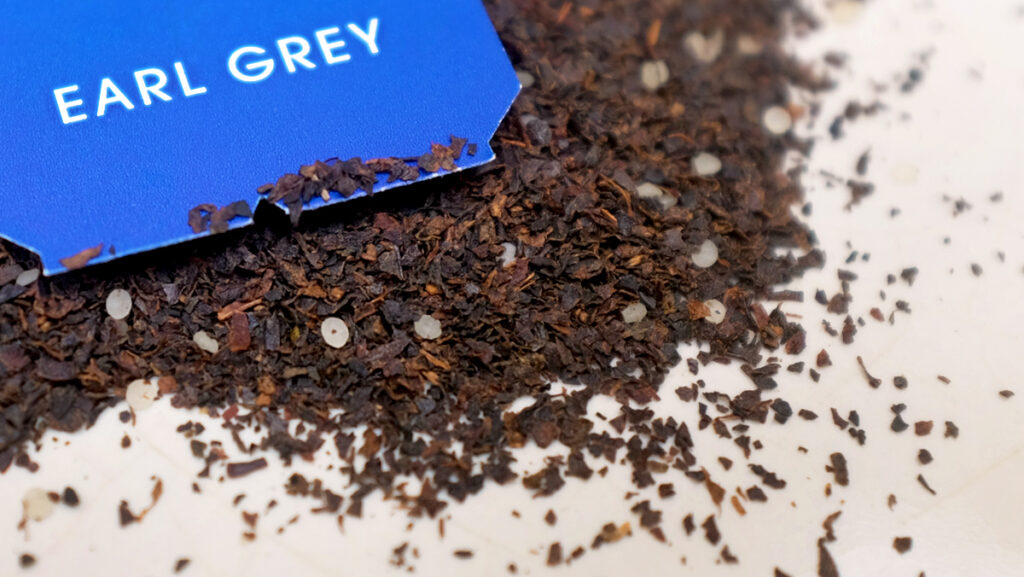 Table of Contents
Reading the Tea Leaves
Keemun
The original recipe calls for Keemun (Qimen). This Chinese leaf tea is commonly used in classic tea blends like Earl Grey.
Light yet full-bodied, Keemun has a smokey, floral aroma with a hint of stone-fruit. The malty delicate flavour is what makes it the ideal tea to drink without milk.
Ceylons
Nowadays, however, you'll find some brands that use Ceylons in their Earl Grey blend.
This Sri Lankan black tea is strong enough to withstand the addition of milk. Perfect for those who like a dash of dairy, or for the more adventurous, a warm and frothy London Fog.
Some tea makers may even use a combination of Keemun, Ceylons, and other black tea varieties.
But it doesn't stop there.
Other Teas
With no trademark in place, the recipe can vary from teamaker to teamaker. Oolong, Rooibos, Darjeeling, Green, and White tea have all been used as a black tea alternative, to name a few.
Some tea purists, however, may take offence at these varieties being used in place of traditional black tea. And therefore, may not consider it Earl Grey at all!
Whichever tea variety you choose, it will affect the overall taste of your brew.
It will also change how long you need to steep it for, to avoid your cuppa turning overly bitter. Luckily, most teamakers attach a recommended steeping time based on vigorous tea testing.
It's All in the Flavouring
Depending on which Earl Grey origin story you believe, there's some dispute over which citrus extract should be used.
Bergamot Oil – For the Tea Purists
For most Earl Grey drinkers, bergamot oil is the obvious choice. And, quite rightly so.
Grown, almost exclusively, in the province of Reggio di Calabria in Italy, the bergamot orange (Citrus Bergamia) is yellow and lime green in colour. This, and the pear-like shape, is likely what earned it the title 'Lord Pear' in Turkey.
This fragrant citrus fruit is thought to be a hybrid of Citrus Limetta (sweet lemon) and Citrus Aurantium (bitter orange).
Due to its aromatic smell and unmistakable citrus flavour, it has long been used as an additive in food and scented products such as perfumes, cosmetics, cleaners, and even tobacco items like snuff and snus!
Its geographical location also makes it easier to source for the west, and the supposed birthplace of Earl Grey tea, 19th Century Britain.
Because of this, it's the most common citrus extract used in Earl Grey tea today.
Neroli Oil – For the Historically Astute
If the Indian Trade Company is to be believed, however, neroli is the obvious choice for true history lovers and Earl Grey traditionalists.
According to company records, Sir George Staunton first discovered the orange blossom flavoured tea back in 1793 during a visit to China.
Thought to be native to Asia, neroli oil (derived from Citrus Aurantium) can also be found in North Africa, the Middleeast, and the Mediterranean. Nowadays, France, Tunisia, and Morocco are the largest producers of Neroli essential oil which is often used in perfume.
This bitter orange oil has a long history and can be found in the Indian Trade Company's Staunton Earl Grey blend, named after Sir George Staunton. Albeit mixed with bergamot extract too.
This makes sense. Most origin stories about the history of Earl Grey tea agree on one thing, after all – that it likely came to England from China.
But, likely, this tea blend from China served as inspiration, rather than being the Earl Grey tea we have all come to love and appreciate in the modern-day.
Stirring the Pot
To further rustle some leaves, other International Earl Grey blends exist. Each with their own twist on the classic British tea.
Russian Earl Grey, for instance, uses citrus peel (e.g. lemon) and sometimes lemongrass to the classic bergamot tea. And French Earl Grey uses rose petals for an extra floral taste.
Vanilla extract and lavender have also been known to be added to Earl Grey tea. But that's another story.
Is it Still Earl Grey Tea, Though?
The simple answer is, yes. Well, sort of.
But like anything, it depends on who you ask.
Untrademarked and with a mysterious, unsubstantiated history, the Earl Grey recipe is pretty much up for grabs.
All we know is that, while there may never be a correct way to make Earl Grey tea, there's a lot of joy to be had in tasting each and every variety.