Until five years ago, I had never heard of Ahmad tea. Let alone sampled their Earl Grey blend. But over the past few years, I've seen this relatively young teamaker grow in popularity.
And now, it seems, Ahmad Tea takes up more shelf space than Twinings, Liptons, and even Tetley. At least at my local supermarket and grocer that is.
So who exactly is Ahmad Tea London? And, how did they end up with an award-winning Earl Grey blend to rival some of the world's oldest and more established tea brands?
Before diving into my Ahmad Tea Earl Grey review, let's have a look at the company behind the blend and how they came to be.
Table of Contents
A Little About Ahmad Tea London
When compared to the likes of Twinings of London (est. 1706) or the East India Company (est. 1600), Ahmad Tea is the spry and spritely tween of the tea world.
Set up by company founder, Mr Rahim Afshar in 1979, the Ahmad Tea London brand, as we know it, didn't exist until seven years later in 1986.
This makes Ahmad Tea a mere 35 years old at the time of writing this (that's almost the same age as me).
But don't be fooled. While the brand hasn't quite reached centenarian status yet, Mr Rahim Afshar and his brothers have a long history of teamaking and importing behind them.
What's in a Name?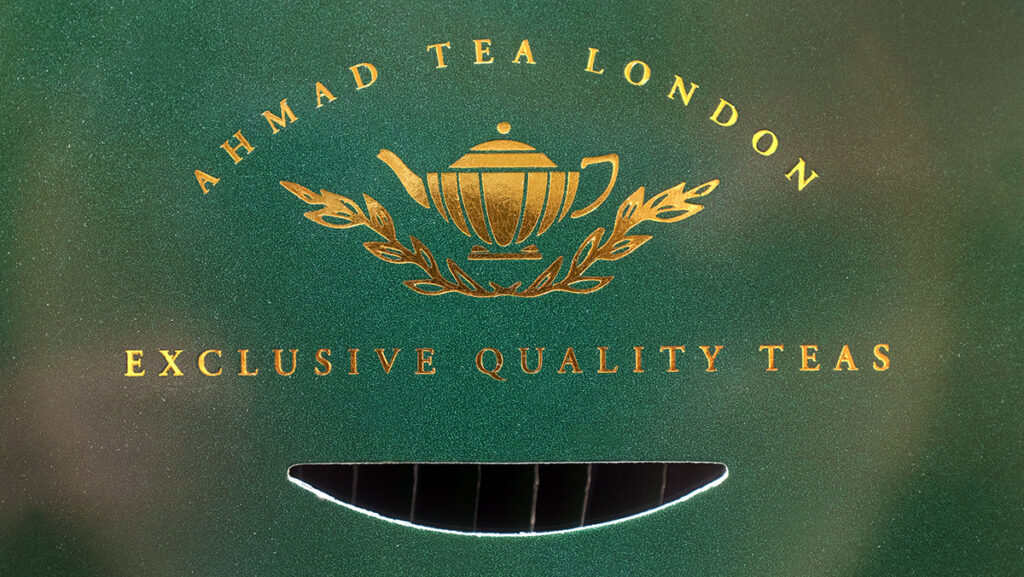 Call it clever (or deceptive) marketing, but Ahmad Tea London didn't start out there. But instead, above a small family-run shop on 'London Road' in Southampton.
Targeting the luxury and gift niche in the South of England, they moved to larger premises in Chandler's Ford, Hampshire.
Shortly after, they entered the international marketplace. Their first partnership was with El Corte Ingles, a Spanish retailer. Ah-ha! That's where I first spied the Ahmad Tea brand.
From there, the teamaker really took off. And now you can find Ahmad Tea in over 80 countries worldwide, picking up over 22 awards along the way.
Their teas are now largely processed at their flagship site in Ras Al Khaimah, United Arab Emirates and not London at all, despite the name.
Of course, it's not a total fib. More of a white lie. Their Global HQ is based in Hampshire, UK. And the Ahmad Tea Ltd company is registered at 1 Wood Street, London.
But it's unlikely that cup of Earl Grey in your hands actually came from London.
Award-Winning Recipe
Not satisfied with conquering the world, Ahmad Tea entered the Great Taste Awards in 2015. And that tea was their Earl Grey blend. I guess it's all part of their master plan, eh Pinky.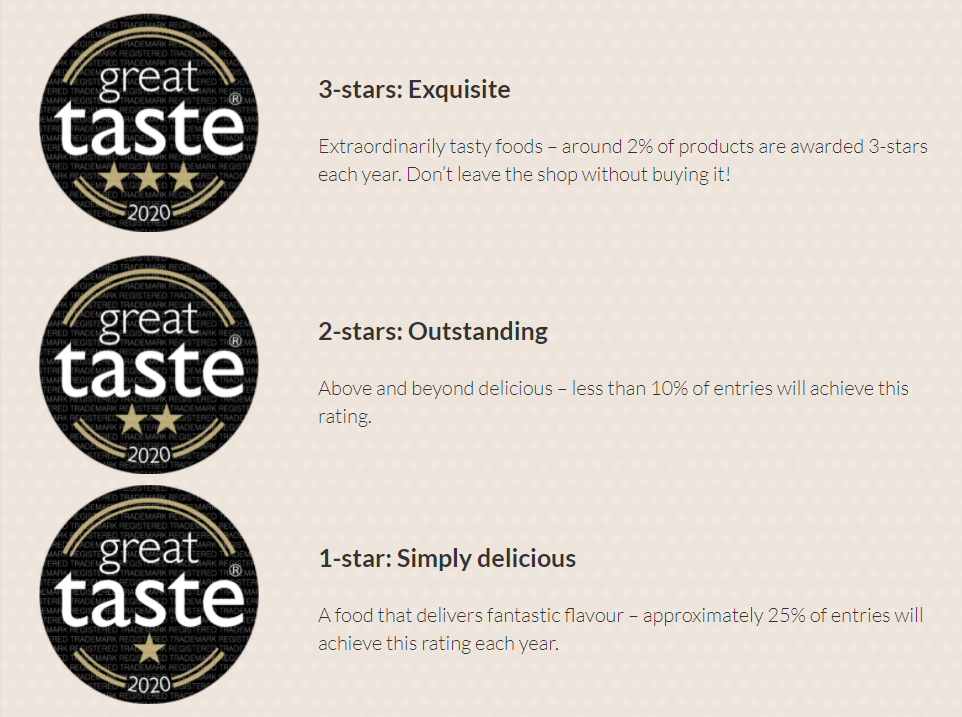 Ahmad Tea's Earl Grey was blind-tasted by a group of buyers, chefs, cooks, food critics, restaurateurs, retailers, and writers.
In return, Ahmad Tea earned their first Great Taste Award with a well-deserved one-star rating in 2015.
The judges praised the tea for its balance and singled it out as 'a sound example of a strong Earl Grey.'

Ahmad Tea
A Patriotic Unboxing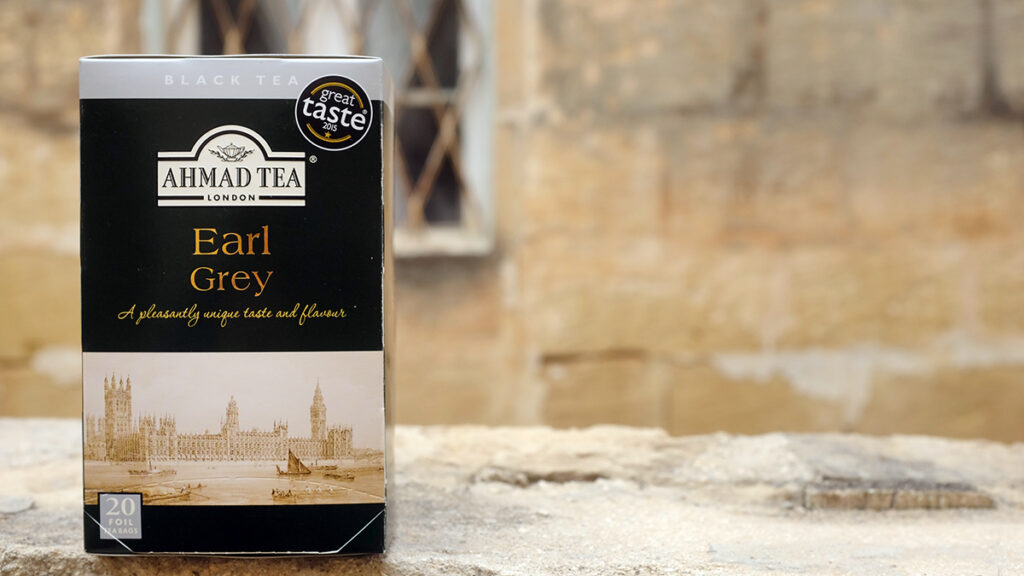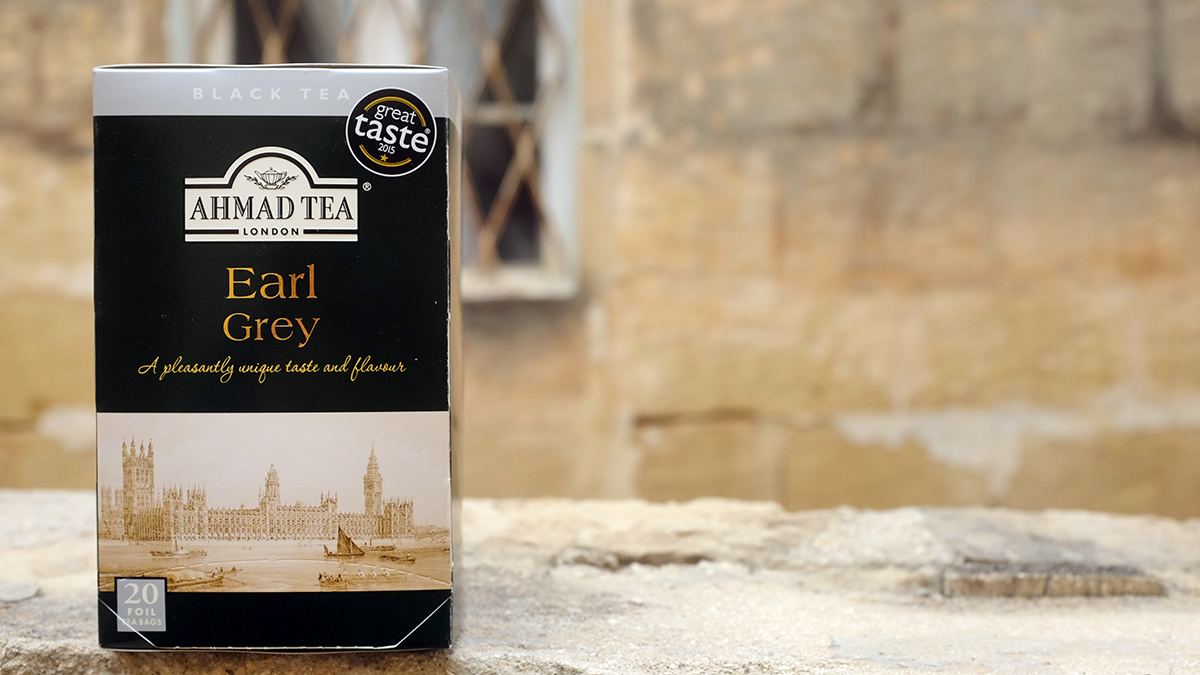 The packaging is nice and solid. I like the block heritage green colour with silver accents. While the gold embossed lettering adds a certain air of class.
The Thomas Picken's New Houses of Parliament painting on the front is a little old fashioned for my taste. But, it's a nice call out to London.
I imagine it goes down well overseas. And even expats, who want a reminder of good old Blighty.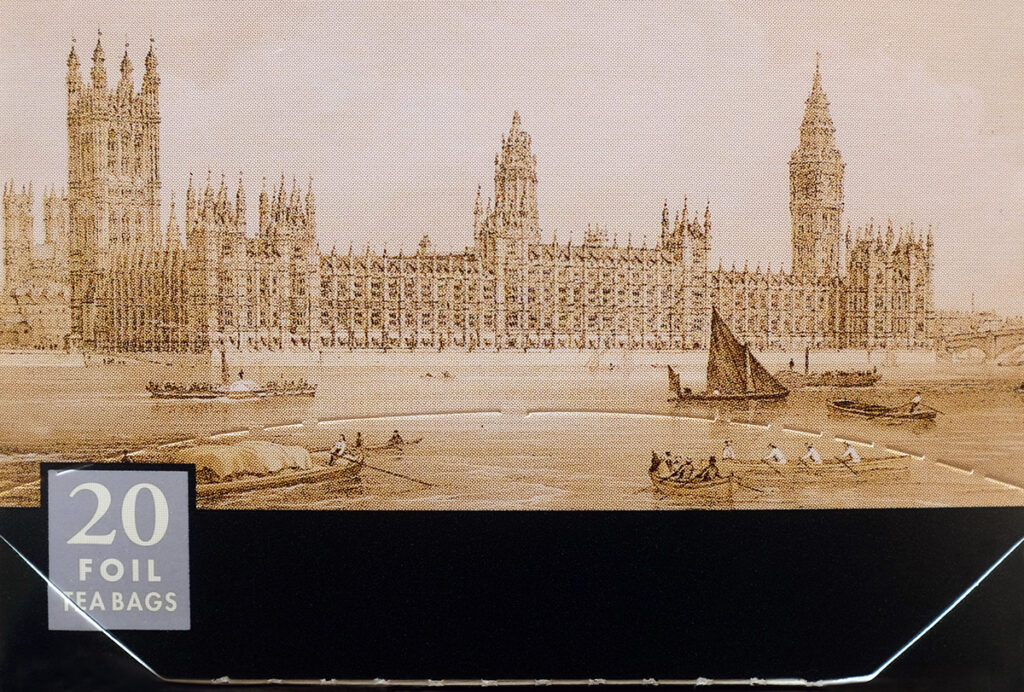 Opening the box is easy. There's an option to open it horizontally from the top, or at the bottom vertically.
This allows the tea bags to be accessed via some well placed perforated edges without messing up your well-organised tea collection.
And, because the tea bags are individually foil packed, they stack up nicely and are easy to grip.
The card feels premium and not flimsy or cheap. It's a simple yet effective design.
What more could you want from a mass-produced tea brand.
Individual Foil Wrapped Tea Bags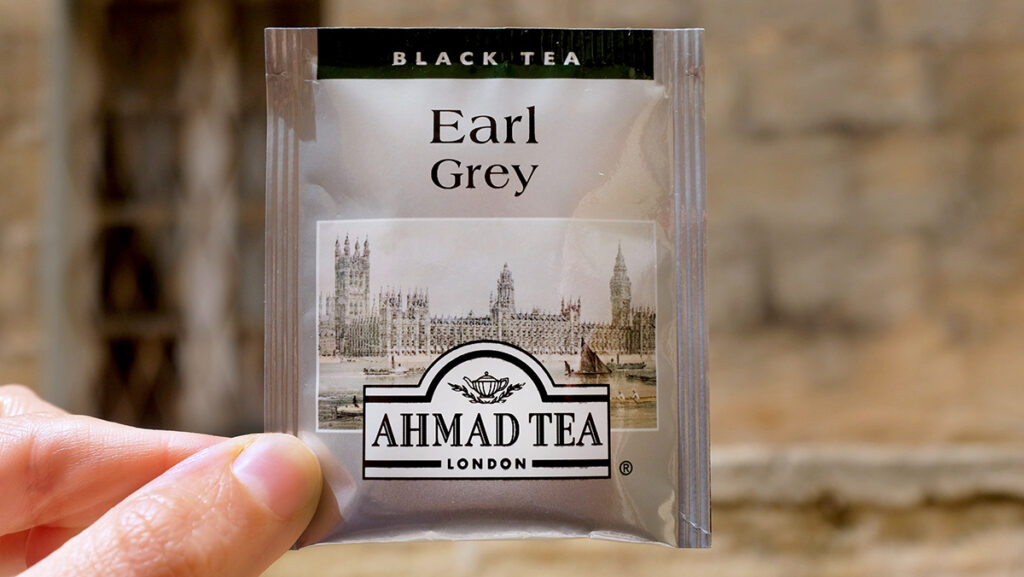 Each foil packed tea bag has the New Houses of Parliament image on the front. And on the back, there's instructions on how to correctly brew and steep the Ahmad Tea Earl Grey blend.
| | | |
| --- | --- | --- |
| Temperature | Water Quantity | Steep Time |
| 100 celsius | 200 millilitres | 3-5 minutes |
Ahmad Tea London Earl Grey Tea (Foil Bag) Recommended Serving Instructions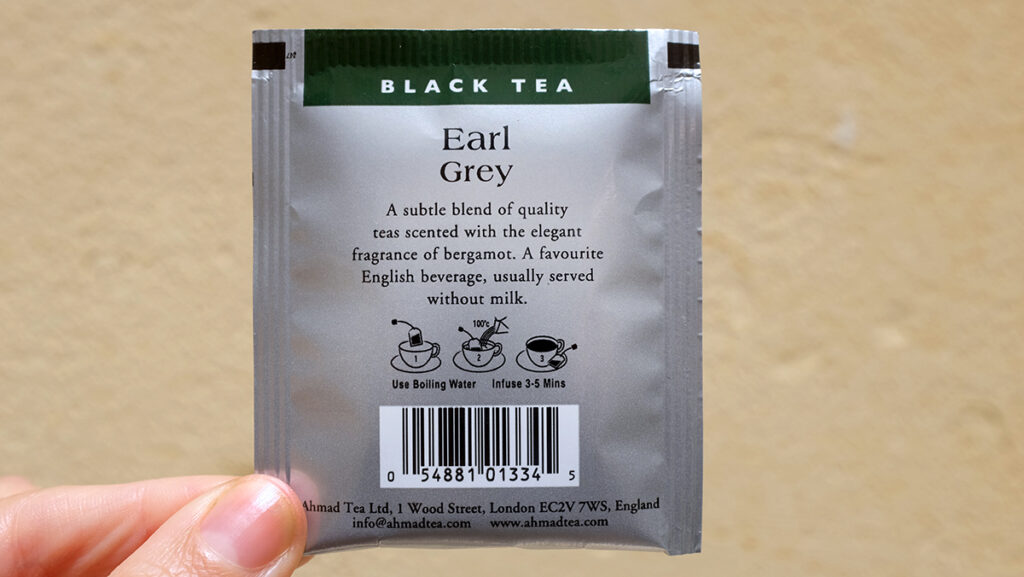 The silver foil packaging has a slight sheen to it and feels as though it can withstand a splash of water or two without damaging the teabag inside. Great for travel or for storing in a high-traffic kitchen where accidents can happen.
The individual packaging is also handy for those who live in humid climates. Or, even hot countries, where pests love nothing more than nibbling holes in your favourite Earl Grey teabags. Yuck!
Earl Grey Aroma
Out of the packet, it smells a little fruitier than some of the other Earl Grey blends I've tried. I can definitely detect some hints of citrus right away.
That's shortly followed by a waft of hay and peppery, floral notes. It almost reminds me of Paco Rabanne aftershave, but in a good way.
Unlike Twinings Earl Grey, the smell actually intensifies once you add hot water.
It's definitely reminiscent of the Earl Grey tea I've had at restaurants and cafes in England and overseas.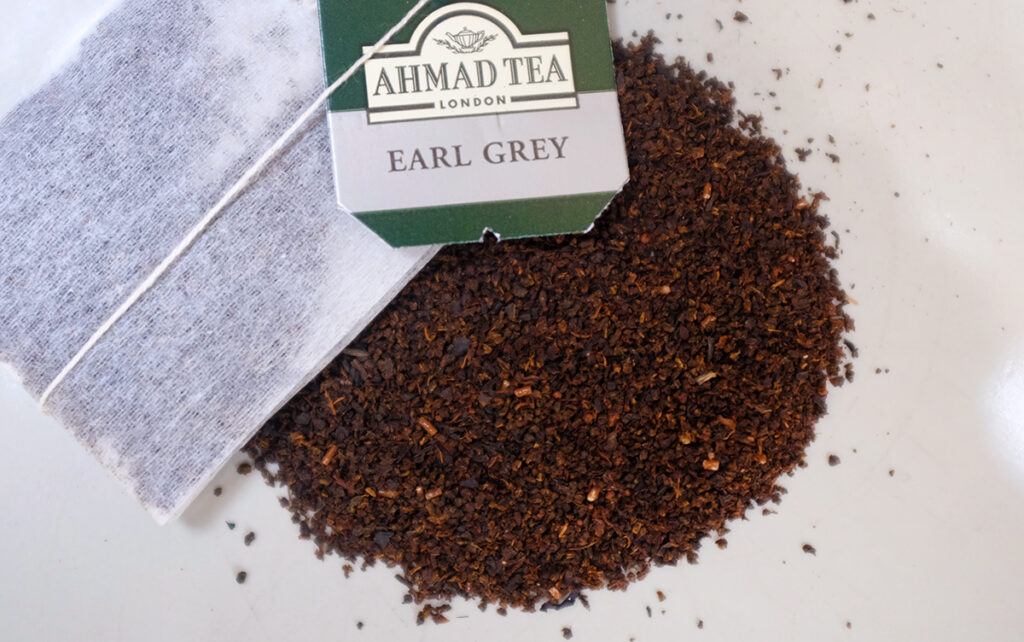 Strength and Taste
Despite the powerful peppery smell, the initial taste is sweet, mellow, and a little citrusy. I actually really like it.
The colour is deep and quite dark. If I liked milk in my tea, I imagine it would make an excellent London Fog.
It has a strong taste, but it isn't bitter or unpleasant when left to steep for too long.
That's probably because most of the taste is in the flavouring rather than the black tea base.
Overall, it's quite rich, complex, and filling. The bergamot doesn't taste overly artificial like some brands.
I enjoy this blend best when hot, but it still retains its flavour once it has cooled.
Brew Time Test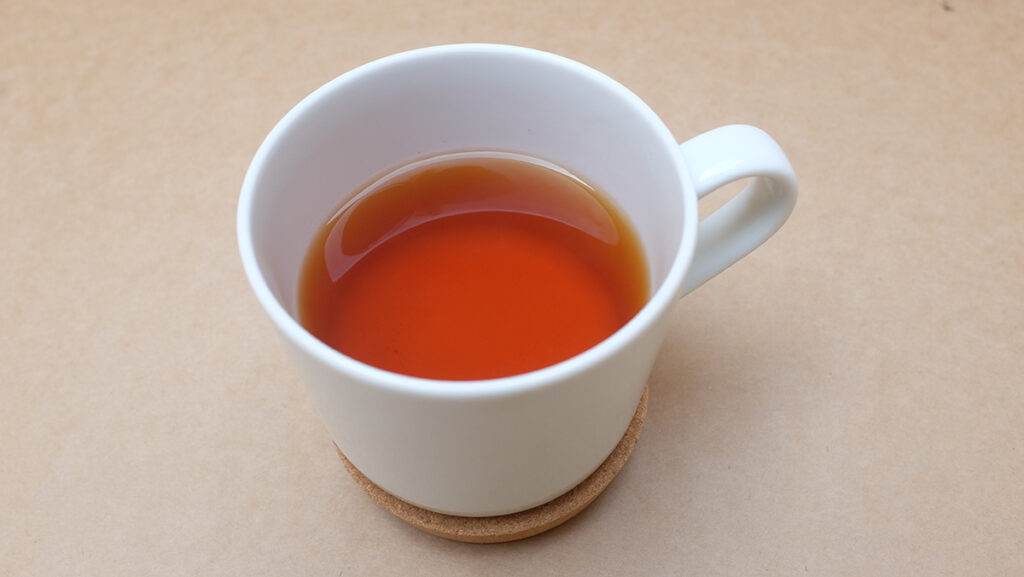 Equipment: Kettle, Mug, Measuring Jug, Thermometer, Stopwatch, Bottled Water, and an Ahmad Tea London Earl Grey Foiled Tea Bag.
Method: Using a stopwatch, I tested the Earl Grey tea at different time intervals. I noted down any taste, flavour, and colour differences along the way.
And here are the results.
1 min…
There's a subtle peppery taste and smell.
Definitely not ready for drinking.
But that characteristically rich reddish colour Kenyan leaves are known for has already developed.
2 mins…
The tea starts to get stronger and a floral taste makes an appearance.
3 mins…
Both the black tea and citrus bergamot flavour is starting to breakthrough.
It's still not quite strong enough for my liking. But it's close.
If you prefer a lighter tea, though, this is a good place to stop.
Especially if you plan to re-steep your teabag.
4 mins…
Not much has changed.
The colour of the tea is a slightly darker in tone.
5 mins…
The Bergamot is really starting to shine.
It's a little bitter, but perfect for me.
If you plan to add milk, this is the ideal steep time for you.
10 mins…
It's a little stronger, but not unpleasant. However, the aftertaste is a little dry at the back of the throat.
Oh hell, let's leave it in…
It's still nice to sip, but it's a little bitter and not as optimal as the 3 or 5-minute steep time.
Once cooled, it's quite refreshing, almost menthol-like. But in future, I will take the bag out at 5 minutes and then leave it to cool.
For once I think that the teamaker's brewing instructions are pretty spot on. Good job Ahmad Tea!
Re-Steeping Ahmad Tea Earl Grey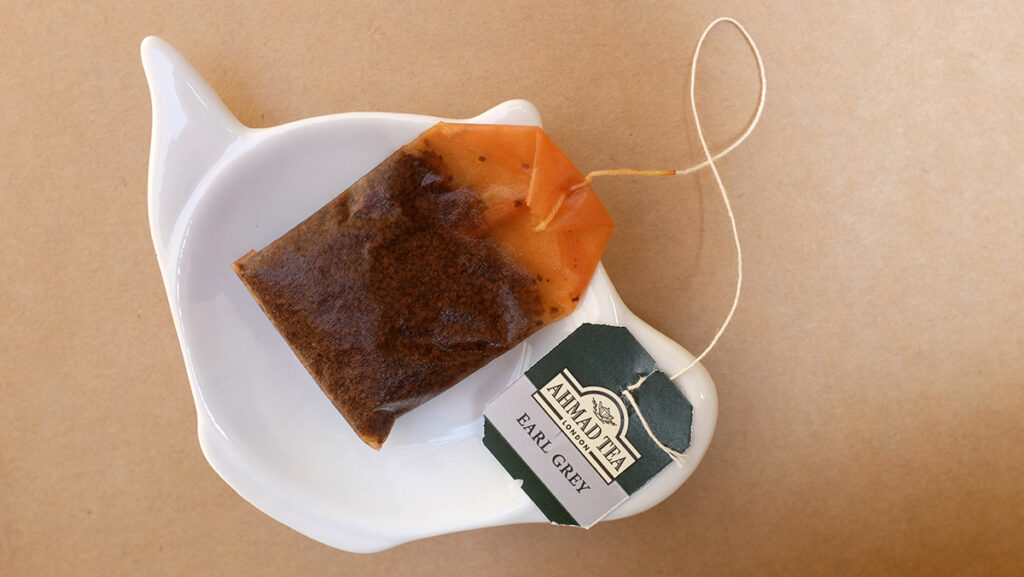 As Ahmad Tea's Earl Grey blend contains Kenyan leaves, it's a little stronger than most. This makes it ideal for those who like a flavourful cup or even a tasty re-steep.
I tested this out with a five minute steep, followed by a five minute re-steep. As you can see from the image below, the re-steeped tea isn't as red and rich as the first brew.

It still has enough flavour to sip and enjoy, but it doesn't pack as much as a punch as the first cup.
Call me crazy, but I can taste more of the citrus in the second (re-steeped) batch. But I think in future, I'll do a shorter initial steep before using the bag again.
I'd say that 3 mins, followed by a longer re-steep should suffice for those who like to re-use their teabags.
Inside the Tea Bag
Ingredients
Black Tea (mainly Kenyan leaves)
Bergamot Flavouring (unspecified amount)
Inside the box, it states that all their black and green teas have been sourced from the Camellia Sinensis plant which is indigenous to China and India.
By hand-picking the top two leaves and bud, they claim that this ensures consistent quality. I assume this means that they use the cut-tear-curl method.
But it isn't until you visit the Ahmad Tea website that you get a little more information about the type of black tea used in their Earl Grey.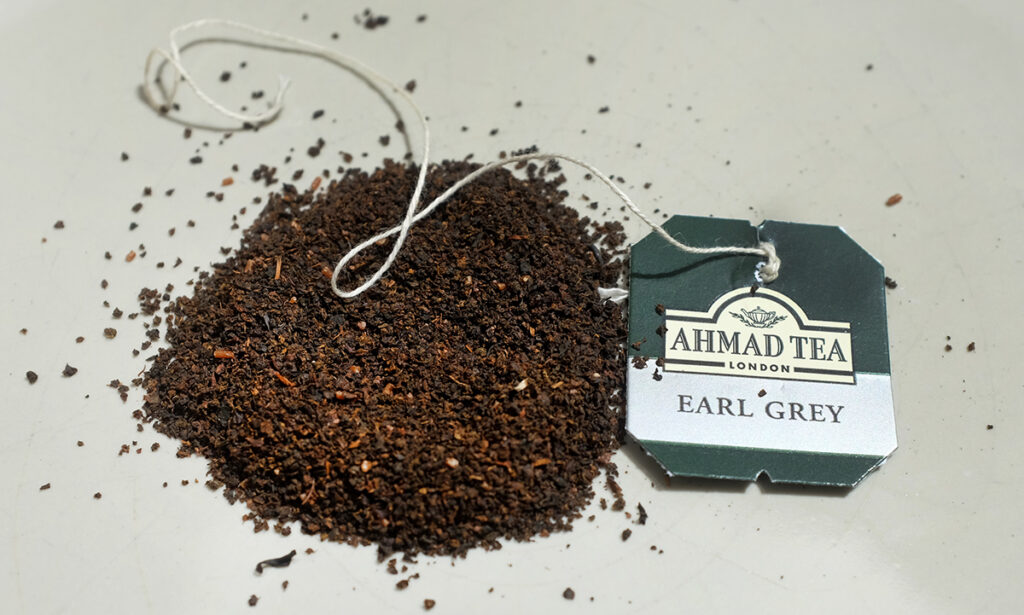 Kenyan Black Tea Leaves
According to Ahmad Tea, they use a 'high proportion of Kenyan leaves' in their Earl Grey blend. This is a step away from the more traditional Keemun or Ceylons.
Their website lists the origin of their tea leaves as Malawi and Kenya.
But, they also state that this is subject to change depending on the season. For instance, in the product description, they also mention India.
For this blend, our Tea Masters balance teas from East Africa and India. They use a high proportion of quality Kenyan leaves to give the brew its lively, brisk flavour.

Ahmad Tea Website
The colour of Kenyan tea is said to be bright, amber, and brownish. It is often described as a deep red liquor by a variety of tea makers and lovers alike.
And judging from my photos above, I'm sure you'd agree.
Due to its brisk, bold, and full-bodied flavour, Kenyan tea is often used in breakfast blends.
And it's one of the three types of black tea that you'll find in your everyday British cuppa, such as PG Tips and Tetley. The other two tea leaf types being Assam and Ceylons.
This would explain why it tastes a little stronger than other Earl Grey blends. And, why it's not quite as strong as your typical builders or greasy spoon tea.
Instead, it lies somewhere in between. Again, making it ideal for use with or without milk.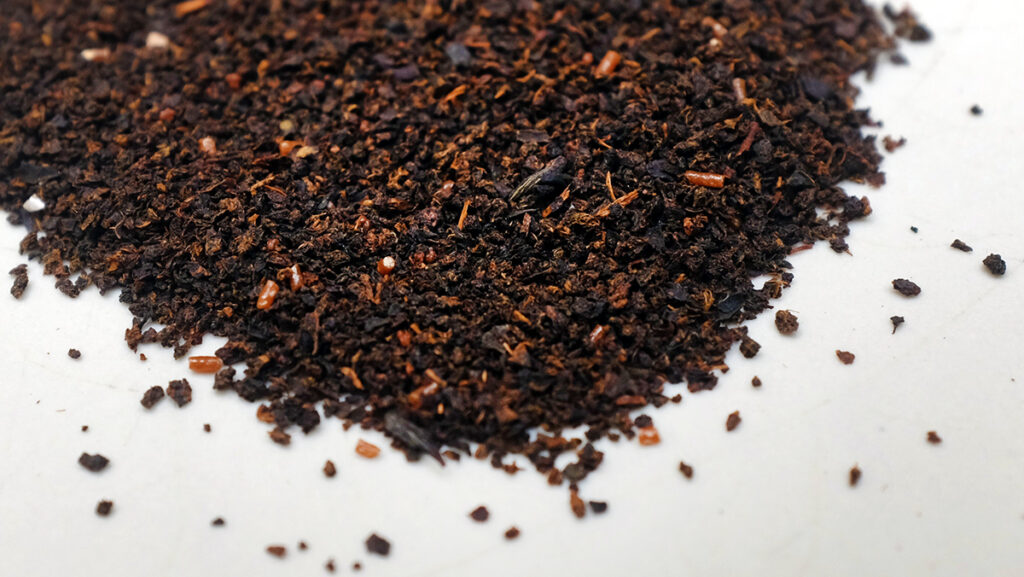 Bergamot Flavouring
When opening up the tea bag to reveal its contents, the bergamot flavouring can easily be spotted in amongst the tea leaves.
Amber in colour, these cylindrical pellets are soft and malleable. I'd liken them to pure palm sugar or soft caramel.
As soon as it hit my tongue, I got a shot of sweet followed by a floral, peppery taste.
While the nutritional values on the box don't list sugar as an additive, I think the flavouring crystals have been mixed with a touch of sweetener.
Not enough to be listed, but I'm guessing that's where the extra calories come from.
For reference, the average cup of black tea without milk or sugar has approximately 2 calories per serving.
A cup of Ahmad Tea Earl Grey has 4 calories.
Is it synthetic or a natural byproduct of the bergamot fruit? Who knows. Like most commercial tea makers, Ahmad Tea doesn't specify what their 'high dose of bergamot flavouring' actually is.
Furthermore, they fail to specify what percentage of bergamot flavouring has been added to their Earl Grey blend.
Each serving of Ahmad Tea Earl Grey also contains 1% of your potassium daily allowance, based on a 2000 calorie diet.
But don't worry.
Low concentrations of potassium, iron, magnesium, riboflavin and folic acid are typical in a standard cup of Earl Grey tea. So there's nothing abnormal there.
Nutrition Information
Typical Values
Per 200ml Brewed Black Tea (without milk)*
Energy
4kcal
Fat
0g
Potassium
25mg

(1% of your daily allowance based on a 2000 calorie diet)

Carbohydrate
0.4g
Protein
0g
Salt
0g
* Based on one 2g black tea bag, brewed with 200ml (7fl oz) water.
Are Ahmad Tea Earl Grey Tea Bags Plastic-Free?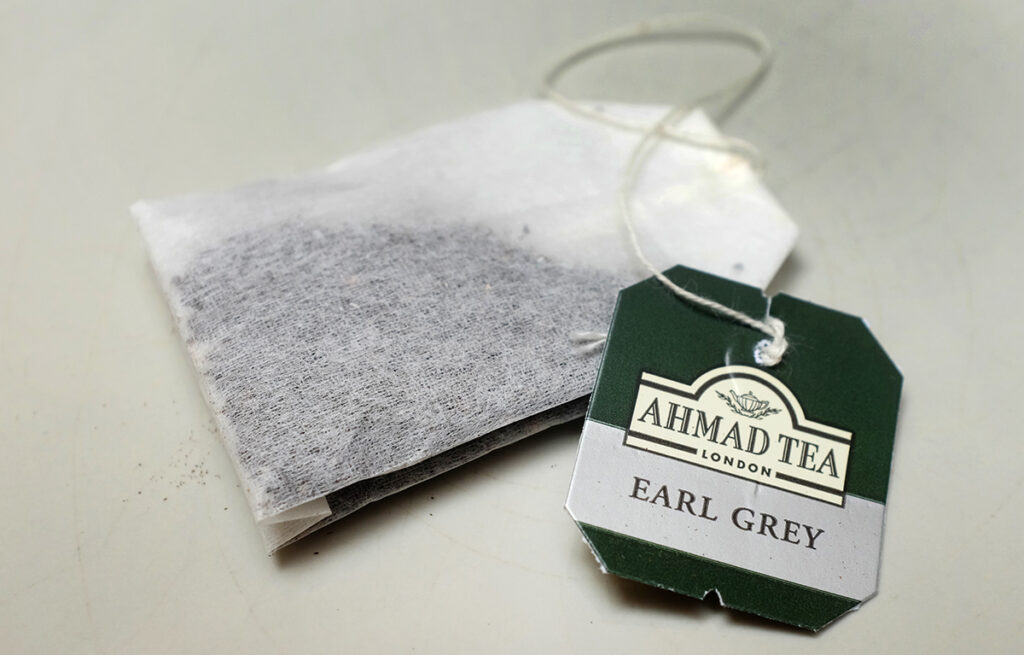 Available in a variety of styles, Ahmad Tea teabags are plastic-free. Well, mostly.
String teabags (like the one I'm reviewing) are folded and tied, not heat sealed. They are also made from 100% natural fibres.
This means that there's no glue or plastic in sight. The same goes for their biodegradable pyramid teabags.
The vast majority (94%) of our teabags (teabags with a string) are non-heat seal: made up of 100% natural fibres, contain no plastic and are fully home compostable.

Ahmad Tea
And because they're plastic-free, they can be thrown into your home compost heap without a worry or care.
The same can't be said for their round teabags, however. Heat-sealed, they contain trace amounts of plastic.
Ahmad Tea is apparently looking into organic alternatives, though. So let's hope their teabags will go from 94% to 100% in the near future.
Final Thoughts…
Ahmad Tea Earl Grey isn't perfect. It's a little rough around the edges and it's not as subtle or mellow at all when left to steep too long.
However, I enjoyed it. It is rich, flavourful, and packs a punch. And it goes perfectly with something sweet. Or, as a coffee alternative. It certainly makes a change from your standard black tea.
If nothing else, the red colour is beautiful and inviting.
A Pleasantly Unique Taste and Flavour

Ahmad Tea
But it's not as easy-drinking as the Twinings Earl Grey. And it's not a tea you pick up and drink any time of day. Or, even any time of year.
It has to be something I'm in the mood for to fully enjoy.
This dark and powerful blend ever so slightly flirts with being bitter in taste. That's not to say it's not pleasant. Oh no. I like it. And it's a great way to get your caffeine hit!
For me, this feels like a winter tea. This is probably why I like it hot instead of cold.
Overall, it's a solid Earl Grey. It's one of the cheapest priced Earl Grey's I've tried. But it doesn't look, feel, or even taste that way.
If you want an Earl Grey that packs a punch. This is the one.
It's the type of Earl Grey tea that can be drunk with milk, lemon, or on its own.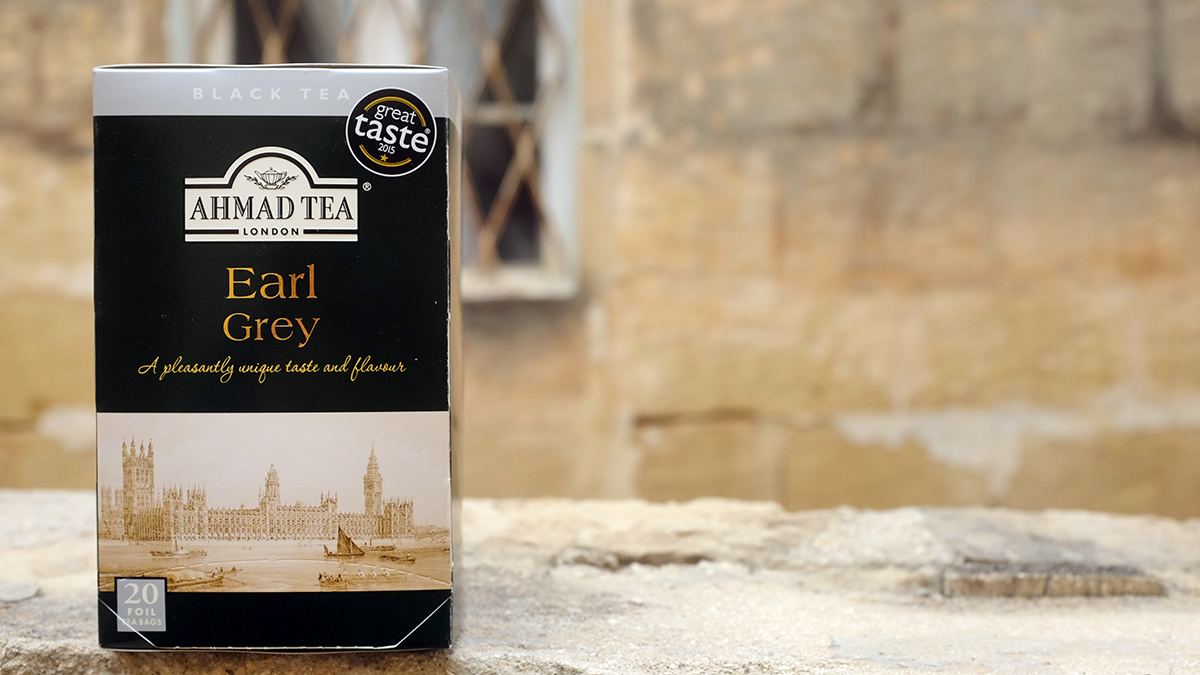 Ahmad Tea Earl Grey Review